Scotland's new health secretary: Who is Michael Matheson and what does he bring to the role?
Michael Matheson has been appointed as the Cabinet secretary for NHS recovery, health and social care in Humza Yousaf's first Scottish Cabinet. What does he bring to the role?
Mr Matheson was one of Mr Yousaf's early backers, and finds himself rewarded with a senior Cabinet position. He has experience with the health brief, having previously been the minister for public health from 2011 to 2014, before being promoted to a senior Cabinet position as justice secretary.
He's served as the net zero, energy and transport secretary since moving across from justice in 2018, but now finds himself with the toughest role in Scottish politics, tasked with the unenviable job of turning around an embattled and failing NHS Scotland.
He first entered the Scottish Parliament in 1999, as a list MSP for Central Scotland, before winning the Falkirk West constituency in 2007.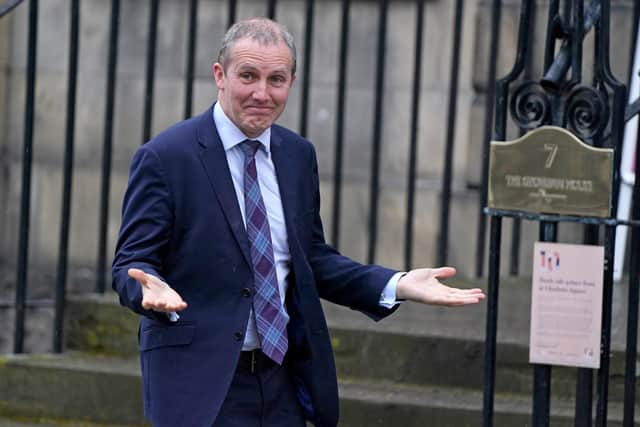 Mr Matheson was thrust into the public eye earlier this year when he told MSPs there were 19,000 windmills on the country's hillsides – when in fact there are only around 4,000.
The claim was made in response to questioning by Scottish Conservative MSP Liam Kerr, who later said that "in fairness to Michael Matheson, as soon as the mistake was brought to his attention, he apologised to me personally and immediately corrected the record".
It is not the only row over renewables statistics Mr Matheson has found himself in the centre of. As the Cabinet secretary for net zero and energy, Mr Matheson has not corrected the often-stated assertion by SNP politicians and activists that Scotland has 25 per cent of Europe's offshore wind capacity.
The claim has repeatedly been found to be false, as the statistic relied on very out-of-date data, and used incomparable figures to come to a misleading conclusion.
Health associations and trade unions have lined up to congratulate Mr Matheson, but have also warned him about the enormity of the task he now has.
Colin Poolman, the Royal College of Nursing (RCN) Scotland's director, said the workforce crisis in Scotland's health and care services "must be Michael Matheson's top priority".
"We need to see urgent action to tackle the exodus of nursing staff from our profession and make nursing a career of choice once again," he said.
"The new Cabinet secretary must prioritise the work of the new Nursing and Midwifery Taskforce and live up to his predecessor's promise to reform Agenda for Change to ensure that it recognises the clinical skills and expertise of nursing staff."
Dr Iain Kennedy, chair of BMA Scotland, congratulated Mr Matheson and said he looked forward to "working with him on bringing Scotland's NHS back to where it needs to be".
"Make no mistake, he faces a tough job," said Dr Kennedy.
"A national conversation on the future of the health and care service in Scotland has to be one of his top priorities, and it must be open and honest about the challenges the NHS is facing."
Comments
 0 comments
Want to join the conversation? Please or to comment on this article.