Aberdeen's landmark £40m ONE BioHub life sciences epicentre makes official debut, aiming to improve global health
A cohort of high-profile names has attended and hailed the launch of the £40 million ONE BioHub, the "iconic" new location for life sciences in the Granite City expected to help develop products that "will improve lives, and reduce pain and suffering worldwide".
The new facility marks a significant new chapter for Aberdeen, a major hub that takes the region's historically oilrig-anchored economy increasingly into the laboratory, its remit "tackling modern health challenges" with its offering encompassing incubator laboratories and offices, fully customisable grow-on space, commercialisation and growth programmes, and access to mentors, expert networks and investors.
Those behind the initiative say it is inspiring ambition, giving scientists and innovators skills and knowledge to turn research and innovation into businesses, supporting start-ups, spin-outs and those scaling on their entrepreneurial journey. It says it can accommodate up to 400 bio-entrepreneurs at full occupancy.
Formally launching the new facility, Scotland's Innovation Minister Richard Lochhead said: "ONE BioHub will be a tremendous asset for the North-east and the whole of Scotland. It will allow the already-thriving life sciences cluster in the region to continue growing, innovating and succeeding. This includes important work in developing innovative treatments for conditions like Alzheimer's Disease and cancer.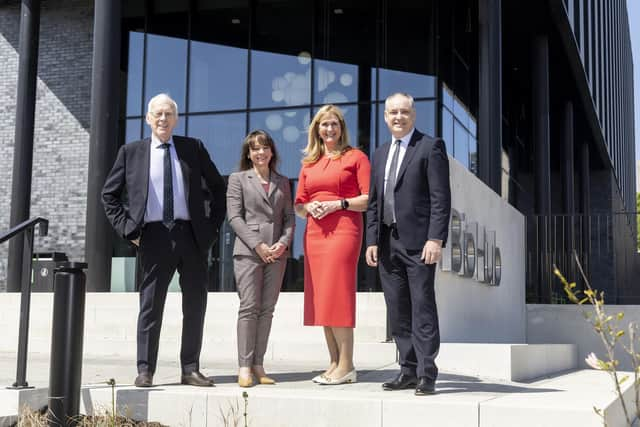 "This reflects the key role that life sciences have in our National Strategy for Economic Transformation and forthcoming National Innovation Strategy. And the partnership working that has made ONE BioHub possible exemplifies what is needed for the successful transformation of our economy. That is why the Scottish Government has invested £10 million in BioHub through the Aberdeen City Region Deal."
Also commenting was Malcolm Offord, UK Government Minister for Scotland, who said: "This fantastic ONE BioHub facility is an important new platform for the region's life sciences industries, and I have no doubt that it will rapidly forge an international reputation for excellence.
Improve
"The products developed here will improve lives, and reduce pain and suffering worldwide, while the companies based here will bring high-quality jobs and investment to the local community. The UK Government has invested £10m in the BioHub, part of our £2.3 billion support for levelling up right across Scotland."
And Neil Francis said he visited ONE BioHub during its construction phase to announce the £2m contribution from Scottish Enterprise – where he is its MD for major projects –adding that it is a "real honour to be here now and see the iconic building it has become… As Aberdeen transitions to the growth sectors of the future, ONE BioHub will be at the heart of its ambitions to become a leading life sciences destination".
The new-build industry innovation hub is a focal point for action and investment to diversify the economy and maximise the impact of science and technology from within life sciences companies (a sector in Scotland that already comprises at least 750 organisations with 40,000 employees, according to the Life Sciences Scotland Industry Leadership Group) and parties including Robert Gordon University.
And it will be "the transformational place in the North-east of Scotland for the entrepreneurial life sciences community and growth sector to meet, share, learn, start up, innovate and grow", according to Sir Ian Wood – chair of ONE, which calls itself the private sector economic development catalyst driving major change to diversify north east Scotland's economy.
Inspiration
Deborah O'Neil, who chairs the life sciences board at ONE and ONE BioHub and is chief executive of Aberdeen biotech company NovaBiotics, said: "North-east Scotland is serious about its life sciences opportunity. The region is home to world-class research and innovation in the University of Aberdeen, Robert Gordon University and NHS Grampian, a thriving community of 2,500 life scientists and a cluster of dynamic biotech, medtech and healthtech businesses. ONE BioHub will make more of all these strengths, assets and talented people. It will inspire the next generation of bio-entrepreneurs to commercialise innovation in the city, solve health challenges and create lasting economic value."
Professor George Boyne said ONE BioHub recognises the "leading" life sciences research know-how at the University of Aberdeen, of which he is principal and vice-chancellor, as well as across the region, "and will help nurture that expertise and take it closer to market which in turn will contribute to health, wellbeing and prosperity… we are excited by the role that ONE BioHub can play in accelerating our impact on the life sciences sector".
Robertson Construction was the main contractor for ONE BioHub, and the family-owned building, infrastructure, and support services firm's boss Elliot Robertson said the newly launched facility "will continue to be a place of collaboration with the potential to address global health challenges, whilst creating employment and opportunity".
The new facility was designed by BDP, which stands for Building Design Partnership, and whose principal Christoph Ackermann noted that the design and layout of the fully electric building "enables and encourages" research in the life science sector to co-locate and to collaborate on the Foresterhill Health Campus. "The BioHub is the built manifestation of our client's mission to drive transformational change to diversify north east Scotland's economy," he also stated.
Comments
 0 comments
Want to join the conversation? Please or to comment on this article.