Analysis: how CodeBase's newest Techscaler offering aims to 'move the dial' on company-creation
"Techscaler has helped me take the plunge, and believe [my idea's] possible," says start-up founder Genna Masterton of the programme delivered by Scotland's CodeBase, which says it is the UK's largest technology incubator.
The Techscaler initiative says it offers members education, mentorship, community, and workspaces, across hubs in Glasgow, Edinburgh, Stirling, Dundee, Aberdeen, Dumfries, and Inverness. And it has now set its sights on creating more entrepreneurs to fuel the economy, rolling out the Startup First Steps founders course across Scotland, aimed at building entrepreneurial mindset, and "moving the dial" on company-creation to drive economic prosperity.
The practical course is designed for current or prospective start-up founders in Scotland in the early stages of their start-up journey with the goal of taking a first version of a product into the market, say those behind the initiative. "Sessions will be highly collaborative, with lectures from industry experts and practical activities and group discussions to apply session teachings," they add.
Looking at the origins of Techscaler, the Scottish Government's £42 million start-up support programme was established last year to deliver on key priorities outlined in the Scottish Tech Ecosystem Review (STER) report, and in the National Strategy for Economic Transformation, to strengthen the nation's tech sector and encourage entrepreneurship.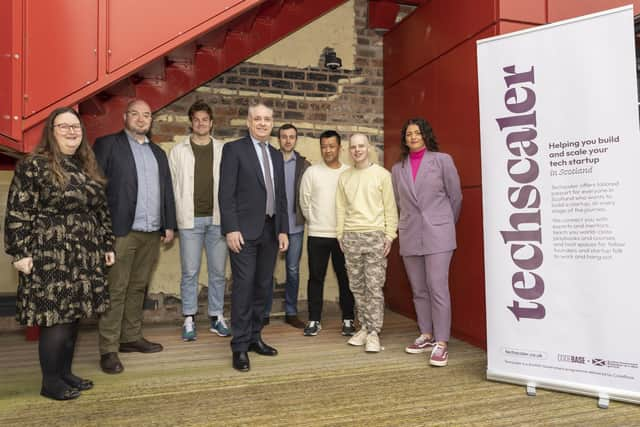 Richard Lochhead, Scotland's minister for small business, trade and innovation, has now just attended a pre-workshop mixer with a selection of cohort participants at the Glasgow Barclays Eagle Lab campus, discussing the programme with start-up founders, course-organisers, and mentors.
He said: "Creating new businesses, generating new ideas and encouraging entrepreneurship through programmes like Techscaler is a key part of the Scottish Government's ambition to build a wellbeing economy that benefits everyone in Scotland.
"I was delighted to meet with the first cohort taking part in our national Techscaler network's 'Start-up First Steps' educational programme and hear how it is providing a supportive and collaborative environment for entrepreneurs and start-ups to turn their ideas into reality."
Exciting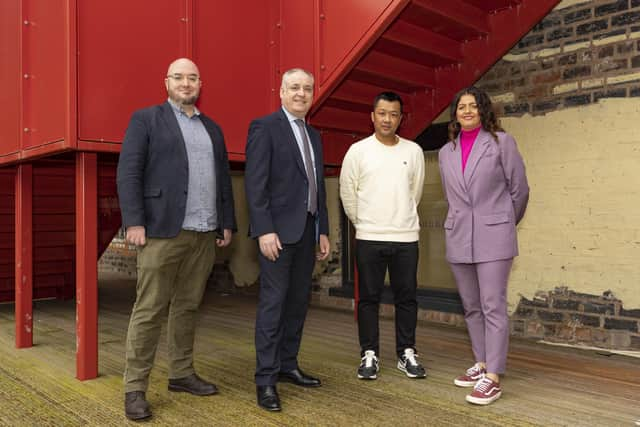 And Start-up First Steps participants have given it the thumbs-up. Ms Masterton, founder of The Gifted Kind, a digital learning platform to support wellbeing in the early years, credits it with helping bring her idea to life, adding: "It's exciting to be part of Startup First Steps and learn the ropes alongside others who are in the same boat."
Complementing that compliment is Richie Wan, founder of recruitment technology start-up RefermyJobs, who said: "Techscaler has been great, as the course modules are tailored and relevant to an early stage start-up. The community managers have been so welcoming and have been fantastic in building engagement. I feel this is crucial for any founder as we aren't alone in this journey."
Techscaler courses – including Startup Basics and Startup Next Steps as well as Startup First Steps – are described as being tailored to each stage of the start-up journey, from ideation through to scaling and beyond, and are delivered in a hybrid model, online and in person.
Applications for Techscaler membership are open, with interested founders invited to apply and express interest in upcoming educational cohort programmes, coming after the initiative in March launched its first advanced scale-up skills development programme in partnership with Silicon Valley-based Reforge, with 47 individuals from 17 organisations taking part in an intensive four-week course. Then, the Scottish Government last month announced a link-up initiative between Techscaler and the NHS, with a view to providing "world-class" expertise and support to young businesses with high growth potential.
Jim Newbery, vice-president of education at CodeBase, said: "Startup First Steps is a course for founders who are looking to develop an idea into a minimum viable product, through learning early-stage best practice and applying tried and tested playbooks.
"Like all of CodeBase's programmes, the impact of Techscaler's Startup First Steps course extends far beyond the workshops; it's about fostering community and providing space to grow. This is what enables companies to scale, driving overall economic development."
Recommendations
The Techscaler project was awarded to CodeBase in July 2022, as part of recommendations from the Scottish Government-commissioned Scottish Technology Ecosystem Review, which was authored by Scotland's chief entrepreneur and former Skyscanner chief operating officer Mark Logan. The report, the conclusions of which were published in 2020, found that while Scotland's Total Early-stage Entrepreneurial Activity (TEA) rate had more than doubled in the previous decade, it remained below that of many other advanced economies, adding that more high-growth firms were needed to drive growth, productivity, and innovation.
CodeBase, led by chief executive Stephen Coleman, bills itself as a tech ecosystem support organisation that to date has helped more than 500 start-ups and scale-ups that have collectively raised more than £4 billion. The organisation, which launched in Edinburgh in 2014, with further hubs opened in Stirling in 2017, followed by Aberdeen in 2019, along with pop-up hubs across the UK, adds that it provides workspace for start-ups to grow, delivers expert educational programmes and industry accelerators, and fosters connection through mentorship, events, and meet-ups.
As well as Techscaler, other initiatives in Scotland to support fledgling businesses encompass the Pre-Scaler programme launched by Sir Tom Hunter's Hunter Foundation and Scottish EDGE, which recently said high demand had prompted it to run two cohort programmes rather than the one originally envisaged.
What's more, the University of Edinburgh's Venture Builder Incubator that seeks to help PhD students develop and commercialise academic research, announced at the tail end of last year that it had teamed up with Barclays Eagle Labs, which itself says it incubates, inspires and educates UK founders, start-ups and scale-ups.
Barclays Eagle Labs are also present in Scotland in Aberdeen, Edinburgh, and Kilmarnock, the latter part of renowned Scottish entrepreneur Marie Macklin's Halo Enterprise and Innovation Centre (HEIC) in her hometown. Ms Masterton from The Gifted Kind has also been given space at the HEIC, adding that 2023 "is the year to drive momentum behind business growth, innovation and entrepreneurial spirit".
Comments
 0 comments
Want to join the conversation? Please or to comment on this article.