Here's how to find your Top 5 most listened to Taylor Swift Eras on Spotify
Spotify can help you discover your Top 5 Taylor Swift Eras: are you ready for it?
Whether you're a longtime Swiftie or a recent convert who started appreciating the popstar after Folklore, Spotify has the perfect tool to help you.
Spotify will help you curate your Top 5 Taylor Swift Eras; firstly by letting you pick your personal Top 5, before correcting you and showing your top Eras by listens.
The music streaming service has a number of interesting features for fans, from their annual Wrapped service to their Spotify for Pets, and the Top 5 function has been made available to fans of Rosalía, BTS, Kendrick Lamar and The Weeknd previously.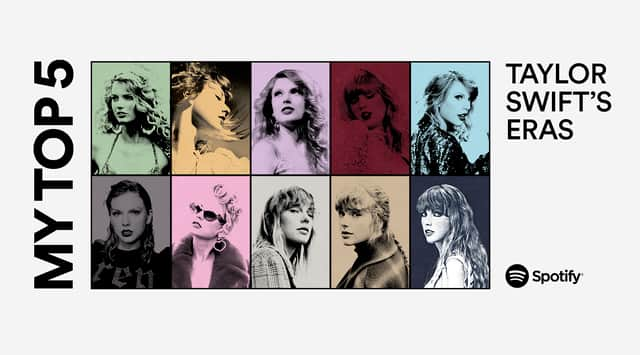 Which makes it all the more fitting for the feature to be released now, with Swift's song Anti-Hero recently surpassing a billion listens on Spotify, and it's available to anyone with a Spotify account – provided you've listened to at least 5 of Swift's Eras.
Here's how to find your Top 5 Taylor Swift Eras on Spotify.
Step one: Head to Spotify
This must be done on mobile, so make sure you're logged into Spotify on your phone browser as well as in app – just in case.
Visit spotify.com/top5 where you should be greeted by Bejeweled from Midnights and a slideshow of each Swift Era.
Step two: Select your Top 5 Taylor Swift Eras
Once within the experience, click through each Era and select your favourite albums – don't worry about which order they're in, you can sort that once you've completed this step.
Step three: Share your curated Eras
Now you can share your Era picks with all your friends – but that's not the best bit.
Step four: Find out your actual Top 5 Taylor Swift Eras – by listen
This feature appears to only be available through the app – and to "eligible" listeners – but Spotify will then show you your Top 5 Eras by listens.
It's an interesting juxtaposition to what you as a fan would select vs. your actual Top Eras.
Step five: Repeat step three
Comments
 0 comments
Want to join the conversation? Please or to comment on this article.