Winnie The Pooh Blood And Honey: Where can I watch the Winnie The Pooh horror film this Halloween?
Pooh and Piglet have exchanged a taste for honey into a thirst for blood. Want to watch something a little different this Halloween? Here is where you can watch Winnie The Pooh Bloody and Honey in the UK.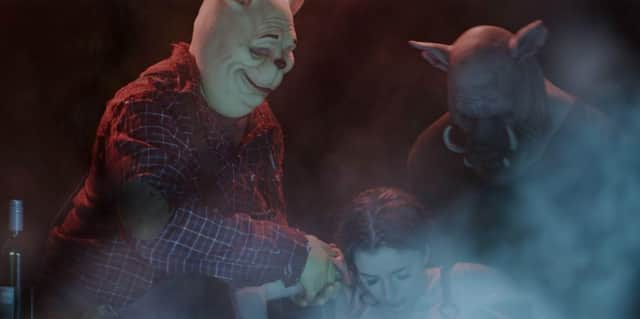 The film charts the rebirth of the lovable children's character Winnie The Pooh as a horror film. 'Blood and Honey' will see Pooh Bear and Piglet turn into deranged serial killers intent on wreaking havoc on their fictional land of 100 Acre Wood after being left alone by Christopher Robin and has already proven a hit with horror fans across the globe.
With copyright lapsed on the original books by A. A. Milne, filmmakers are moving to flip a number of Disney classics on their head, with 'Blood and Honey' set to be the first in a long list of horror hits based on stories that were previously much-loved children's characters.
The first trailer for the new film was released in 2022 and has since shocked and excited audiences after it was launched in cinemas across the globe. The story follows Pooh's well known friend Christopher Robin as he returns to the 100 Acre Wood he abandoned as a child – only to be confronted by a bloodthirsty Pooh and Piglet that he created by leaving them behind.
The deadly duo then go on a brutal rampage and attack five women in a holiday home, while a sign that simply says 'RIP Eeyore' hangs in the distance. It is quite simple Winnie The Pooh as we have never seen him before.
Winnie The Pooh copyright laws, will there be more Disney horror movies?
The reason that copyright has ceased on Winnie the Pooh is that, as of January 1 2022, works that were first published in the year 1926 lapsed into the public domain.
A.A Milne's popular children's tale was acquired by Disney in 1961 and, since then, they have released a stream of movies, TV shows and products featuring the book's cast of characters.
In the United States, copyright law states works of corporate or pseudonymous authorship lapse into the public domain after either 95 years from first publication – or 120 years after creation, whichever comes first, meaning Milne's original Winnie-the-Pooh book is now free of copyright.
This allows others to copy, publish, distribute, create new works based upon it – including turning Pooh into a murderous, serial killing fiend!
How to watch Winnie The Pooh horror movie in the UK, where can I stream Winnie The Pooh horror movie
The low budget British horror film was delayed until 2023 due to increased publicity and had its UK premiere at March's Glasgow Fright Fest, with a sold out audience seeing the movie for the first time at the Glasgow Film Theatre.
A hit with movie goers across the globe, the gore-fest and laugh a minute horror available via a number of different platforms. If you want to buy the movie, it is available via Sky Store (£5.99), Apple TV, Rakuten TV (£7.99) and finally YouTube (£9.99).
If you want to purchase the film in physical form, the DVD is now available to buy here.
Comments
 0 comments
Want to join the conversation? Please or to comment on this article.