Robbie Williams: Netflix documentary release date, is Robbie Williams still married, Robbie Williams net worth
Take That singer Robbie Williams is the latest British celebrity to be given a Netflix documentary. Here is the release date of the series and everything you need to know about it.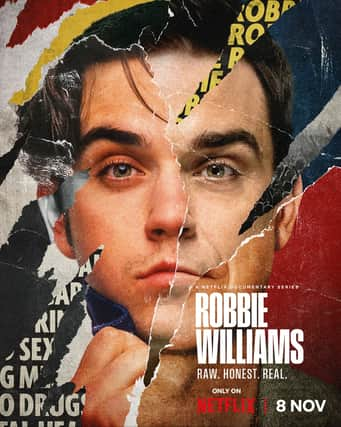 Beginning as one fifth of boy band Take That, his acrimonious split with the band in July 1995 sent hordes of fans into despair only for him to return as one of the most successful solo artists this country has ever seen.
A charismatic performer, Williams is one of the most intriguing and interesting artists England has ever produced and now he will feature as part of his own Netflix series which will document the fascinating life and times of the Stoke-On-Trent born artist.
Here's everything you need to know about Netflix's Robbie Williams: Raw. Honest. Real.
What's the new Robbie Williams documentary about
The brand new Williams' documentary is directed by one of the best filmmakers filmmakers around, Joe Pearlman who is responsible for huge music documentary hits such as Bros: After The Screaming Stops and Lewis Capaldi: How I'm Feeling Now. While we can't be 100 per cent certain exactly what the documentary entails just yet, the trailer is a big giveaway as to what to expect from it.
The series appears to take viewers from the beginning of Williams' journey and the trails and the tribulations of his award winning career in a stripped back, brutally honest and raw setting (as the title suggests!).
It charts his past drinking and drug taking - and his addictions from a time that have taken a toll in his older years. He recently described the documentary as watching a "slow motion car crash".
It will also feature never before seen footage of the singer himself as he documents the highs, the low and unknowns of his incredibly successful career.
Is Robbie Williams still married, how many children does Robbie Williams have
Previously known as a bit of a ladies man, Williams has been settled and happily married to Ayda Field since 2010 and now has four children with his wife. However, in a recent interview his wide Ayda admits they did call time for a period due to his battles with addiction.
She opened up on how the singer would throw up while watching TV unexpectedly due to his issues with alcohol and said they broke up for a period of time due to this when he was 33 (he is currently 49).
Until recently, the pair been very private and their children have rarely (if ever) been seen via social media posts, though Williams' kids are said to feature in his new Netflix documentary.
However, while Robbie's private life has been kept quiet, the documentary is set to shed a lot more light on the former Take That man and his marriage.
Robbie Williams net worth
Robbie Williams documentary 2023 Netflix release date, how many episodes
The documentary is set for release tomorrow, Wednesday 8 November, and is available to watch on the streaming platform from 8:01am on the morning of the release.
To watch the documentary, you must have a Netflix UK subscription, which is available here with prices starting at £4.99 per month.
The documentary will be split into four parts, with each episode expected to last between 45 minutes to an hour.
Comments
 0 comments
Want to join the conversation? Please or to comment on this article.