Glastonbury Tickets 2024: How to maximise your chances of getting tickets for Worthy Farm festival
The annual scrabble to secure tickets for one of the world's biggest music festivals is about to get underway.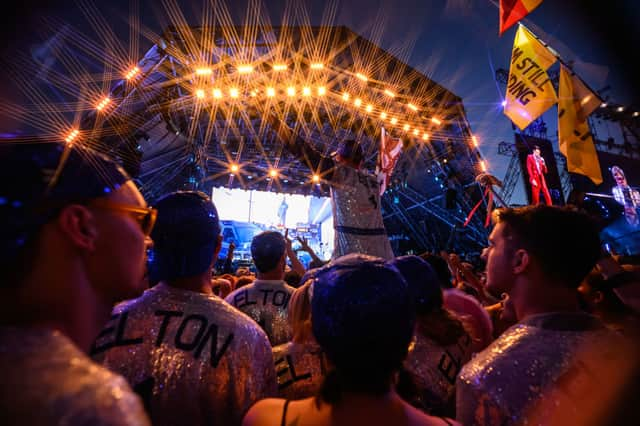 They were the lucky few who snapped up one of the 135,000 tickets - with millions more missing out.
The next festival isn't until June 26-30 but this week sees tickets go on sale - before a single act has been announced.
Depsite this and a hefty £355 (plus £5 booking fee) pricetag, they will inevitably sell out in seconds.
Here's how to improve your chances of getting a golden ticket at the slightly delayed ticket sale, with the orginal dates pulled at the last minute earlier this month.
Fingers crossed everything goes off without a hitch this time.
Have you registered?
In order to even have a chance to buy a ticket you must have previously have registered your interest and submitted a photograph. Not done that? It's too late now - registrations closed ahead of the sale at 5pm on Monday, October 30. There will be a second chance for those who didn't manage to get organised, which we'll get to.
Be organised
Make sure you have everything ready for the sale, with tickets plus coach travel available from 6pm on Thursday, November 16, and general tickets at 9am on Sunday, November 19. Set an alarm (particularly for the Sunday), have the site loaded up on your computer, make sure you have all your login details and a way to pay. If possible have a couple of debit or credit cards handy in case one doesn't work (don't say it'll never happen - it just might). If you are buying on behalf of several people, ensure you have all their registration numbers and postcodes to hand.
Use multiple devices
While the festival organisers advise against using multiple devices, saying it is against their 'ethos', many people believe that using several computers, tablets and phones to access the sale will increase your chances. It's certainly an idea at the very least for all of your party to try for tickets (you can buy for up to six people as long as you have their registration details).
Keep in touch
If several of you are trying to get tickets at the same time, set up a chat group so you can keep each other updated without having to take your concentration away from the sale. Make sure that everybody is on the same page in terms of whether you're going to try for coach tickets, or just general admissions. If you decide to try for coach tickets, you'll all have to travel from the same location and you might not get much of a say in terms of your departure time, so make sure that you fully communicate this to make sure everyone is happy beforehand.
Stay connected
Make sure you have a reliable internet connection. Wi-Fi always goes down at the least inconvenient time, so it's an idea to ensure you have mobile data available via your phone. Make sure your mobile hotspot is working and you are easily and quikcly able to link your computer or tablet to it.
Don't fall for scams
Glastonbury ticket scams are as inevitable as the flags blocking your view of the stage. Anybody promising you an unwanted or spare tickets is looking to steal your cash. The ONLY way to get a ticket for Glastonbury is through the official website run by See Tickets.
Stay calm
If you are lucky enough to get through to the ticket buying process, take your time to enter all the details correctly first time. If you get stuff wrong, you'll just have to go back and do it again, meaning there are more chances for things to go wrong and for the website to crash. If it looks like tickets are already sold out keep trying - tickets may be released long after they go on sale as people change their minds or make a mess of payment.
Don't refresh
It can be so tempting to hit refresh if it's taking a long time to get through or it seems like a page isn't loading. Don't do it - you could be placed right at the back of the queue. The site is designed to auto-refresh and keep your place for you. Also, don't open numerous tabs on your browser for the same ticket-buying process - you might be identified as a bot and get kicked out ticketless.
Two bites at the cherry
You might not specifically want coach travel, but if you want to try your luck on Thursday a return from Bristol costs just £44 extra. You don't have to use the bus ticket. If you want to travel from Scotland returns from Edinburgh cost £151 and from Glasgow £149. If you aren't lucky, you can still try for a ticket only on Sunday.
There's always next year
If you're unsuccessful this time there will be another ticket sale, expected in April next year, for tickets that have been returned. Just make sure you are properly registered now to take advantage of it then.
Comments
 0 comments
Want to join the conversation? Please or to comment on this article.