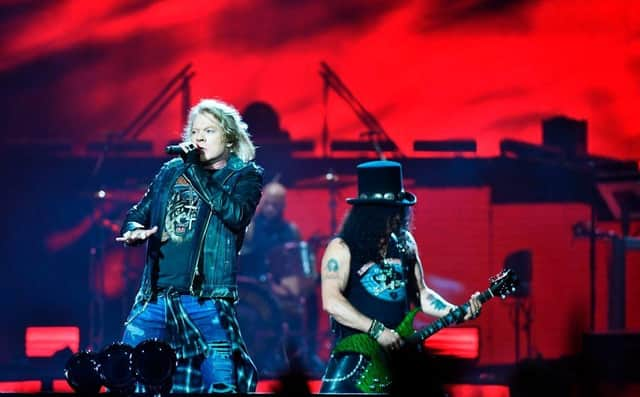 The legendary American rock group will play Bellahouston Park on Tuesday, June 27, after a series of cancellations and delays.
Originally slated for Glasgow Green, it's been moved to Bellahouston and fans will be hoping there will be no further issues.
Here's what you need to go along if you're heading along.
What band members are in Guns N' Roses at the moment?
The band have notoriously had a large number of different line-up over the years, but the current incarnation includes three of the 'classic' line-up – Axl Rose, Duff McKagan and Slash.
They will be joined on stage by Dizzy Reed, Richard Fortus, Frank Ferrer and Melissa Reese.
Can I still get tickets?
What time will the gig start and end?
Doors for the gig open at 4.30pm.
Expect the support act to start at around 7pm, with Guns N' Roses taking to the stage at around 8.30pm (if Axl shows up on time).
The concert will finish at 11pm at latest.
Is there any support act?
Guns N' Roses have announced that they will be supported by The Prentenders.
Chrissie Hynde's rock band have plenty of classic hits for the crowd to enjoy – including 'Brass in Pocket', 'Talk of the Town', 'Back on the Chain Gang', 'Middle of the Road', '2000 Miles', 'Don't Get Me Wrong', and 'I'll Stand by You'.
Are there age limits in place?
Nobody under the age of five will be permitted entry to the gig.
Those people aged between 5-15 years old must be accompanied by an adult who is 21 or over – and there can be no more than four people aged 5-15 for every adult.
It is recommended that people bring photo ID with them – particularly if they want to buy alcohol as the Challenge 25 policy will be in place.
Food and drink
If you attempt to bring food and drink into the venue it will be confiscated.
There will be a variery of bars and food stalls, with free drinking water available.
What items are prohibited?
Prohibited items include flares, gas or smoke devices, fireworks, sparklers, confetti cannons, Chinese/sky lanterns, firewood, candles or any flames, 'excessive' amounts of cigarettes and/or vapes, and professional camera equipment, including camera/video/audio equipment including removable lenses.
Flags, selfie sticks, umbrellas, and 'weapons' are also not permitted.
Only small bags are allowed – less than the size of an A4 sheet of paper.
What songs have Guns N' Roses played most often on the tour?
Guns N' Roses rarely play the same setlist twice and are known for not being afraid to leave out facn favourites.
Here are the 25 songs they played most on their 47 tour dates last year. Expect to hear a fair few of these at Bellahouston Park.
Knockin' on Heaven's Door
What did Guns N' Roses play at their most recent gig?
Here's the full setlist for their most recent gig at Auckland's Eden Park:
24. Knockin' on Heaven's Door