V&A Dundee Tartan show: gallery staff reveal their favourite exhibits
They have plenty of pieces to choose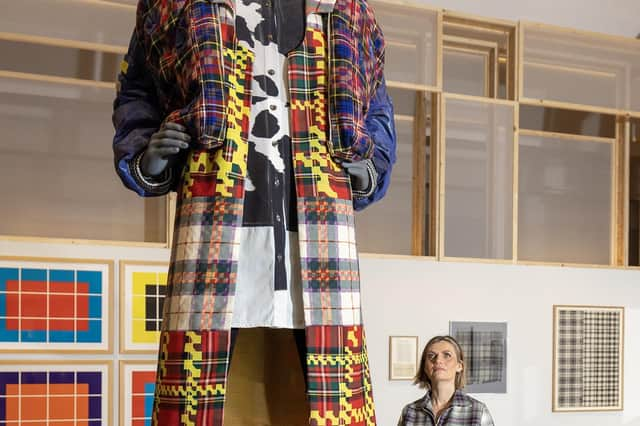 There are over 300 objects in the V&A Dundee's new Tartan show.
These range from the obligatory shortbread tin, to pieces by fashion designers Alexander McQueen and the late Vivienne Westwood. There's tartan worn by Bonnie Prince Charlie and a pair of Bay City Rollers trousers, made by one of their fans, who were collectively dubbed The Tartan Horde.
It's a visual feast, when it comes to this pattern and textile, but what to look at first? We asked a few of the gallery's key staff members to share the item that they love best.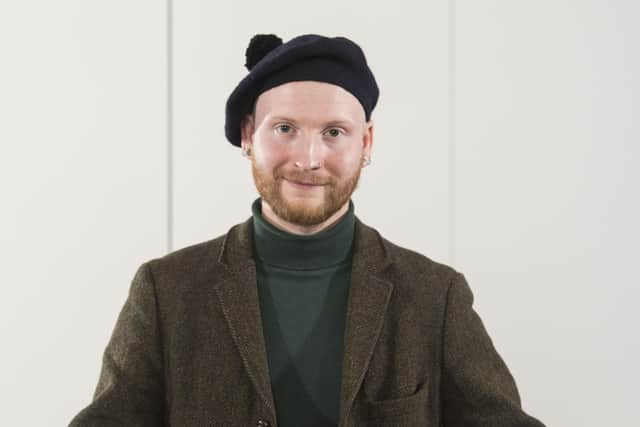 Kirsty Hassard, Tartan curator - Frances Farquharson's Fifties outfits
"The marriage of American socialite and fashion journalist Frances Farquharson to the Laird of Invercauld in 1949 resulted in some of the most impressive reinterpretations of traditional Highland garments. An avid supporter of the local woolen industry, she commissioned tartan outfits suited to her sartorial taste, flair and new-found clan identity. Always stylish, Farquharson pushed the boundaries of colour and pattern and mixed with her fashionable friends in the Highlands such as Gabrielle "Coco" Chanel and Elsa Schiaparelli. The use by designer Elsa Schiaparelli of tartan in her collections was probably inspired by her visits to her friend Frances' home, Braemar Castle."
Chris Keatch, content manager – Violet Chachki outfit (2015)
"Violet Chachki emphasised tartan's duality in this 'tartan eleganza' themed winning look in season seven of RuPaul's Drag Race (US). Chachki unbuckled the black sequined gown to reveal a tartan-spangled jumpsuit, which was accessorised with matching gloves and baseball cap complete with attached hair extension. Declaring, "I'm giving you tartan eleganza…" was testament not only to tartan's centrality to couture fashion and streetwear, but also its ability to project multiple meanings and identities."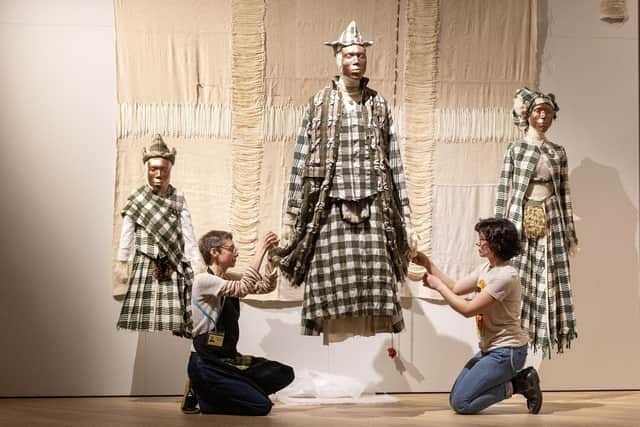 James Wylie, Tartan curator - Tartan banyan dating from 1750-1800
"This tartan banyan sits in the exhibition alongside a painting in which it is worn by Sir Robert Dalrymple of Castleton. In the early 1700s it became a popular material for informal wrapping gowns, also known later as banyans. In portraiture, the garment became associated with academic pursuits. The artist William Mosman was known for his portraits of famous and aristocratic figures and Dalrymple, known as a 'great encourager' of tartan manufacturing and a significant supporter of Scotland's economic growth, is presented as a learned patron in lavishly draped tartan."
Mhairi Maxwell, Tartan curator - Louise Gray's Up Your Look collection (2011)
"For this iconic collection, the designer Louise Gray took inspiration from her Scottish roots and the vibrant global textile traditions of London's punk scene. Across the body, patterns are clashed, collaged and reassembled architecturally. Inspired by the neon colours of the urban environment, tartan grids are pixelated, overprinted and exploded".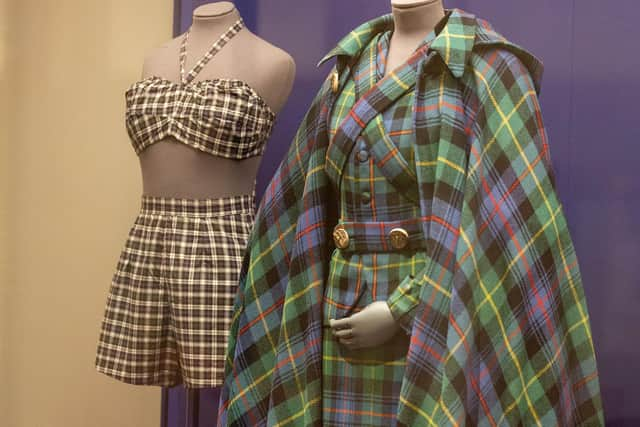 Professor Jonathan Faiers, consultant curator Tartan - Michael Sanders COLDWARmHOTLINE (2012)
"Originally displayed outside the Ministry of Defence in London, this telephone box references a giant tin of shortbread. It's covered in a version of the Polaris tartan, with stripes made from the names of nuclear sites and weapons systems. Below the red 'hotline' is a photograph of a Vulcan bomber, a Polaris submarine and the CND symbol made from shortbread. The Polaris tartan was originally commissioned by the American military at the US Cold War submarine base at Holy Loch, Argyll and Bute.
In this work a military tartan is transformed into the covering for an instantly recognisable object - a civilian public telephone box. The urgency of Michael's work, which focuses on the radioactive pollution of waters around UK nuclear submarine bases is underscored by the inscription on the box which reads 'the most awesome, powerful responsibility in the world lies in the hand that picks up this phone'.
For me this work is a testament to the power of tartan, representing its deeply ingrained political associations; a pattern of extremes used by ideological opposites, and, just like tartan itself, the familiarity and humour of the telephone box becomes a medium to tell much deeper, powerful stories."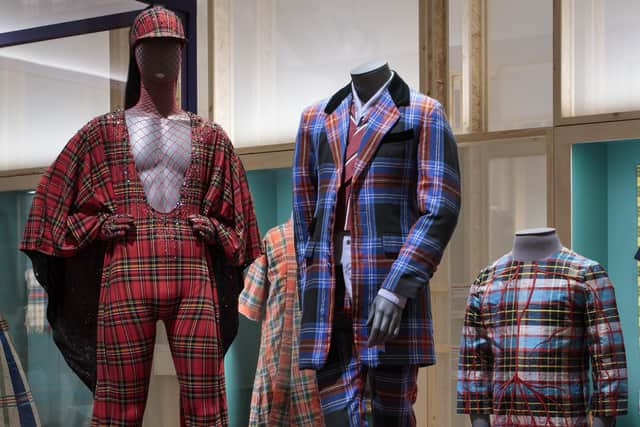 Leonie Bell, director at V&A Dundee – Olubiyi Thomas commission 2023
"Olubiyi Thomas has created a brand-new tartan as part of an installation commissioned by V&A Dundee for Tartan called Intersectional Family.
Working with Glasgow-based micro-mill VEVAR and weaver Kirsty McDougall, Olubiyi has dressed the Intersectional Family in his green and white tartan, a colour scheme shared by both the Nigerian flag and Glasgow's Celtic football club, reflecting the designer's cross-cultural identity.
The tartan's weave and the use of recycled fabric also symbolises the deconstructing and reconstructing of different histories and identities. The way the figures hover above the ground references a legend associated with Bunce Island, the Scottish-owned slaving station in Sierra Leone in West Africa. It is said that when collecting rent from his Scottish tenants, one of the local kings in Sierra Leone refused to let his feet touch the ground for fear that all his earthly goods, along with his source of income, would sink. Instead, he insisted that he was pulled onto the island by boat. The family's copper masks symbolise the commodification of enslaved people, reduced from humans to traded assets."
Jennie Patterson, communications manager – Alexander McQueen ensembles
"These three garments express the designer's attempt to reclaim some of tartan's most painful associations. The top, from McQueen's Highland Rape (1995) collection, commemorates the suffering inflicted on Scottish Highlanders. It was made for McQueen's stylist Katy England. The outfit from Widows of Culloden (2006) was made as if for a grieving Jacobite widow. The dress from Joan (1998) is dedicated to Catholic martyrs Mary, Queen of Scots and the French Joan of Arc."
Tartan at the V&A Dundee runs until January 14 2023. For more information, see www.vam.ac.uk
Comments
 0 comments
Want to join the conversation? Please or to comment on this article.