Good morning Orkney. The tour bus arrived in Kirkwall yesterday after a windy, but beautiful ferry ride from John O'Groats. I'm excited to spend the weekend with my fiancée who's come from London to join me on the tour. We start the day with coffee in the hotel, and set out to have brunch and explore the island.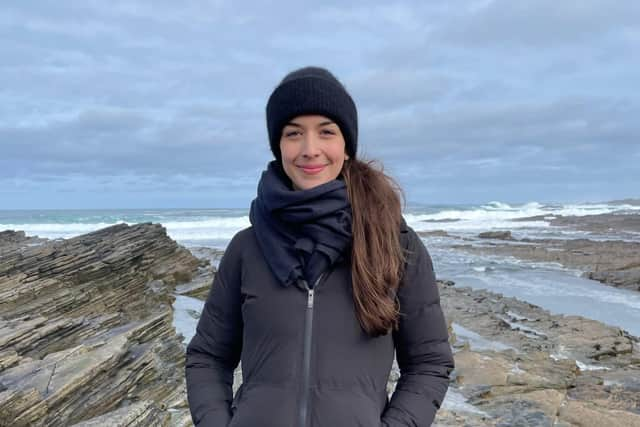 A local opera society member greets us at a nearby cafe. He has met some of the other singers already and wishes me good luck for the show. With our tour bus and Scottish Opera hoodies, we're not difficult to spot in these smaller communities. Today's a show day, so I take it easy, reserving energy for the stage and postponing the whisky distillery tours for our day off.
We take a 30-minute walk to scenic Scapa Beach, enjoying what I am told is very rare sunny weather. I'm fascinated by Orkney's history and landscape – especially as an American, it's a rare chance to see this part of the world. Tomorrow we'll visit the prehistoric village of Skara Brae, but today we stick closer to Kirkwall, taking a cliff walk to appreciate the stunning views of the bay.
Back at the hotel, we have a cup of tea to warm up and a FaceTime call with family. Traveling as a singer, technology really helps me stay in touch with loved ones. After the call, I have a protein shake and start getting into my show day routine.
As we tour the Highlands and islands, balancing shows and travel days can be tough. To stay in good shape for performances, I bring some unconventional items in my suitcase, including a vocal steamer, yoga mat and travel electric massager. I also seek out the local swimming pools – I had a couple of great swims in our previous stop in Wick, and so today I opt for an online yoga video.
Once my body is warm, I do some vocal exercises, including quiet exercises like humming, 'lip trills' and 'sirens' to avoid disturbing other hotel guests. Now that my body and voice are ready, I pack up my bag, say goodbye to my fiancée, who will be in the audience tonight, and board the tour bus for the short drive to the venue.
Today we are at the Orkney Theatre, and our stage team have been assembling the set and lighting since 11am. Before every show, we meet for a technical rehearsal to understand the spacing, lighting, and establish a good acoustic balance with the electric piano. We will sing in 18 different venues on the tour, so these rehearsals are a crucial part of ensuring a safe and successful performance.
Dinner break. On our tour bus, we travel with a microwave and a box full of tea, coffee, biscuits, and cutlery so that we can eat meals on the go. Today I've packed a simple tuna sandwich and an apple to keep me fuelled for the show. While living in the UK I have become very fond of chocolate Hobnobs, and after dinner I grab a cup of lemon and ginger tea, a couple of the delicious biscuits and head to the dressing room.
Time to get into costume. Since we don't have a hair and make-up team, we received tutorials before the tour. Our costumes and make-up are designed to be easy to manage and pack down. For me, it's just a simple hair curl and glittery eye shadow. Once ready, I find a spare room – sometimes a bathroom, which works in a pinch – to finish my vocal warm-ups.
Show time. The pieces we'll be singing have been selected by Derek Clarke, musically directed by James Longford, and directed by Emma Jenkins. The two-hour show is physically and vocally demanding for all four singers as we are onstage for almost the whole show. I perform in 12 pieces, spanning from Handel to a brand new composition written for the tour in 2022, which makes the show a fantastic chance for audiences to experience a wide breadth of repertoire. Each piece requires different vocal techniques and characterisations, including male and female roles and a couple of witches. We are on until 9pm and are halfway through our tour, so it's rewarding to have a smoothly running show.
We have a 20-minute break at the interval where I change my hair and costume, eat some Fruit Pastilles for quick energy, and have a vocal steam to prep for the second act.
Curtain down. After a warm reception from the audience, we pack up our dressing rooms, put our costumes in bags, and prepare to load everything back onto the tour bus. Meanwhile, our tech team starts the process, and the set is already partly dismantled by the time I drop off my costume bag. My fiancée greets me by the stage door and we all hop into the bus for a well earned drink.
While winding down at the hotel bar, there's much conversation about local whiskies. I head to bed, looking forward to our weekly day off on Sunday.
Scottish Opera Highlights concludes on Saturday March 25 at Gaiety Theatre, Ayr
The Scottish Opera Pop-Up Tour starts on May 27 at the Dumfries & Galloway Arts Festival and runs until July 2 at Little Theatre, Dundee, via Sanquhar, Stornoway and other locations. For more information, see www.scottishopera.org.uk