Matthew Perry death: Friends stars Jennifer Aniston, Courteney Cox, Matt LeBlanc, Lisa Kudrow and David Schwimmer 'utterly devastated'
Friends star Matthew Perry died from suspected drowning at his Los Angeles home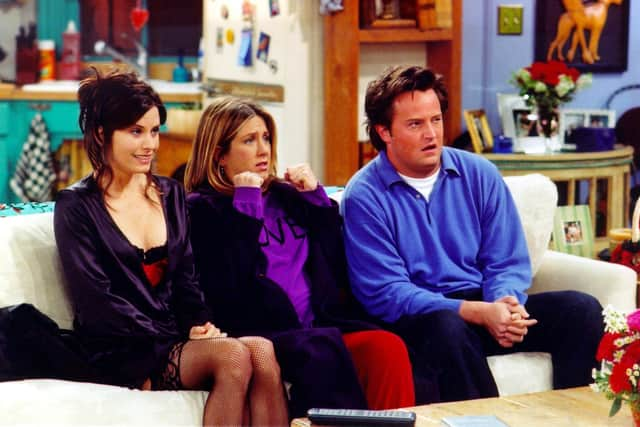 "We are all so utterly devastated by the loss of Matthew", the Friends cast said in a statement released to People magazine on Monday.
"We were more than just cast mates. We are a family. There is so much to say, but right now we're going to take a moment to grieve and process this unfathomable loss."
They added: "In time we will say more, as and when we are able. For now, our thoughts and our love are with Matty's family, his friends, and everyone who loved him around the world."
On Sunday, Friends co-creators Marta Kauffman and David Crane, along with executive producer Kevin Bright, described their "shock" and being "deeply saddened" at Perry's death in a joint statement.
They added: "We will always cherish the joy, the light, the blinding intelligence he brought to every moment – not just to his work, but in life as well.
"He was always the funniest person in the room. More than that, he was the sweetest, with a giving and selfless heart."
They also said: "This truly is The One Where Our Hearts Are Broken."
Perry, who was nominated for an Emmy for his role in Friends, rose to fame alongside Aniston, LeBlanc, Kudrow, Schwimmer and Cox, who played Perry's on-screen wife Monica Geller.
The actors reunited on screen for the first time in 2021 after the show ended its celebrated 10-year run in 2004, having become a pop culture phenomenon.
While his on-screen character brought joy to many, Perry had spoken candidly about how he struggled with drug and alcohol addiction when filming the series.
Tributes have poured in following the news of Perry's death, including from fellow Friends supporting cast members, as well as famous figures such as Canadian prime minister Justin Trudeau and Sarah, Duchess of York.
Hank Azaria, who appeared in several episodes of the sitcom playing Phoebe Buffay's (Kudrow) love interest David, said Perry was like a "brother" to him.
In a video posted to his Instagram page he said: "We were there for each other in the early days of our career and he was, to me, as funny as he was on Friends… in person he was just the funniest man ever.
"And every night, he was like a genius, he would start to weave comedy threads together, just hanging out – little joke here, joke there, joke here, joke there – and then by the end of the night he would weave them all together in this crescendo of hilarity."
Maggie Wheeler, who played Chandler's on-and-off girlfriend, Janice Hosenstein, said the "world will miss you".
Elliott Gould, who played the father of Ross and Monica Geller (Schwimmer and Cox), remembered Perry as "kind, thoughtful, smart, funny, and just a terrifically, talented actor".
Brooke Shields, who had a guest role as Joey Tribbiani's (LeBlanc) stalker Erika Ford, said she loved Perry "dearly" and thanked him for the "belly laughs".
Perry's on-screen parents, Kathleen Turner and Morgan Fairchild, were also among those to pay tribute to the Friends star.
The actor's other notable TV work includes the short-lived Studio 60 On The Sunset Strip, written by West Wing creator Aaron Sorkin, while he also starred in several films, including Fools Rush In, opposite Salma Hayek and his father John, which he previously said was "probably his best movie".
Hayek said it has taken her a couple of days to process the "profound sadness" but that she will cherish the "silliness, perseverance, and lovely heart" of her late co-star.
Alongside a selection of photos of them together posted to Instagram, she added: "There is a special bond that happens when you share dreams with someone, and together you work towards them.
"I was very moved last year when Matthew shared on his Instagram stories how much he loved 'Fools Rush In,' and how he thought that that film we did together was probably his best movie.
"Throughout the years, he and I found ourselves reminiscing about that meaningful time in our lives with a deep sense of nostalgia and gratitude."
Lindsay Posner, who directed the play The End Of Longing, written by and starring Perry, said Perry wanted to be remembered for "helping people to recover".
Paying tribute on Radio 4's Today programme, the British theatre director recalled how he was "very warm and generous" and was "keen to be thought of as a serious actor, a comic actor".
He added: "(The End Of Longing) was an autobiographical play about addiction.
"He said to me he would like to be remembered for helping people through the play … helping people to recover."
Los Angeles police responded to a radio call just after 4pm on Saturday for a death investigation of a male in his 50s, PA news agency understands.
A statement from Captain Erik Scott of the Los Angeles Fire Department to PA said they found a "male unconscious in a stand-alone jacuzzi".
It also said: "The circumstances are under investigation by LAPD and the LA County medical examiner. We mourn with families and friends who lose a loved one unexpectedly."
The post-mortem examination was reportedly inconclusive and officials are awaiting the results of toxicology tests.
Comments
 0 comments
Want to join the conversation? Please or to comment on this article.