Matthew Perry death: UK tributes paid to Friends star as Justin Trudeau, Blake Harrison, Mira Sorvino speak and Jennifer Aniston, Courteney Cox reaction awaited
Justin Trudeau, Mira Sorvino and Blake Harrison are among those who have paid tribute to Matthew Perry following the death of the Friends star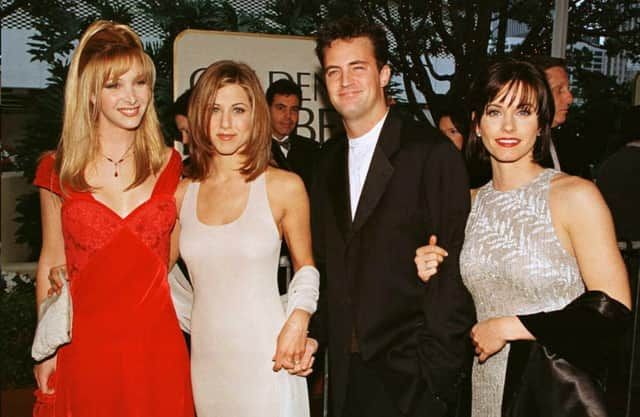 Matthew Perry has been described as a "huge inspiration" as stars and colleagues from the entertainment industry – as well as one world leader – recalled the joy brought by the Friends star.
Perry, best known for appearing on hit US sitcom Friends where he played funny guy Chandler Bing, died aged 54 after an apparent drowning.
Canadian prime minister Justin Trudeau, who attended the same school as Perry, was among those to pay tribute following Perry's "shock" death at the age of 54.
However, Friends co-stars including Jennifer Aniston, Courteney Cox and Matt LeBlanc, were still yet to release comments about the star's passing as of Sunday afternoon, UK time.
Mr Trudeau said: "Matthew Perry's passing is shocking and saddening. I'll never forget the schoolyard games we used to play, and I know people around the world are never going to forget the joy he brought them.
"Thanks for all the laughs, Matthew. You were loved – and you will be missed."
US actress Mira Sorvino, who starred alongside Perry in 1994 film Parallel Lives, said on X: "Oh no!!! Matthew Perry!! You sweet, troubled soul!!
"May you find peace and happiness in Heaven, making everyone laugh with your singular wit!!!"
Legally Blonde star Selma Blair described Perry as her "oldest boy friend".
Sharing a picture of the pair, she said: "All of us loved Matthew Perry, and I did especially. Every day.
"I loved him unconditionally. And he me. And I'm broken. Broken hearted. Sweet dreams Matty. Sweet dreams."
Friends co-stars Maggie Wheeler, who played Perry's on-off girlfriend Janice Hosenstein during the early series of the TV show and often appeared to perform her catchphrase "Oh! My! God!", paid tribute to Perry on Instagram.
"What a loss," Wheeler captioned a picture of the pair. "The world will miss you Matthew Perry. The joy you brought to so many in your too short lifetime will live on. I feel so very blessed by every creative moment we shared."
Comedic figures from the UK were also quick to pay tribute to Perry.
​The Inbetweeners actor Blake Harrison recalled how Perry indirectly encouraged him to "pursue acting".
Harrison, 38, who played Neil on British comedy series The Inbetweeners about four boys navigating their way through school, said in a post on X: "Matthew Perry was a huge inspiration to me growing up. My friends & I would come into school having memorised his sarcastic one-liners, speech patterns, even Chandler's dance.
"He brought me so much joy & without knowing it he encouraged me to pursue acting. Thank you."
Media personality Vicky Pattison, known for appearing on reality show Geordie Shore, said Friends was always on in her house as she paid tribute to the man she remembers as a "brilliant friend".
On Instagram, Pattison, 35, wrote: "The one where we all lost a friend … I don't even know what to say. Friends is constantly on in our house, it's been a huge part of my life. Like the theme tune suggests – there for me when it hasn't been my day, my week, my month or even my year."
Lucy Davis, who starred in the UK version of The Office, said Perry made a "great impact" on her.
In a post to X, she said: "I had the honour of working with this man for 9 months on Studio 60 on the Sunset Strip. He was as funny off screen as he was on screen. He was really kind to me: I had one week where I was having difficulty with something at work and he came up to me and told me not to worry because he had my back."
Comments
 0 comments
Want to join the conversation? Please or to comment on this article.