Friends star Matthew Perry - renowned for playing character Chandler Bing on US sitcom - dies aged 54
Matthew Perry has been described as a "brilliant young actor" after the Friends star died at the age of 54
Friends co-stars Maggie Wheeler and Morgan Fairchild have remembered Matthew Perry for the joy he "brought to so many" following his "shock" death age 54.
The actor, who became a superstar playing funnyman Chandler Bing during 10 seasons of the US hit comedy Friends, died after an apparent drowning at his Los Angeles home, US outlets have reported.
Wheeler, who played Perry's on-off girlfriend Janice Hosenstein during the early series of the TV show and often appeared to perform her catchphrase "Oh! My! God!", paid tribute to Perry on Instagram.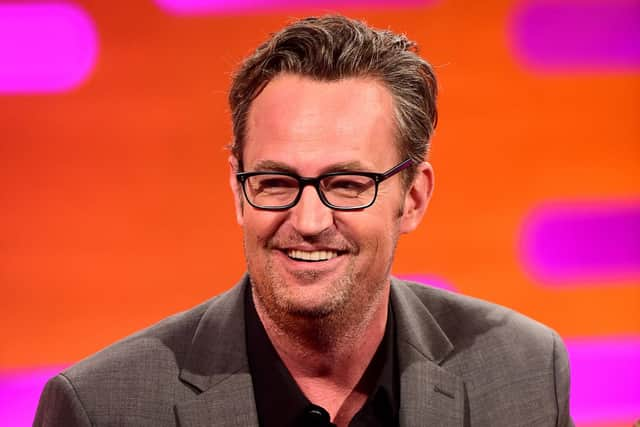 "What a loss," Wheeler captioned a picture of the pair.
"The world will miss you Matthew Perry. The joy you brought to so many in your too short lifetime will live on.
"I feel so very blessed by every creative moment we shared."
Meanwhile Fairchild, who played Perry's on-screen mother and erotic novel writer Nora Bing, said on Twitter: "I'm heartbroken about the untimely death of my 'son', Matthew Perry."
The 73-year-old US actress added: "The loss of such a brilliant young actor is a shock.
"I'm sending love and condolences to his friends and family, especially his dad, John Bennett Perry, who I worked with on Flamingo Road and Falcon Crest."
Perry, who was nominated for an Emmy for his role in Friends, starred alongside Jennifer Aniston, Matt LeBlanc, Lisa Kudrow, David Schwimmer and Courteney Cox – who played Perry's on-screen wife Monica Geller.
The actors reunited on screen for the first time in 2021 after the show ended its celebrated 10-year run in 2004, having become a pop culture phenomenon.
Perry's other notable TV work includes the short-lived Studio 60 On The Sunset Strip, written by West Wing creator Aaron Sorkin, while he also starred in several films, including Fools Rush In, opposite Salma Hayek and his father John.
US actress Mira Sorvino, who starred alongside Perry in 1994 film Parallel Lives, said on Twitter: "Oh no!!! Matthew Perry!! You sweet, troubled soul!!
"May you find peace and happiness in Heaven, making everyone laugh with your singular wit!!!"
While Legally Blonde star Selma Blair described Perry as her "oldest boy friend".
Sharing a picture of the pair, she said: "All of us loved Matthew Perry, and I did especially. Every day.
"I loved him unconditionally. And he me. And I'm broken. Broken hearted. Sweet dreams Matty. Sweet dreams."
Canadian Prime Minister Justin Trudeau also paid tribute to Perry after attending the same school.
"Matthew Perry's passing is shocking and saddening.
"I'll never forget the schoolyard games we used to play, and I know people around the world are never going to forget the joy he brought them.
"Thanks for all the laughs, Matthew. You were loved – and you will be missed."
Perry was one of the most familiar faces on television during the 10 series of Friends.
In a statement Warner Bros, the entertainment company which made Friends, said: "Matthew was an incredibly gifted actor and an indelible part of the Warner Bros Television Group family.
"The impact of his comedic genius was felt around the world, and his legacy will live on in the hearts of so many.
"This is a heartbreaking day, and we send our love to his family, his loved ones, and all of his devoted fans."
During his time on the show, Perry struggled with addiction and anxiety which he described in his memoir Friends, Lovers, and the Big Terrible Thing which was published in 2022.
Comments
 0 comments
Want to join the conversation? Please or to comment on this article.