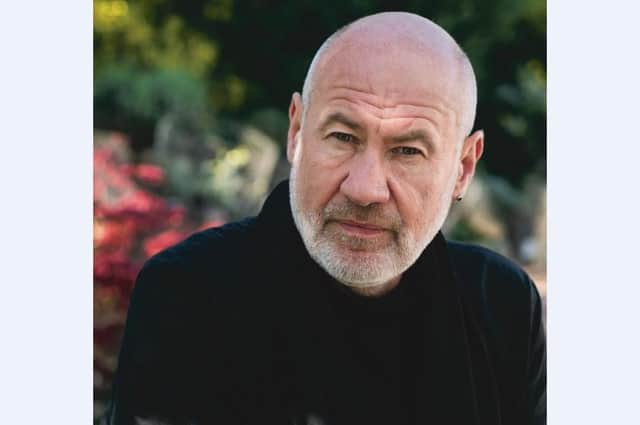 Fish: Weltschmerz (Chocolate Frog Records) ***
Idles: Ultra Mono (Partisan Records) ****
Diana Jones: Song to a Refugee (Proper Records) ****
The Son(s): The Creatures We Were Before We Are Ghosts (Olive Grove Records) ****
Prog rock veteran Fish didn't need a pandemic to re-evaluate his life. He had already decided that Weltschmerz was going to be his final studio album. He had the title – a German expression of world-weariness – before he had the music, and the subject matter of several tracks appears to confirm a dejected perspective.
But there is also a great deal of warmth in this collection, as well as a contrasting desire to go out with a flourish. Weltschmerz is an epic double album of sprawling symphonic prog, embellished by the exquisite strings of the Scottish Chamber Orchestra and the meticulous polish supplied by Blue Nile producer Calum Malcolm.
Fish has given himself a long leash with these personal songs. The combination of introverted lyrics and extroverted arrangements works, particularly on the likes of This Party's Over, a philosophical examination of his relationship with alcohol garnished with folk whistles and multi-tracked acoustic guitar, evoking the blithe spirit of Peter Gabriel's Solsbury Hill.
The death of his father has prompted a number of songs looking at mortality. The piano ballad Garden of Remembrance concerns a couple dealing with dementia, while C Song (The Trondheim Waltz) is light on its feet, heavy on its subject matter, and the rock operatic Waverley Steps (End of the Line) features a suicidal protagonist.
Weltschmerz is a labour of love which doesn't sound that laboured. Job done, Fish can now lie down in a darkened room for a bit.
Bristol's Idles continue to lead the politicised punk charge, proving you can scare the horses without scaring away an audience. Following the Ivor Novello Award-winning Joy as an Act of Resistance, Ultra Mono is their third cathartic dispatch of brute, blunt force, with vein-popping frontman Joe Talbot channelling the rage of hip-hop across 12 tracks, from the helter skelter sprint of War to the garage punk protest of Grounds.
Model Village rails against smalltown mentality, with a Loki-like mischief to Talbot's disdain for the "model wife, model car, model village." Here he makes sardonic reference to Lynn Anderson's Rose Garden, while the turbo-charged Danke turns lyrics from Daniel Johnston's True Love Will Find You In The End into a bleak proposition.
Ultra Mono is delivered in a state of near-constant apoplexy which invites listeners to roll up their sleeves and get stuck in.
There is a much quieter anger running through the latest album by US folk singer/songwriter Diana Jones, a voice from another time singing about tribulations which have never aged. The first and third person accounts of migrant experiences on Song to a Refugee conjure up images of the dustbowl migration to California, and the US/Mexican border looms large. But Jones also sings of Sudanese and Syrian experiences, of crossing the Mediterranean, and of settled immigrants helplessly watching the devastation in the countries they left many years before, to create a tender testimonial.
She musters a campfire posse of Peggy Seeger, Steve Earle and Richard Thompson who take a verse each on We Believe You, inspired by Alexandria Ocasio-Cortez's words of affirmation, and who can argue against the simple sagacity of the title track: "none of us know where our footsteps will fall."
Elusive Edinburgh combo The Son(s) recorded their third album The Creatures We Were Before We Are Ghosts in March in an empty Leith Theatre, all the better to capture their spacious, stately sound.
Lord, I Am Grateful is a suitably devotional opening, which opens out into a torrid chorale. A Prick in Gold Lamé is more of a bare blues lament overlaid with lonesome analogue synthesizer and resonating fuzz guitar. Bruised vocals are often complemented by beseeching harmonies, and there is immaculate melancholy throughout.
Britten: Peter Grimes (Chandos) *****
Those who recall Edward Gardner's gripping concert performance of Benjamin Britten's seminal 1945 opera Peter Grimes at the 2017 Edinburgh International Festival will not be surprised to learn how good this subsequent recording of it is. Once again the Bergen Philharmonic are on tantalising form, Gardner eliciting both clarity and density in the coloristic Sea Interludes. Stuart Skelton reaffirms his mastery of the title role with a Grimes that draws both repulsion and pity. Erin Wall oozes righteous empathy as Ellen, Catherine Wyn-Rogers busies herself brilliantly as Mrs Sedley, Susan Bickley's Auntie is delightful, and new cast member, Roderick Williams, offers up a hearty Balstrode. The Bergen Philharmonic Choir are joined by singers from the Edward Grieg Kor, Collegium Musicum and Royal Northern College of Music Chorus, whose powerful commentary is a potent backdrop to a nasty tale. Ken Walton
Paul Armfield: Domestic (PSA Records) ****
The last album from the Isle of Wight singer-songwriter Paul Armfield, Found, was inspired by a trove of old photographs which became part of the package: his latest, Domestic, sees his song craftsmanship extend to his ten meticulously wrought linocuts of plants, one for each track. He delivers, almost confidingly, in that warm smoulder of a voice, accompanied by a superbly empathetic pan-European band. His themes are that of home, belonging and allegiance and the fact that the illustrated plants are all associated with Britain but not necessarily native is telling. Thus the catchy affection of You, a love song to his wife, and the samba-paced stroll of Home contrast with Nowhere and Flagbearers, with their quiet but unequivocal warning about xenophobic patriotism, the latter reminding us that "We are all of us strangers" and observing, "you call yourself English, well bully for you / Is that a medal of honour or a badly drawn bulldog tattoo?" Jim Gilchrist