Scotland reach Euro 2024 on surreal evening in Lille: Gavi toast, one enterprising groghouse, VAR, who knows when party will stop
And breathe. Scotland's friendly against France on Tuesday now takes the form of the first match in Steve Clarke's extended preparations for next summer's European Championship finals in Germany after Spanish midfielder Gavi struck a winner against Norway cheered as heartily in MacDuff as Madrid.
Still only 19, the Barcelona player is at least old enough to drink alcohol. He won't have to buy a drink in Edinburgh or anywhere else in Scotland during any future visits. His winning strike four minutes after half time in Oslo renders Scotland's last two Group A fixtures against Georgia and Norway less important, although Clarke's side will still have ambitions to finish top of the group.
The three points that Spain gained last night makes this extremely unlikely but Scotland have qualified and that is all that matters in the first instance. Clarke has done it again. It is the third time out of four successful European Championship campaigns that Scotland have clinched qualification without actually playing.
It is of course deeply insulting to Clarke to suggest that Scotland made it to Germany without having to kick a ball for themselves. He was at pains to stress this after Thursday night's defeat against Spain, which, combined with Norway's victory in Cyprus, had put Scotland's qualifying hopes temporarily on ice. "It's important to recognise that if and when we qualify then it's because of what we've done," he stressed to reporters the day after the loss in Seville.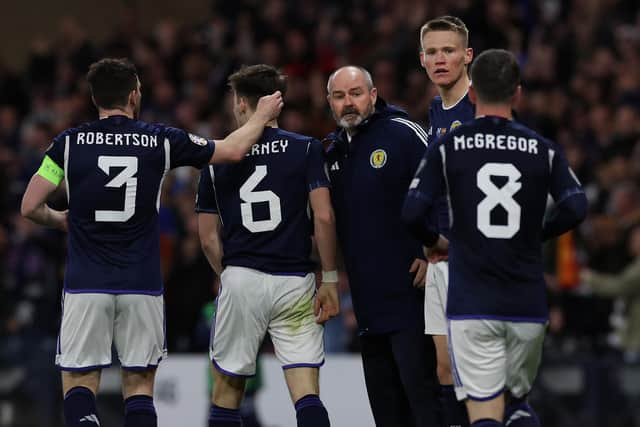 Scotland not only qualified with two matches to spare, they strung five victories together at the start of the campaign, including a famous win over Spain at Hampden in March. Luis de la Fuente's side are nevertheless now in pole position to top the group. Spain proved they can do it on a Sunday night in Oslo as well as a muggy Thursday in Seville, where they got their campaign very much back on track with a controversial 2-0 win over Scotland.
As ever, though, it was not straightforward. There was a near-five-minute VAR check for offside before Gavi's goal was given – Spain skipper Alvaro Morata had initially stopped the ball on the line from Ferran Torres. Spain also had a goal ruled out for offside in the first half. The long deliberations called to mind the outrage felt after Scott McTominay's disallowed goal against Spain in Seville. Although the SFA will no doubt persist with their attempt to gain some clarification from Uefa about the confusion and contradictions sounding the chalked-off strike, it matters less now.
It was a surreal evening in Lille, where Scotland play France. Early Tartan Army arrivals – many of whom had come straight from Seville – found a city gripped by rugby fever. Sadly, Scotland's major finals hopes were not high on the agenda as the host nation took on South Africa in the quarter-final of the rugby World Cup. Normally, a Sunday night in Lille would not offer too much in the way of competing attractions but anyone wishing to watch Norway take on Spain had to employ their investigative powers.
Even the barmaid at the local Scottish pub, O Scotland, had to apologise for not being able to accommodate Scottish visitors hoping to watch a game that had so much invested in it. It was France v South Africa there too. One enterprising groghouse, Temple's Bar on Rue Massena, set itself up as the unofficial Tartan Army HQ. Word soon spread that it was the only place in town showing the game, although even there it was only being shown on one screen, with rugby on the others.
Not just any rugby of course. A clash for the ages. It was even hard for Scotland fans to resist a peek. It was not a double celebration in the end. Scottish fans spilled out into the street to be joined later by deflated French fans, who looked quizzically at these kilted visitors leaping manically around the cobbled streets of their town on a Sunday night in mid-October. There's no saying when the partying will stop.