Scotland 150th anniversary kits on sale for £175 as fans fume over supply and initial price
It is common with tickets, collectables and even old records, but it is rare to see an item of clothing on Ebay the same day it has been released.
However, the limited offering of 150th anniversary kits from JD Sports and the SFA has seem some try to capitalise on those wanting to get their hands on the kit.
One Ebay seller in Greenford has listed the kit for £174.99, with a host of other kits on sale on the platform for £169.99.
A variety of sizes are available on Ebay despite JD selling out of their stock online.
The SFA faced the ire of many Scotland fans after the price of the kit was revealed after weeks of build up.
The strip also features an old-fashioned Lion Rampant crest, which is gold in colour, and will be worn by Steve Clarke's side for the first time in this month's Euro 2024 qualifiers against Spain at Hampden Park.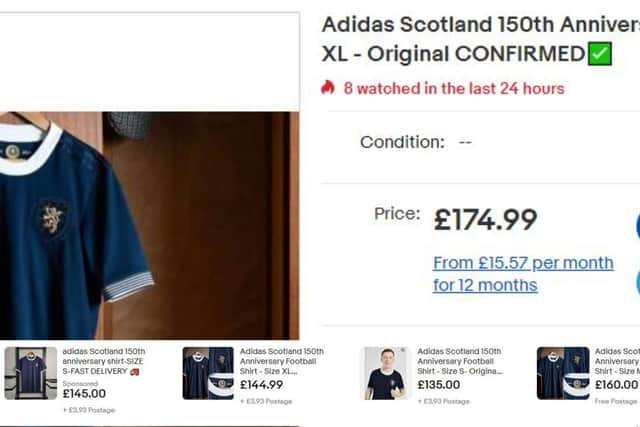 One fan wrote: "Well done the Scottish FA. Your absolute shambles of a centenary shirt launch has just made a whole army of eBay traders extremely rich while totally ripping off the legions of loyal Tartan Army Diehards.
Another wrote: "I've bought mine however it's an absolute joke how much they cost.
"During the greatest cost of living crisis many of us have experienced charging this much is an absolute disgrace.
"I'm in a fortunate position to be able to get one but you're pricing so many out of this."
One fan also said that SSC members should have had priority access: " I personally wouldn't pay £90 for a t-shirt, but this should have been made available to all SSC members for 24 hours before the general public."
Another added: "Don't normally buy the tops because of the price but thought I might get this one but for £90 you can bolt"
Fans also accused the SFA of failing to read the room after they posted a reminder that the shirts would be worn during the clash v Cyrus, after they had sold out, but that tickets remained available.
One user wrote: "Read the room? Trying to flog £35 tickets hours after fleecing the same fans £90 for a new top probably isn't the best idea…"
Another added: "You're just mocking fans now."
A JD spokesperson said: "We have seen strong demand for the Scotland 150th anniversary kit. We are working hard to ensure as many customers as possible can buy these anniversary shirts in store or online. JD is proud to be the exclusive retailer of the SFA."
The SFA have also been contacted for comment.
Comments
 0 comments
Want to join the conversation? Please or to comment on this article.