Rangers reaction: Montano's kiss to away ultras, poppy banderole, Butland's 2014 Tavernier save
The extras from Rangers' comfortable 2-0 win over Livingston in the cinch Premiership
Tavernier and those penalties
Rangers captain James Tavernier is clearly right up there in the annals of British – and perhaps global – penalty takers. The right-back was afforded not just one but two attempts from the spot in West Lothian and while he sent his first effort wide of the post, he made no mistake with his second. The 32-year-old has taken 73 penalties in his senior career – 72 of them at Rangers – and has converted 58 of them. Graham Alexander, the former Scotland full-back, took 75 in his career but only missed four, for comparison. Even still, Tavernier's record is still pretty strong even if he has missed the target on four occasions this calendar year. As an aside, that one penalty he took away from Rangers … was for Wigan Athletic, against Derby County, in 2014. Who saved it? Current Rangers keeper Jack Butland!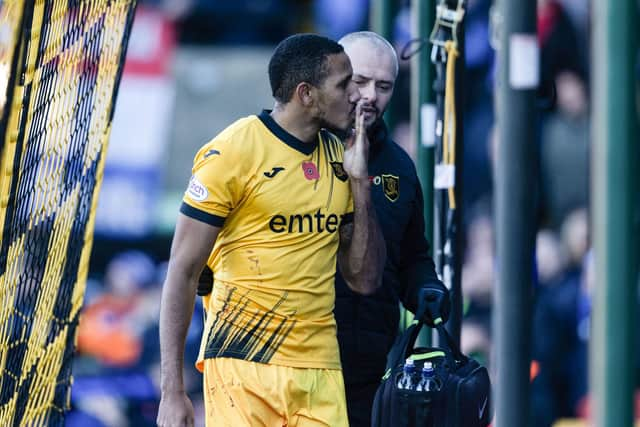 Poppy display
We are quick enough in this country to pick up on poor fan behaviour and distasteful banners but there was none of that in the Rangers end with their nod to the fallen in conflict. Ahead of kick-off, the ultras unfurled a Bayeux Tapestry-style banderole that spanned the length of one of the stands behind the goal. It read: "That courage faith and honour will stand where heroes fall." Plenty of paper poppies were held up by fans. It was a moving sight, with the minute's silence impeccably observed by all in the stadium for Remembrance Day.
Montano and Rangers fans
That end of the ground also bore witness to Livingston defender Cristian Montano having a bit of banter with the Rangers fans. The Colombian was subbed off late in the game and as he walked past the away support, he sarcastically applauded the crowd as the goaded him and threw what looked like paper balls at him. Montano then upgraded his claps to a blown kiss. Silly capers but entertaining nevertheless.
Are Livingston in trouble?
It's far too early to condemn a team at this stage of the season, but Livingston are now bottom of the Premiership after the weekend fixtures. David Martindale and his team's fate will not be decided by matches against Rangers but their first-half performance was alarmingly poor. They miss the leadership of Ayo Obileye at the back but perhaps of more concern in that their prized forward Joel Nouble is not in form. The hulking striker looks short of confidence and for the Lions to move up the table, they need him back to his best. Martindale is not panicking but he will hope that the break allows Livingston to regroup.