Disturbing bloodlust, Danilo revelation and dubious use of stats - Michael Beale concedes he has it 'all to prove' at Rangers
It goes with the territory for a manager in Michael Beale's perilous, present position to be pilloried, to have fun poked at him, and all in pitiless fashion.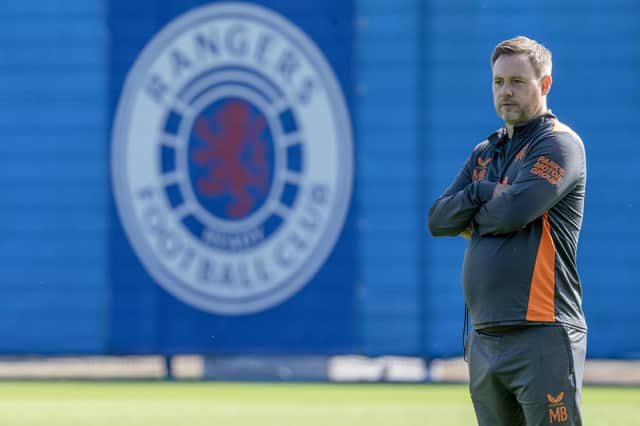 His reconstructed Rangers squad have looked lame and lacking in becoming the first from Ibrox since 1989 to lose two of their first four league games – the most egregious of these defeats coming two weeks ago to a defensively-destabilised Celtic team it was universally predicted they would take apart. That 1-0 reverse followed on from the club's heaviest defeat in a European qualifying game – the product of being thumped 5-1 in the Netherlands by PSV Eindhoven to exit the Champions League – and it was inevitable the subsequent international break would elicit widespread and angry demands for Beale to be cut adrift.
It is inescapable that even short-term job security for the 43-year-old could be fatally undermined if the return to domestic football this weekend does not see Rangers arresting their mini-slump against St Johnstone in Perth on Saturday lunchtime, before their Europa League opener with Real Betis at Ibrox on Thursday. Yet even allowing for this, the brutality of the bloodlust around Beale in the past fortnight – in its viciousness and personalised nature – has been borderline disturbing. It seems to be the engaging Englishman's lot that he will be lashed in the grim times to a frightening degree. And to his credit, he doesn't distance himself from the reasons underpinning that. He recognises that with no past profile as a player, and a mere 60 competitive games as a manager – during which there has been no silverware success – graphite-melting heat will envelop him rapidly in the tough times. Even if these very factors could be cited to question how the Rangers board gauged his suitability for the post last November.
"I'm a young manager, so you've got everything to prove. I've not picked up a trophy here at the club yet," Beale said. 'Winning those first 18 games out of 19 doesn't matter, does it? Because ultimately the club want you to pick up trophies. It's a club defined by trophies, and in the last 10 or 12 years we haven't won as much as we'd like. That's the reality of where we are. We had to build a new squad because it was an ageing squad probably at the end of its cycle. That's what we've done. We're five domestic games into it. We lost one European game heavily, the others I thought we competed and did well in. For me, it's not what I expected at the start of the season. It's not what the players expected, nor the fans. That's clear. But it's what we've got and now we have to move forward. I think when you're a new manager and you're not a big name you have to earn your right. If you don't, naturally there is going to be some anxiety and opinion around you, because you're building. You haven't got a history as a player to build on or all those words that come out of that."
Beale strays into the dodgy territory of a manager under-pressure in looking for fig leaves to cover failings. He points out that Rangers' XG and shots totals have outstripped opponents in all matches but those against PSV. Again, that might betray weakness. The majority of the club's £13million outlay on their nine new signings – with a full 11 players required to be integrated, he says, after Kemar Roofe and Tom Lawrence missed most of last season – was spent on forwards. Around £12m lavished on Danilo, Cyriel Dessers and Sam Lammers. The persistence with Dessers over Danilo has perplexed. The Ibrox manager seemed to recongise that is a weeping sore for the fanbase in offering, unprompted, that it hasn't been easy for the Brazilian. A result of the striker, who cost £5m from Feyenoord and was billed as the difference-maker in an all-new attack, only arriving on July 20. "That Celtic game was the third of September, so he had barely been here a month," he said. "In that time he has a lot of stuff going on. He did arrive without a pre-season." Curiouser and curiouser, might be the response to that.
All the early season troubles can be refracted in the "amount of changes we have made", Beale claims. That isn't likely to wash considering the overhaul was supposed to provide an entirely new impetus. And rid the club of players such as Alfredo Morelos and Ryan Kent, considered to have been phoning it in across the final year of their contract. What else won't wash is Beale petitioning that Rangers are in the throes of profound change at all levels, and that this requires time to come to fruition. A reference, it would seem, to James Bisgrove and John Bennett moving into the roles of chief executive and chairman in recent months. They might not care to be lumped in with their put-upon manager. It would, though, appear Beale doesn't believe they will be in a rush to offer him up as a sacrificial lamb for a faithful now demanding that in their despair. As, privately, the Ibrox support perhaps begin to feel a little foolish over how easily they were seduced it was more a given everything was in place for their club to gallop past an Ange Postecoglou-less Celtic.
"What am I, 60 games in, 38 games in at Rangers," said the Rangers manager. "Just work out what has happened structurally inside Rangers in those 38 games. Probably the first 15 or 16 games, nothing had changed. So if you go down to the next 20-odd games think about what has happened structurally in the club. Think about what has happened in the squad, and then put yourself in my shoes. Everything is a work in progress. If people outside can't see that, then that's OK. Fans just have to support the team and the game they are in. They don't have see things like I do, or the board do. But that is our job to see things in a different way and we will be judged over time on it, won't we?" Maybe all too little time.
Comments
 0 comments
Want to join the conversation? Please or to comment on this article.