'I don't need assurances' - Michael Beale on Rangers job threat, fan frustration and talks with Ibrox board
Rangers manager Michael Beale has insisted he does not need assurances from the club's board despite recent speculation over his position.
Beale has faced a tidal wave of criticism from Gers supporters following the 1-0 defeat to an under-strength Celtic at Ibrox before the international break – both inside the stadium following the full-time whistle and in the aftermath.
The Old Firm loss came just days after a 5-1 hammering to PSV Eindhoven in the Champions League play-off that has consigned Rangers to the Europa League where they begin their group stage campaign at home to Real Socieded next week.
Beale faced the media ahead of the return to domestic action on Saturday where Rangers will make the trip to Perth to face St Johnstone, and indicated that he is not concerned for his immediate future despite facing calls to be sacked.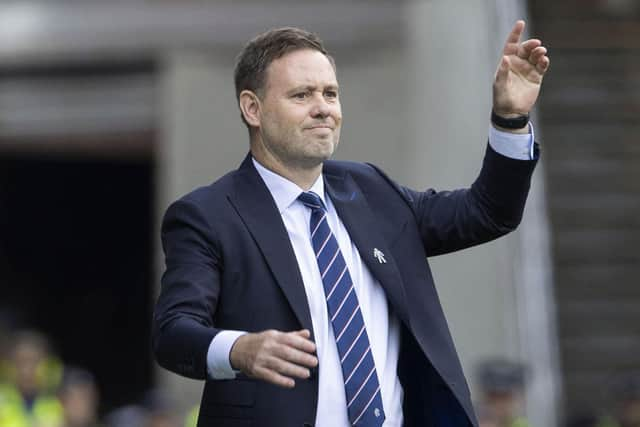 "I'm part of a plan in terms of where we are going as a club. It's something I'm fully aware and involved in. Ultimately, a football manager needs to win games and the last two we didn't win, so we need to get back to winning. We've got seven games in 22 days now so there's a good opportunity for us to do that."
Birmingham City boss John Eustace addressed rumours that he was an 'early candidate' to replace Beale on Thursday, stating: "Rangers have got a fantastic manager already there. That's not a job that interests me at all."
Beale insisted he has paid no heed to the what he called "background noise" and stressed that his relationship with Ibrox chairman John Bennett and chief executive James Bisgrove remains a strong one.
"My relationship with [them] is extremely close. I live that relationship every day. I know where we're at. I know what the plan was coming into the season and I know where we're going as football club. I was involved in every single decision. Every decision wasn't my decision but I'm involved in everything. We're very aligned. I have no concerns about that.
"I can't affect the background noise. I just have to get on with my job day in, day out. I see James probably every day, I speak to John two or three times a week, so I'm really comfortable. Journalists are going to ask managers questions - I can't help that."
Addressing the heat he has been receiving from Rangers fans, Beale added: "Fans have shown frustration towards myself - that's fair - and towards the players as well. None of us are in a lot of credit at the moment. The way you get that is by winning games and we've now got seven in 22 days so on we go.
"The fans are really frustrated and disappointed. If they think the players aint then that would be foolish of them because the players also live and breathe it every day. There's been some really honest words said in-house that will remain between us, but the talking needs to come on the pitch now."
Beale oversaw significant change at Rangers during the summer with nine new signings and 11 departures, but he admitted that the grace period for his new-look squad is now over with no margin for error in upcoming matches.
"The team needs to win games of football," he stressed. "We've got a good opportunity in front of us just now. The team needs to show a rhythm in the way that we're playing. The new players need to show that they are settled. They've had a long time now. We've had about 40 sessions on the pitch, nine games and four or five pre-season games. The players arrived at different times but there's no excuse about it being a new team. Take the League Cup game aside, around seven or eight players have played in every game.
"There's been a little bit of change in the front line but there's been a lot of new players in those areas. Each player's different but the new guys have had enough time to settle. They've felt the heat in Glasgow in terms of a reaction from the fans. The fans have made their feelings clear to the team and it's important they see a response now, from me first and from the players."
Comments
 0 comments
Want to join the conversation? Please or to comment on this article.