Rangers pyro and the potentially serious Dens Park danger, 'mass criminality in the stands', ball boys safety fears
It was the night Bonfire Night came early to Dens Park – or should that be the Scot Foam stadium, its recently adopted official title.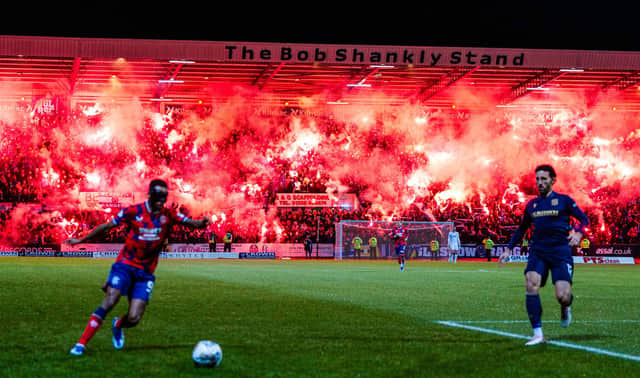 Despite the modern sounding change of name to reference a home insulation company set up by a former member of the Scottish Fire and Rescue service – yes, really – the ground itself retains an old-fashioned aura. To a fault, some might say.
And therein lies one of the problems as the issue of pyrotechnics, and what place, if any, they have in Scottish football, flared once again.
Dens Park, to give it its proper name, admittedly presented a very specific and potentially serious situation on Wednesday evening. Anyone with a knowledge of Scottish football history – and Rangers fans of a certain age should be particularly alert to this – will be aware of the vintage of Dundee's main stand.
It is one of the few surviving structures conceived by the master football ground designer Archibald Leitch, whose piece de resistance was the handsome main stand at Ibrox. Opened in 1929, it still stands proudly and is now known as the Bill Struth Stand.
The Dens Park main stand predates it. Opened in 1921, it retains such period details as a wooden floor in the section nearest the away stand. That is a significant detail when pyro sticks burning to a heat one stadium safety officer claimed could reach as high as 2000 degrees Celsius are being waved a matter of yards away.
As many as 70 such devices were retrieved from the Bob Shankly Stand, where 3,000 Rangers fans were tightly packed in on Wednesday. Another 1000 were housed in the nearest wing of the main stand. Around 4,000 away fans.
At a time when some clubs are limiting the number of tickets allocated to Rangers and Celtic fans, that itself presents a problem.
Rangers fans made up nearly half of the 8970 attendance. There would not be quite the same surveillance issues if Dundee had restricted the visitors to just 600 tickets, as Hearts recently did at Tynecastle when Celtic came calling.
Dundee like the revenue, understandably. Why should they leave seats empty if they can't fill them with home supporters? This is another issue for the SPFL to consider. Scenes such as Wednesday keeping fans away. "Dundee fans don't turn out for these games, they know what it is coming," said a club insider. "And they won't bring their kids. If it was a derby, the place would be filled out." Television could not even be blamed for the stayaways in midweek.
Few will be attracted back for such occasions, with Celtic due at Dens Park on Boxing Day. Wild scenes – owing more to drunkenness than pyro – at the same fixture on the same day 11 years ago prompted the club's then operations manager to describe the night as a "throwback to the 1970s" – and he wasn't referencing the style of clothing.
Flares of the non-denim sort were the chief preoccupation on Wednesday. Dundee received some intelligence about what might happen prior to the scheduled 7.45pm kick-off but it's evidently proving hard to search football fans for pyrotechnic devices, with one apparent wheeze persuading children to stick them down their trousers.
Like many, this writer is conflicted. Images of the display look undeniably thrilling. But the reality – certainly on Wednesday – was having to withdraw ballboys from that end of the ground for their own safety and the treatment required by those suffering respiratory difficulties.
One doesn't need hindsight to know it was an evening ripe for the type of scenes that duly unfolded. Passions were high. Rangers fans wanted to show they were firmly behind a new manager in Philippe Clement who had helped inspire a late win over Hearts in their last outing.
Things quickly got out of hand. Alarm bells started to ring, literally. And for those old enough to remember Bradford, that's the biggest no-no. Smoke blew in though the vomitory in Section A of the venerable main stand, above the players' tunnel, and set off an alarm there. Directing both teams off was unavoidable.
In the words of one Dundee official, "there was mass criminality going on in the stand".
To say he sounded exasperated is an understatement. Dundee know they now face getting it in the neck. But the club are confident they did everything they could to satisfy SPFL Rule H33, which requires that the home club took all the necessary precautions to limit unacceptable conduct at a match.
Rangers may find it harder to demonstrate that they did all they could to reach Dens Park on time. The reason for the delay in the match starting has been lost in the fog of the pyro debate.
Rangers were made aware of the roadworks on the Tay Road Bridge at a pre-operations meeting on Monday. The bridge has been reduced to one lane and this together with the closure of the A92 road through Fife meant the area bridge was always likely to be a pinch point. Rangers chose to spend the night before the game at a St Andrews hotel, just 15 miles away, but still failed to reach Dens Park in sufficient time.
A rush hour accident could not be foreseen and resulted in gridlock in Dundee. It meant the Rangers team bus did not draw up outside the stadium until nearly 7.25pm.
Dundee manager Tony Docherty conceded the disruption was the same for both teams, although waiting around like the home players had to do can prove more enervating, strangely, than the panicked attempt to get somewhere. An energised Rangers blew Dundee away, with their fifth goal arriving shortly before 10.40pm.
Dundee skipper Joe Shaughnessy had arrived at 5.45pm. "We are here on time and yet not kicking off until half eight," he said. "And even then you are not really starting the game until quarter to nine (after the flares disruption). So yeah, the whole night was a bit of a mess."
One for the SPFL to sort out, though few are holding their breath other than to avoid the fumes.
Comments
 0 comments
Want to join the conversation? Please or to comment on this article.