There's a freshness about the Scotland camp that is not solely attributable to it being nearly six months since the international side last played a competitive game.
They have relocated to Lesser Hampden from the Oriam complex, meaning yesterday evening was spent resting up ahead of the opening Euro 2024 qualifier against Cyprus rather than negotiating M8 traffic from their former Edinburgh base, where the facilities have come under such fierce attack this week.
"Health hazard," according to outspoken assistant manager John Carver. "You know what John's like," was the gist of the more diplomatic Steve Clarke's assessment yesterday, as he sought to smooth the waters after extending his stay as Scotland head coach up until the next World Cup in 2026. "I think the point John was trying to make was how good the new facilities are," Clarke explained.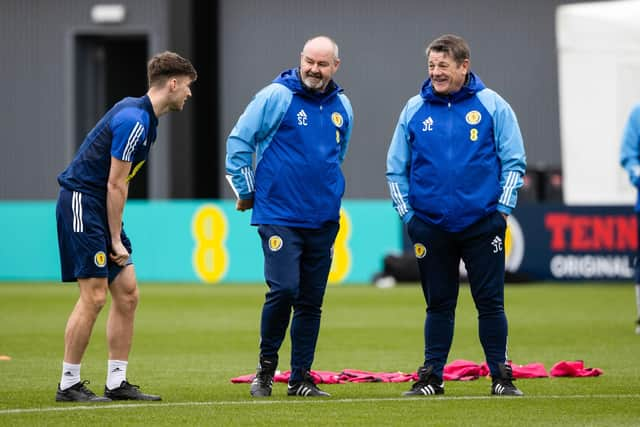 The Scottish Football Association might complain it is not them, or at least not only them, who set the price. If some of the profit has been put towards persuading Clarke to sign a new deal, then it might be considered slightly more palatable by the Tartan Army.
The news, which emerged shortly before the manager sat down with reporters at Hampden to preview today's opening Euro 2026 qualifier, has been greeted positively. Clarke knows it might be a different story as soon as 3.45pm this afternoon.
"What my bosses have done is said, 'we can see the improvement, we can see the work, here's the contract beyond that World Cup'." he said. "Because they know that is what I want to do. But I'm not so daft to think...football can be short term as well. If you don't get the results at the right time, things can turn ugly..."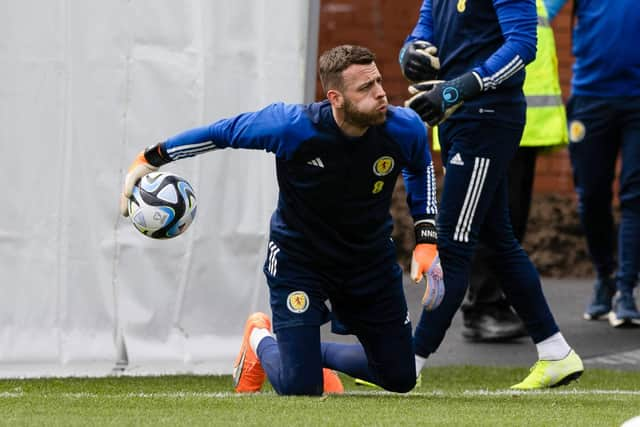 Amid all this reinvention, it would be helpful if Scotland could win the opening game of a European Championship qualifying campaign for the first time since 2006, when they beat the Faroe Islands 6-0 under Walter Smith.
A latest campaign that kicks off against Temuri's Ketsbaia's capable but surely very beatable Cyprus means Clarke is expected to begin this latest chapter with three points.
It was the same when his tenure started against the same opponents just under four years ago. The international side was in a state of flux at the time. Scotland, by Clarke's own admission, could not be relied upon to handle even this moderately difficult assignment.
Only 31,000 unimpressed fans witnessed a goalless first half at Hampden. "We had not done anything," recalled Clarke. "They (Cyprus) had not done anything. Then Robbo (Andy Robertson) stuck one in the top corner in the second half and you are thinking, 'we will get over the line…'"
Clarke was used to seeing his Kilmarnock teams grind out 1-0 wins. "And seeing it out quite comfortably," he added. "I forgot it was Scotland and I was in a different job. Suddenly it was one-each! How did that happen? Fortunately Oli (Burke) had come off the bench and we managed to get the winner."
There will be no Burke on hand to help him out this time around. Now on loan at Millwall from Werder Bremen, one wonders if the striker will ever resume his international career. But there are others who Clarke now knows he can trust.
There's Callum McGregor, for example, who is set to win his 50th cap this afternoon. As many as 38 have come on Clarke's watch. "It's a pleasure to be his head coach," said the manager. There are others, too, who have grown into significant players under Clarke, including Grant Hanley and Che Adams.
It's rare when a squad unveiling produces something completely left-field. Angus Gunn's inclusion can not be described as a shock since it had been rumoured for months that Clarke would try to persuade the son of his former international teammate Bryan to switch nationality to Scotland from England, the country he represented at Under-21 level.
The main selection intrigue is whether Clarke puts Gunn straight into the starting XI ahead of Zander Clark and Liam Kelly, the manager's uncapped other options. The likelihood is that he will.
"I've really enjoyed watching the three boys work this week because they've all tried ever so hard to impress," said Clarke when put on the spot on the subject of goalkeeper. "They've all been really good in training. It's a proper tough decision. I actually said that when I thanked them last night.
"I thought at the start of the week it would be a tough decision. It's even tougher now. They've been great. But that's what you want. You want competition for places. They all want to be No.1 for Scotland. So we miss Craig (Gordon) but it's a big chance for somebody. I'm going to sleep on it."
He will keep the Scotland fans and Ketsbaia, his opposite number, guessing. Clarke once coached the advertising board-kicking Georgian in all his wild-eyed glory.
"Not when he did the daft bit!" smiled Clarke, with reference to the occasion when Ketsbaia dementedly smashed a hoarding with his boot after scoring against Bolton Wanderers for Newcastle United in 1998. The pair worked together at St James' Park, with Clarke having been brought in as manager Ruud Gullit's assistant.
"He's a good guy, a good character," recalled Clarke. "And his teams are good. His team will be organised. They are alright, they have improved a little bit, the big striker (Pieros Sotiriou) who played against us last time isn't in the squad.
"They have a couple of quick ones. They normally play two up and go for counter-attacks. They beat Israel away in their last friendly, 3-2. They have some good players." And, added Clarke, with the certainty of every international manager worth his or her salt: "There are no easy games."