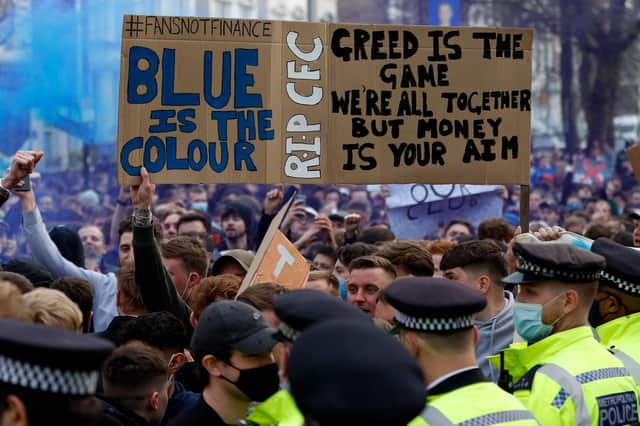 Thousands took to the streets outside Stamford Bridge to protest against the Super League on Tuesday night.
The mega-rich took on the rank-and-file of the beautiful game and its faithful fans, and spectacularly lost. Talk about a trouncing. Less than 48 hours after 12 greedy clubs revealed their plans to found this ugly little competition, their proposals had been tossed into the fire, raging flames set alight by a mobilised football fraternity hellbent against a complete violation of this great sport.
Surely they all saw this coming? Is that being kind on Florentino Perez, Real Madrid's kingpin, considering he's trying to plug a reported £900million shortfall in his club's coffers? Desperation and rapacity are nasty bedfellows. No, Perez and Co just terribly misjudged the mood of not just football, but a world gripped by a pandemic and struggling to make ends meet.
Football is nothing without fans. We know that all too well in Scotland, where we have one of the highest attendance-to-population ratios in Europe. Supporters are pretty hardy in the face of change, defeats and foreign ownership, but this was a step too far. The scenes on the King's Road ahead of Chelsea's match against Brighton, with thousands of Blues lining the streets in protest, told the whole story. The way they celebrated when the news broke that their club had seen sense and pulled the plug on its membership was up there with Didier Drogba's penalty kick in the 2012 Champions League final.
Whether the not so Super League is cremated for good is another matter. It wouldn't be beyond the realms of possibility that it rises from the ashes. There are some in world football who will always seek the coin, the lucre, but for now, this attempt feels like it has been torched.
Amid all of this, UEFA's changes to its flagship Champions League tournament were passed on Monday. From 2024, the new format will see 36 clubs qualifying for a league-style "first phase", where all clubs will play against ten opponents of varying strengths. The top eight will move on to the knockout phase and the remaining 16 playing off for the other eight slots. This has not come without controversy, as two of the additional four slots will be allocated on the basis of past performance, to the clubs with the highest UEFA co-efficient that did not qualify for the Champions League automatically but did qualify for another European competition.
Confused? Well, it's just another way of the big boys being protected. Liverpool, who have made a dog's dinner of defending their crown in England are outside of the top four, would benefit if the league ended tomorrow, and in Scotland, it's not beyond possibility that should Celtic or Rangers completely flunk in season 2023/24 and another Scottish Premiership club pips them to a Champions League spot, they could still be allowed to play in the tournament. It's a handy parachute if one of the established teams has a wobbly one year.
While not on the same level as the not so Super League, it's another example of how the powerful only look after themselves and look to close the door on emerging teams.
What do the latest developments mean for Scottish football?
Celtic, Rangers and the rest of Scottish football have been able to sit back and watch this car crash happen without being anywhere near the vehicles. In some respects, the nature of our game has cast us in a positive light. The love for the domestic product here has been highlighted on social media and beyond. Characters such as Dick Campbell have been able to have their say, and more. Imagine if Dick got his hands on Perez? That would be a meeting of minds.
In the short-term, one has to assume that the European football model as we know it will continue into the 2021/22 campaign. Rangers and Celtic will try to qualify for the group stages of the Champions League, while Hibs, Aberdeen and one other will take their place in the Europa League and Conference Leagues. Scotland will not be denied captain Andy Robertson, Scott McTominay, Kieran Tierney and potentially Billy Gilmour for the European Championships in the summer, although banning them seemed far-fetched in the first place.
Looking further ahead, it would be naive to believe that conversations between the most bitter losers of this sordid saga will not, at least very quietly, whisper away to each other to try and get an even bigger slice of the pie. Scotland's two biggest clubs in Celtic and Rangers are still unlikely to become prey. In a European perspective, while very important to UEFA, they don't carry the financial clout and audience of many other similarly-sized clubs on the continent.
What is most likely is that, enraged by the materialism of odious owners, supporters will continue to back their local club, the pride of being an Annan Athletic season-ticket holder swelling even more. When crowds are finally allowed back in this country, there will be such a surge to be in the stands and on the terraces. While our own governing body, the Scottish Professional Football League (some like to call the SPFL mockingly but at times correctly the Self Preservation Football League), is hardly flawless with the way it makes decisions for the most powerful, hopefully those entities will start to see the errors of their ways.
One hopes this oh-so-crucial result will set football on a winning run. It needs it.
A message from the Editor: Thank you for reading this article. We're more reliant on your support than ever as the shift in consumer habits brought about by Coronavirus impacts our advertisers. If you haven't already, please consider supporting our trusted, fact-checked journalism by taking out a digital subscription.