Why Celtic and Rangers would be irrelevancies if European Super League was realistic
It was a triumph of wishful thinking for certain parties to speculate Celtic and Rangers could be among the five invitees for the proposed, pie-in-the-sky European Super League.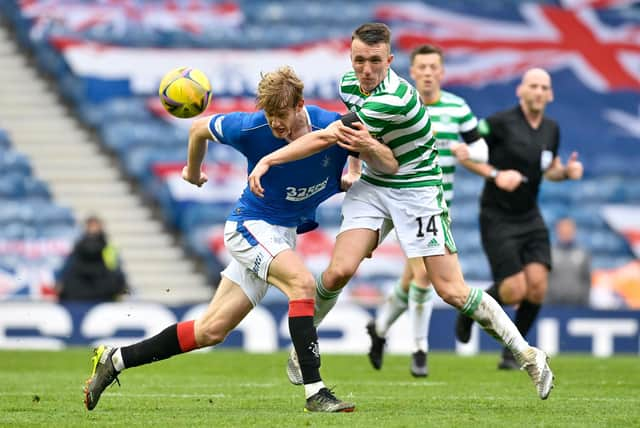 Celtic and Rangers could be players in British league, but not in any half-baked European Super League proposals. (Photo by Rob Casey / SNS Group)
Frankly, open-air ice rinks would be springing up in Hades before such a turn of events for the Glasgow clubs. Scotland's footballing leviathans like to see themselves as global brands; others claim for them a rivalry that captivates every pocket of the planet. The Catholic-Protestant dividing lines certainly make the enmity that earns them huge drawing power unique and intriguing beyond these borders. In freakshow-style fashion. But, er, that's it when it comes to universality.
They may have supporters' clubs across many continents. However, that these tend to be concentrated in North America and Australia tells you they are products of ex-pats' inability to let go of old ways from the old country. Not an illustration of scale that would bolster revenue streams of a super league. Indeed, for all the furore, the entire proposal is underpinned by financial imperatives that make it no more than sabre rattling to ensure a more desirable settlement in a revamped Champions League.
Consider, in terms of brand, the 2003 UEFA Cup final. A huge deal for Celtic – no less than a storied evening for the club – but also significant beyond this nation for a very different reason. Their 3-2 defeat by Porto that night drew one of the lowest viewing figures for a European final in two decades. A simple consequence of Scotland then housing a population of five million, with Portugal merely double that. Rarely does a potential nation-based audience for such an occasion amount to merely 15 million.
Turkey has a population almost six times that. Russia, meanwhile, has 144 million inhabitants. If there was a European Super League, the five invitees would hail from these nations. Not that there will be such a set-up. None of the 12 breakaway clubs could afford to be exiled from their domestic formats. This is entirely back-of-a-fag-packet stuff. In which sketched out financial projections depend on ramping up cross-border revenues while holding on to the lucre available to them in England, Spain and Italy – three of the four biggest broadcasting-rights packages for domestic football.
The clubs signing up knew they would meet blanket opposition and threats of expulsion from all sides. They also knew it would attempt to undercut on UEFA this week rubber-stamping their Frankenstein's monster of a new one 36-team section to replace the current stages in the Champions League from 2024 onwards.
Celtic and Rangers privately would love any such European Super League to be more than a bargaining chip; love for Manchester United, Manchester City, Liverpool, Chelsea, Arsenal and Tottenham Hotspur to be prepared to have English football permanently closed off to them (as if their business models could ever allow for that, always remember ...). The scenario represents the only mechanism whereby the English and Welsh Premier League – for that is what it essentially is – would be extended to include Scotland. Indeed, only in the context of turning to such as Swansea and Brentford or Celtic and Rangers to plug the humungous gaps created by the loss of English football's big six, would the Glasgow clubs have genuine pull.
A message from the Editor:
Thank you for reading this article. We're more reliant on your support than ever as the shift in consumer habits brought about by coronavirus impacts our advertisers. If you haven't already, please consider supporting our trusted, fact-checked journalism by taking out a digital subscription.
Want to join the conversation? Please or to comment on this article.