Brendan Rodgers eyes new Celtic heights as he lifts lid on 'clear change' in recruitment and secret Callum McGregor lunch
Brendan Rodgers sought to park the "nostalgia" of his first spell that yielded two trebles and seven straight trophies as he targeted opening up a new frontier across his second stint at Celtic.
And in an interview with Celtic TV, the 50-year-old stated that, although it felt "so natural" to be back in Glasgow, he appreciated that the club's recruitment operation, headed up by Mark Lawwell, had been strengthened from his first term between 2016 and 2019. The immediate first fruit of this for Rodgers coming with the confirmation of the £3m capture of Norwegian midfielder Odin Thiago Holm.
"This will be the first job I've come into where the team has been on a high," said the former Leicester City manager. "When I've gone in to previous roles, there have been different situations. I think Ange has done a fantastic job here over the last couple of years, culminating in finishing with the treble. It's a fantastic achievement. What you have is a young, hungry squad who, if they can keep that mentality, can continue to achieve. I think Europe is always a big factor for this club. Can we develop the team to do something in Europe? Domestically, it's always important, that's your bread and butter, so it's about being dominant in Scotland and transferring that into Europe and see if we can achieve something.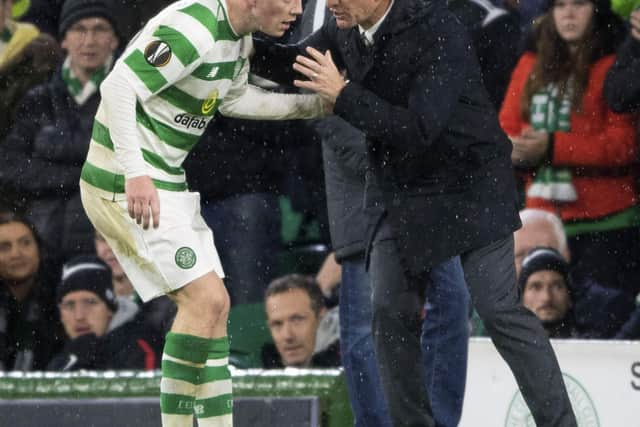 "The league will start and then very quickly you're into the Champions League. It's a really exciting time for the club.
"My experiences of those games when I was here before were incredible with the atmosphere. We want to see if we can make an impact in Europe. It's always a challenge at the really highest level but we want to go in there and see if we can progress and show our good side. The Champions League will be really exciting.
"[When it comes to Odin] the first thing I would say is about the recruitment. Michael [Nicholson, chief executive] took me through the structure of the club from where it was at when I was here before, I can see a clear change in that infrastructure, and the team behind the football team. Mark [Lawwell] has done a brilliant job with the recruitment when you see the markets the club are operating in. He's done a great job in bringing in the players that fit into the profile of Celtic. And Odin is one of those players. I like his technical quality, he's dynamic, he's young, he's hungry but he's also got speed. I've had the chance to meet him already. I met him Monday and had a good chat with him and he is very determined to do well at a big club like Celtic."
Meanwhile, Rodgers revealed that captain Callum McGregor - who blossomed under his earlier tutelage - played a key role in his return, the pair meeting at his holiday home in Mallorca. Asked if he would be pivotal for his squad now, Rodgers said: "He was pivotal back then. Just seeing a young player develop his personality and bring that personality to be a very important player for Celtic. And obviously seeing him continue to make that growth is really pleasing. And I have to say he was a big part of my decision to come back as well. Because I had lunch with him for a few hours in Mallorca, just to understand the squad and where it was at, and where he felt the club was at. He gave me some great feedback - that the group is young, hungry, and ready to keep pushing forward. For me, Callum is an absolutely brilliant player on the pitch. His brain, his view of the game is right up there with the very best I've worked with. He's robust, he plays many games, he's the ultimate professional."
Comments
 0 comments
Want to join the conversation? Please or to comment on this article.