Why Joe Biden's Late Late Show appearance puts him at risk of doing an Alex Salmond
When then-first minister Alex Salmond famously donned a hot pink beret and sunglasses for a photo call in the run-up to the independence referendum, I couldn't help comparing him to the US president.
"You'd never catch Barack Obama doing that," I thought, contrasting the gravitas, calmness and authority exuded by Mr Obama and his administration, with the often clown-like image portrayed by Mr Salmond's government at the time.
Of course Mr Salmond's reason for his unusual get-up was admirable – he was demonstrating support for a breast cancer charity. However, I still felt that for the Scottish Government to be taken seriously on the world stage, the crazy antics needed to be curbed.
Yet a decade on, after a Donald Trump administration, even the serious Joe Biden is attempting to jump on the wacky politician bandwagon in a bid to attract votes.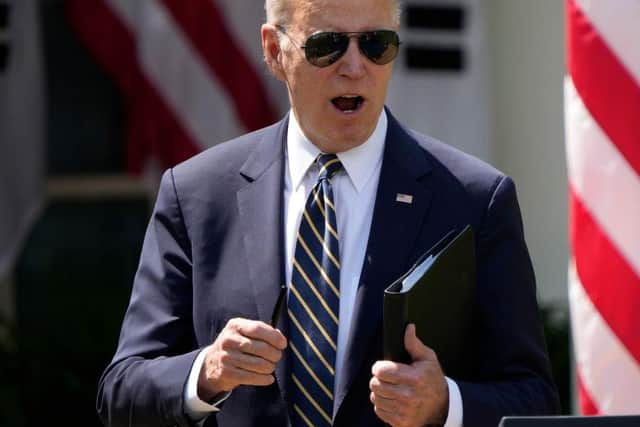 On Thursday, he made a surprise appearance on the Late Late Show, to bid farewell to departing host James Corden, who racked up 1,200 episodes of the current affairs comedy programme in the past eight years.
In a video message, Mr Biden referenced Mr Corden's visit to the White House last year, when he took part in a skit, playing the role of an intern and assistant to the president.
"I'm surprised you lasted eight years at any job,", he quipped. He also pointed to the programme's popular Carpool Karaoke segment, adding: "And a special thanks for never asking me to sing in the car. I can't sing worth a damn."
The audience laughed, but many Americans, especially those with a well-honed sense of humour, must have died a little inside. It is the kind of joke you might be able to tolerate from a cringeworthy uncle at a birthday party – not the leader of the free world.
At a time when Mr Biden's approval ratings are struggling – only Mr Trump scored lower at the same stage in his presidency – it is perhaps not surprising that he is trying to shake things up and appear current.
However, US political commentators have often cited Mr Biden's best quality as being a safe pair of hands. If he wants to win, he needs to keep it that way and not risk alienating what support he has by clowning it up.
Comments
 0 comments
Want to join the conversation? Please or to comment on this article.