The president's four day trip – both a whistle stop tour of Northern Ireland and a longer visit to the south – was as much a family history tour as a nod to the 25th anniversary of the Good Friday Agreement, which has recently endured one of the most turbulent times since it was signed.
He was presented with a brick from the fireplace of his family's original home in County Mayo, and visited a shrine, as well as meeting members of the government in Dublin – and giving a speech at a university in Belfast.
"I'm not going home, I'm staying here," Biden quipped, as he spoke to reporters during a meeting with Irish Taoiseach Leo Varadkar in Dublin.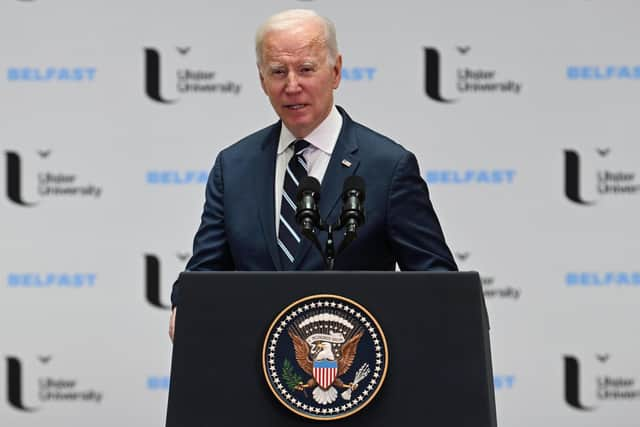 It did not seem like a joke.
The low-key visit, the longest time Biden has spent in one country since his presidency began, is a stark contrast to former president Bill Clinton's appearance in Derry in the early days of a fragile peace process in Northern Ireland, as a significant moment, not just for the UK and Ireland – but for the American administration's position as the world's leading democracy.
Dubbed the "struggle for the soul of American foreign policy" by former National Security Adviser Anthony Lake, Clinton's involvement in the peace process was heralded as one of the major foreign policy successes of his career. Yet, America's world leadership has changed dramatically over the past quarter of a century, as the country battles with divisions at home and the re-emergence of China and Russia as global powers.
As Biden landed in Ireland, across the globe, contemporary peace talks were taking place between Saudi Arabia and Iran – with, not the US, but China playing moderator.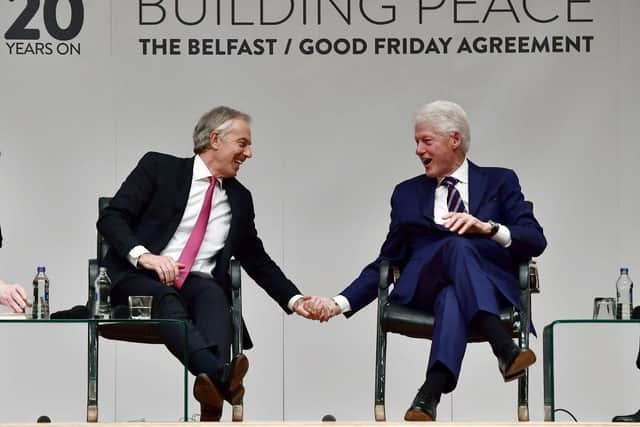 Barack Obama, during his period of presidency, announced the US would "pivot to the Pacific", leaving a vacuum in the Middle East which China is now filling, posing a threat to US influence.
Chris Carman, Stevenson Professor of Citizenship at the University of Glasgow, lists a string of polarising presidents over the past 25 years, which has set foreign diplomacy off-kilter.
"Just that list alone kind of highlights the changes," he says. "If you think of the move from George W Bush to Obama, we went from the time of fear with 9/11, to the great period of what was supposed to be hope. Then that sort of fizzled out and resulted in not a lot of hope, leading into the Trump administration.
"The US is wrestling with its own sense of itself. And that's very much what we're seeing in the polarised politics."
He adds: "They're [world leaders] trying to figure it out as well. You had such dramatic swings from the neocon to that period of hope under Obama, swinging back again even further with Trump and now with Biden.
"If I were a world leader, I would be looking at it and constantly trying to reassess where it is going. But what that means is it's difficult to figure out what international agreements you can strike with America, if you're going to swing back and forth from an internationalist to somebody who is quite isolationist."
Already gearing up for the 2024 presidential election race, the US is currently faced with uncertainty surrounding the two parties' candidacies.
Biden is currently experiencing approval ratings well below the average for a president in his third year: scoring around 40 per cent, according to the latest Gallup poll. Only Donald Trump has fared worse, scoring 39 per cent at the same point in his presidency.
While Biden has not confirmed he is planning to run for a second term, he has hinted that he is likely to do so. Meanwhile, Trump, who has already confirmed plans to stand, is embroiled in a court battle after being indicted over legal fraud charges – an issue he insists will not prevent him from running, even if convicted.
Already 80, if he was successful in winning a second term in office, Biden – who would be 86 years old at the end of his service – would break his own record as the oldest president to hold office. Trump is not much younger, at 76.
"Biden has managed to perhaps stabilise what was quite a rocky ship," says Prof Carman, but he points to a lack of credible candidates in either party, bar the "rather senior, white men" as the front runners.
"If you're thinking about it in terms of either domestically or internationally, it's that lack of certainty and the one thing that people don't like in international politics and even in domestic politics is a lack of certainty," he says. "It makes it all feel a bit unstable and a bit shoogly. America is on a shoogly peg."
While Clinton's involvement in Irish politics undoubtedly won him the Irish vote, Biden's America is a much more complicated place.
"Looking at the pictures from his trip, it's pretty clear this is a high point of his presidency," says Roger Mac Ginty , Professor in Defence, Development and Diplomacy at Durham University. "He clearly has a genuine emotional connection to Ireland. His face was beaming and he no longer looked like an old man, he was energised."
However, he believes Biden he is also using the visit as a distraction from bad news at home.
The US economy is heading for recession later this year, economists have warned, while the country has been beleaguered with a string of mass shooting incidents in recent months and cases of police brutality against the black community. Meanwhile, Florida governor Ron DeSantis this week signed a bill which would ban abortion after six weeks of pregnancy – a controversial move by the Republican state which follows 12 other southern states implementing a complete ban on the termination of pregnancies.
"The news cycle at the moment in the US is dreadful," says Prof Mac Ginty. "And the US relationship with Ireland is always going to be a good news story. There's no act of war. There's no trade dispute. There's no possibility of having to use force or leverage. So it's, in a sense, it's a cost-free PR promo, it's a piece of escapism.
"The US is mired in culture war. Everything is binary. Everything is looked at through partisan lenses. He's gearing up for the presidency, which will be this bitter fight between two men of a certain age and which will be highly personalised."
Despite Varadkar's glowing praise of America's involvement in international affairs during Biden's visit, the tone of the presidential involvement in politics in Ireland was undoubtedly more tentative than that of some of his predecessors.
The Stormont parliament in Belfast – put in place in its current form by the power sharing arrangement laid out in the Good Friday agreement - has not sat for over a year, since unionist party the DUP walked out over the UK government' Brexit deal. Power sharing has not yet been restored, with a new deal not accepted by the DUP.
Speaking at the University of Ulster this week, Biden said he "hoped" the Assembly would be restored – but with a cautious caveat that suggested he did not want to be seen to meddle directly in domestic policy – a direct contrast to Mr Clinton's administration of the 1990s.
"As a friend, I hope it's not too presumptuous for me to say that I believe democratic institutions established through the Good Friday Agreement remain critical for the future of Northern Ireland," he proffered, skirting very briefly over the issue of Brexit as creating "complex challenges".
"It was all very helpful, but non controversial stuff," says Prof Mac Ginty. "He was careful not to stir up a hornet's nest. He hasn't got an ounce of radicalism in him."
In 1995, Clinton challenged the crowd in Derry to choose peace – and pledged US support.
"Everyone in life at some point has to decide what kind of person he or she is going to be," he said. "Are you going to be someone who defines yourself in terms of what you are against, or what you are for? Will you be someone who defines yourself in terms of who you aren't, or who you are?
"The time has come for the peacemakers to triumph in Northern Ireland, and the United States will support them as they do."
Prof Mac Ginty points to the contrast between Clinton's visit and that of Biden.
"The context is very different from when Clinton visited that first time," he says. "It was in the midst of a high stakes peace process. Clinton really did use leverage to nudge the Northern Ireland peace process.
"Now, we're in a very different phase in Northern Ireland. Biden isn't here to strong arm the DUP into going back into the Northern Ireland Assembly. He is very much a stability president."
However, Prof Mac Ginty warns that Biden has a "rather traditional view" of foreign policy.
"He seems to me to be living in a sort of 20th century world in which men can negotiate outcomes, can negotiate settlements and I have the feeling that the world has changed," he says. "There is the rise of authoritarianism and populism and I think Biden is in a sense, missing that.
"The US is now trying to work out a new relationship with Europe in which France and Germany clearly are the leading powers, but Europe has been turned on his head with the war on Ukraine and it's a period in which State department officials are trying to get a new sense of the world. I'm not entirely sure that that Biden himself realises the extent to which we're in a very different scenario."
He points to intelligence "fumbles" which indicate the US' lack of fire power in the State Department, which was decimated during Donald Trump's time in power.
Meanwhile, Russia has worked to strengthen its ties with countries such as China and India in recent years, as well as African nations, including Mali, where Russian mercenary organisation the Wagner Group were hired by the country's new military rulers following the collapse of the Mali government and deployed on a series of offensives against Islamist extremists who control swaths of the country.
"US involvement in Iraq and Afghanistan has shown many states that the US has feet of clay, that it's a military power," Prof Mac Ginty says. "But, it has weakness, and it doesn't have any ideological offer to make. If you contrast the Clinton era with the Biden era, Clinton talked about democracy and human rights non-stop. US presidents don't do that anymore. They're not trying to sell democracy; they're not trying to sell human rights. It's all about stability; energy security and calming the markets.
"I think all of this is important and shows that the US is not quite the force that it used to be. It certainly is a first class military force. But it's a second class, diplomatic force."
He warns the change could have a major impact on the world – warning that we are in "a 1930s moment".
"We're in a state of flux," he says. "We're seeing the rules-based international order declining. We're seeing an increase of mobility in terms of people, capital and energy, but also the rise of populism and authoritarianism.
"There is a sense that we're in this 1930s moment, where we really are one accident away from a major global catastrophe - whether that involves climate change or a nuclear accident. We've moved from a unipolar world to something that is much more competitive and therefore much more dangerous."