Warning of more drone attacks as same building in Moscow targeted twice in three days
The drone hit the same building as a previous attack at the weekend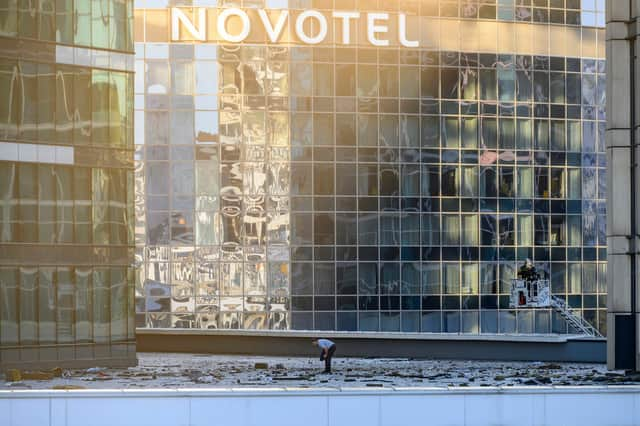 Ukraine has warned Moscow there will be "more drones" and said Russia was "getting used to a fully-fledged war" as an office block used by Russian government departments was targeted twice in three days.
Presidential adviser Mykhailo Podolyak said there will be "more unidentified drones, more collapse, more civil conflicts".
The Kremlin also said it had destroyed three Ukrainian maritime drones that were trying to attack two Russian ships in the Black Sea – and accused Kyiv of also targeting civilian ships – an allegation it has denied.
However it is believed that Mr Zelensky may hope the attacks could bring home the reality of war to Russians who have as yet been largely untouched by the conflict.
In the early hours of Tuesday, the Russian Defence Ministry said that it shot down two Ukrainian drones outside Moscow and jammed another, sending it crashing into a skyscraper in the Moscow City business district and damaging the building's facade.
Moscow Mayor Sergei Sobyanin said the drone crashed into the same building that was damaged in a similar attack on Sunday. IQ-Quarter, located 4.5 miles from the Kremlin, contains the offices of several government agencies, including, reportedly, the headquarters of Russia's Ministry for Economic Development.
Mr Sobyanin said the Tuesday attack did not result in any casualties.
Mr Podolyak tweeted that Moscow "is rapidly getting used to a full-fledged war, which, in turn, will soon finally move to the territory of the 'authors of the war' to collect all their debts," without confirming or denying Kyiv's involvement in the attack.
Meanwhile, Ukrainian interior minister Ihor Klymenko said Ukraine thwarted an overnight attempt by a Russian saboteur group to cross its northern border on Monday night.
In the Black Sea, Russia said two patrol vessels, Sergei Kotov and Vasily Bykov, had been targeted 211 miles southwest of the Russian-controlled city of Sevastopol on the annexed Crimean peninsula.
The Russian Ministry of Defence said: "During the night, Ukrainian armed forces tried without success to attack with three drones the Sergey Kotov and Vasily Bykov patrol boats of the Russian fleet in the Black Sea."
"The three naval enemy drones were destroyed," it added.
A senior Ukrainian presidential adviser said Kyiv did not attack and will not attack civilian vessels or any other civilian objects in the Black Sea.
"Undoubtedly, such statements by Russian officials are fictitious and do not contain even a shred of truth," Mykhailo Podolyak, adviser to President Zelensky, said, but did not deny targeting naval vessels.
The attacks on Moscow and Crimea, which Russia illegally annexed from Ukraine in 2014, follow a deadly Russian missile strike on Kryvyi Rih, a city in central Ukraine and Mr Zelensky's hometown.
Monday's strike partially destroyed a residential building and killed at least six people, including a 10-year-old girl. Dozens more were injured.
Comments
 0 comments
Want to join the conversation? Please or to comment on this article.