How the Ukrainian military appeared to launch its spring offensive with a Depeche Mode song
'Words are very unnecessary. They can only do harm'
When a video appeared on the social media pages of Ukrainian defence minister Oleksii Reznikov, no-one had any doubt when he was referring to.
The slickly-produced footage showed a montage of soldiers putting a finger to their lips in a request for silence, posted alongside the Depeche Mode lyrics: "Words are very unnecessary. They can only do harm."
The 35-second video, published on Sunday evening, had only one other caption, placed in its final scenes: "Plans love silence. There will be no announcement about the start", it said, presumably speaking of the start of the long-expected so-called "spring offensive", or "counter attack" against Russia which has now crept almost into summer.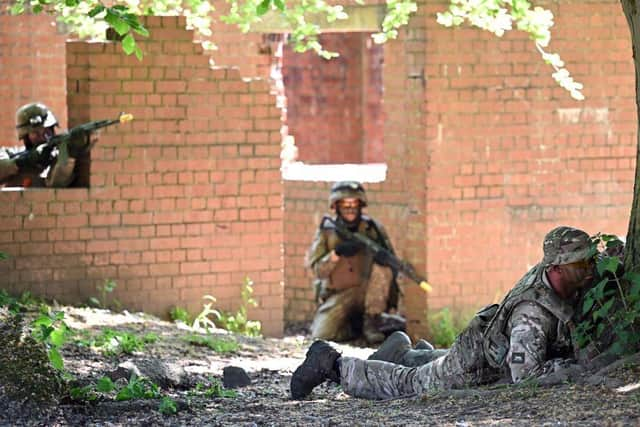 Less than 24 hours later, the Russian Defence Ministry claimed that Ukrainian forces had failed in attempting to stage a "large-scale counter offensive" in five sectors south of Donetsk in the east of Ukraine, saying it had killed 250 troops and destroyed armoured vehicles.
These claims of Ukrainian losses have not been verified and countered by information coming out of Kyiv – and from the Institute of the Study of War, which said Ukraine had made "limited advances" in eastern Donetsk Oblast and eastern Zaporizhia Oblast.
Ukraine warned of "false information" being distributed by Russia, adding obliquely, "Even if there is no counter attack".
The anticipated counter attack is expected to focus on pushing back the front line in the east of Ukraine and liberating more territory currently occupied by Russia.
Meanwhile, the SSU, Ukraine's intelligence forces, published their own video of targeting military vehicles in fields in an unspecified area, with the slogan "Wasted".
"It was a good hunt," the video was captioned on Ukrainian military social media pages, in a video which attracted criticism from some observers for its direct nature on footage which showed direct hits on enemy vehicles.
The UK Ministry of Defence, which offers a daily update on the situation in Ukraine, notably did not comment on any reported offensive on Monday, instead focusing on Ukraine's air defence systems against Russian drone attacks.
It said over 300 Iranian Shahed drones had been launched during the month of May, but that Ukraine had successfully intercepted around 90 per cent of them.
"Russia is probably launching so many OWA-UAVs in an attempt to force Ukraine to fire stocks of valuable, advanced air defence missiles," it said. adding that Ukraine had managed to intercept the drones using older, cheaper air defence systems.
Kremlin defence ministry spokesman Lieutenant General Igor Konashenkov said Russia had killed 250 Ukrainian troops and destroyed 16 tanks, three infantry fighting vehicles and more than 20 armoured vehicles after Ukraine began.
"In the morning of 4 June 2023, the enemy launched a large-scale offensive at five sections of the front in Southern Donetsk direction," he said in a video address posted on the Russian Ministry of Defence Telegram channel.
A statement from the Russian MoD added: "The goal of the enemy was to break through our defences on the most vulnerable, in its opinion, sector of the front. The enemy did not achieve his tasks, he had no success."
Comments
 0 comments
Want to join the conversation? Please or to comment on this article.