Ukraine-Russia: 'It is a careful balancing act', warns expert as Volodomyr Zelensky says war is 'returning to Russia'
Ukrainian president says attacks on Russia are 'absolutely fair'
It is a step that could take the conflict in an entirely new direction – and has already seen consequences in terms of Russian military action against civilians on Ukrainian soil.
Weeks into the long-heralded "spring offensive", when Ukraine was expected to make a dramatic push into territory previously captured by Moscow, Ukrainian president Volodymyr Zelensky has said the war is "returning to Russia".
Mr Zelensky was referring to an increase in drone attacks within Russia in recent weeks – none of which he has explicitly admitted came directly from Ukraine. The latest came in the form of a drone attack at the weekend that was intercepted by Russia, but still caused damage to two office blocks on the edge of Moscow.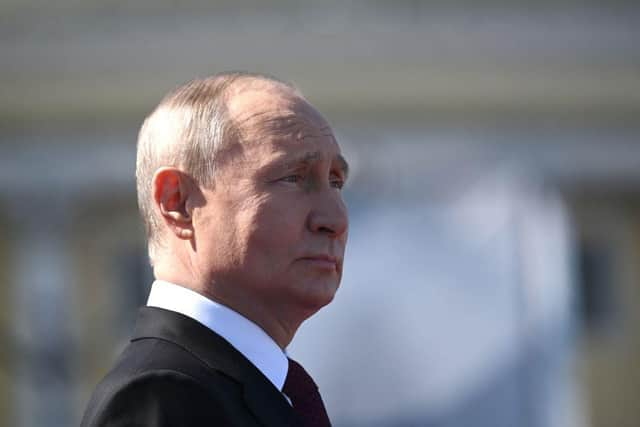 Hours later, a Russian missile strike on Mr Zelensky's home city of Kryvyi Rih killed four people. The drone attack at the weekend has unsettled Russia, coming just weeks after an attempted assault on the Kremlin.
Mr Zelensky claimed the conflict encroaching onto Russian soil was a "natural and absolutely fair process". "Today is the 522nd day of the so-called 'Special Military Operation', which the Russian leadership thought would last a couple of weeks," he said.
"Gradually, the war is returning to the territory of Russia – to its symbolic centres and military bases, and this is an inevitable, natural and absolutely fair process."
Meanwhile, countries outside of the West and the Nato block are queuing up to host peace talks.
Saudi Arabian diplomats said on Monday that it, backed by Iran, will host talks about Ukraine's peace plan. A meeting between Vladimir Putin and African leaders in St Petersburg this week saw the Russian president say he does not reject the idea of peace talks with Ukraine. However, he warned no ceasefire would take place while Ukraine was on the offensive.
Speaking after meeting African leaders in St Petersburg, Mr Putin said African and Chinese initiatives could serve as a basis for finding peace.
"Two evils do not make a right," he says, warning that while drone attacks so far within Russia have hit buildings and have so far not killed any civilians, if that were to happen, Kyiv would be on the same moral footing, from a Western international perspective, as Russia.
"If he [Zelensky] takes the war to Russia, he's got to be very careful about the political consequences," said Dr Main. "It is a careful balancing act and America will be saying quietly 'don't do this'. If he does carry out strikes within Russia, we could see the conflict escalate to the point where it could be uncontrollable."
Dr Main adds: "Given the weight of history, this could work to the benefit of the [Putin] regime. A lot of Russians who were previously sceptical [about the invasion] could rally around Putin as this would be seen as an attack on Mother Russia."
Scepticism against the war is kept on the down-low in Russia. Those who do not agree with the invasion are generally scared to speak out. Some of those who oppose it have left the country. Protests held shortly after the initial invasion in February 2022 saw people arrested and many of them swiftly handed their military papers to fight in the conflict with which they disagreed.
It is likely Mr Zelensky hopes his drone attacks will have the opposite effect – scaring Russian citizens into thinking the war is getting closer to home.
Bizarrely, and in a series of events which still remain unclear, the mutiny was quickly called off and Wagner Group leader Yevgeny Prigozhin was said to have retreated to Belarus, an ally of Russia, where his troops would train special forces. He was unexpectedly seen in Russia on the fringes of the Russia-Africa conference last week.
It had been claimed Russia was attempting to move Wagner fighters into the country's normal army.
It is not clear whether that is still likely to happen. In a video address yesterday, Mr Prigozhin said his fighters would continue to work in Africa and Belarus, but that it was not recruiting new members.
In an audio message published by a Wagner-linked Telegram account, Mr Prigozhin said most Wagner fighters were on leave, because "before that there was a long period of very hard work". The group has been involved in many parts of the Ukraine invasion, as well as "protecting" African countries such as Mali against jihadist uprisings.
Mr Prigozhin said the group was deciding on its future tasks, which would "be carried out for the greatness of Russia".
Dr Main has counted 30 different suggestions from countries worldwide to hold peace talks with Russia and Ukraine, including the most recent from Saudi Arabia and African nations.
"What Putin did in saying he was open to talks is not some great feat of diplomacy," he says. "He is under pressure."
The success – or otherwise – of Ukraine's offensive is also unclear.
An announcement four days ago that it had recaptured the village of Staromaiorske, the ninth small settlement in the region since the beginning of the offensive, is the last major victory declared by Kyiv. Ukraine is believed to have made incremental gains of around five square miles in the country in the past week.
Rob Lee, a senior fellow with the Foreign Policy Research Institute in Philadelphia, warned extensive minefields have hampered attempts to take back territory occupied by Russia, with Moscow's troops deploying the minefields in "innovative ways".
Comments
 0 comments
Want to join the conversation? Please or to comment on this article.