Vladimir Putin brands Soviet invasions of eastern Europe a 'mistake' as he prepares for arms talks with North Korea
North Korean leader Kim Jong-Un crosses border into Russia ahead of expected arms talks with Vladimir Putin
As North Korean leader Kim Jong-Un's armoured train chugged across the Russian countryside towards a remote space station, the man he is due to meet to discuss an arms deal to strengthen Russia's war on Ukraine publicly denounced his Soviet predecessors' invasions of eastern European countries.
"It was a mistake," Russian president Vladimir Putin told delegates at the Eastern Economic Forum, when asked about Moscow's decision to send tanks into Hungary in 1956 and into then-Czechoslovakia in 1968.
"It is not right to do anything in foreign policy that harms the interests of other peoples."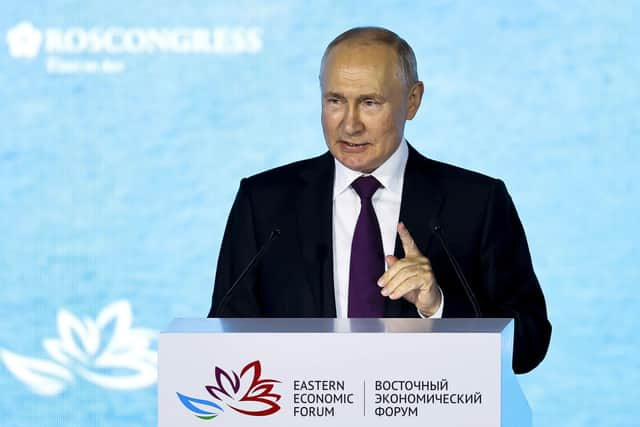 In a wide-ranging speech in which he branded the criminal cases against former president Donald Trump good for Russia and said they were an indication of the American system's "rottenness", Mr Putin also called for Ukraine to negotiate with him – and claimed Russia had signed up hundreds of thousands more troops for its war effort.
Tanks were sent in to suppress uprisings against the Communist regimes in Budapest in 1956, to crush an uprising that had lasted 12 days. Thousands were killed and wounded and thousands of Hungarians fled the country. Twelve years later, the Soviet Union led Warsaw Pact troops in an invasion to crack down on reformist trends in Czechoslovakian capital Prague.
Meanwhile, speculation continues over where Mr Putin, who launched a full-scale invasion of Ukraine 18 months ago, is set to hold talks with Mr Jong-Un – one of his remaining allies.
Mr Jong-Un is expected to discuss a deal with Mr Putin that could see North Korea supply weapons to help Russia's invasion of Ukraine. Official statements from the Kremlin have said the pair are to talk about "economic" issues and trade.
The dark green train carrying Mr Jong-Un – akin to those used by his father and grandfather before him – passed over the border into Russia on Tuesday. However, instead of stopping in Vladivostok, where the Eastern Economic Forum was going on and where Mr Putin's first meeting with Mr Kim was held in 2019, it appeared to be heading further north, potentially towards the Vostochny Cosmodrome in the Amur region.
The Vostochny Cosmodrome, which was built in 2011 in a bid to reduce the dependency of Russia on the Baikonur Cosmodrome, is almost 1,000 miles away from Vladivostok. However, Mr Putin said on Tuesday he has plans to visit the facility, although did not mention Mr Jong-Un. In September 2019 he called the centre, which was plagued with corruption during the construction process, the "country's most important construction project of national significance".
North Korea's official Korean Central News Agency (KCNA) said Mr Kim boarded his personal train on Sunday afternoon, accompanied by unspecified members of the country's ruling party, government and military. The trip is his first foreign visit since the Covid-19 pandemic, during which North Korea tightly enforced border controls for more than three years.
Mr Jong-Un's delegation on board the train likely includes his foreign minister, Choe Sun Hui, and his top two military officials – Korean People's Army Marshals Ri Pyong Chol and Pak Jong Chon.
Photographs released by North Korean state media appear to show he is also accompanied by officials including Pak Thae Song, chairman of North Korea's space science and technology committee, and Navy Admiral Kim Myong Sik, who are linked with North Korean efforts to acquire spy satellites and nuclear-capable ballistic missile submarines.
Experts say North Korea would struggle to acquire such capabilities without external help, although it is not clear if Russia would share such sensitive technologies. Food aid is also likely to be on the agenda in return for help with weapons. A UN food assessment in 2019 estimated more than ten million North Koreans were suffering from "severe food shortages" after the worst harvest in a decade. Self-imposed, lengthy Covid-related border closures have exacerbated the problem.
Mr Jong-Un is also apparently bringing Jo Chun Ryong, a ruling party official in charge of munitions policies who had accompanied the leader on his recent tours to factories producing artillery shells and missiles, according to South Korea's Unification Ministry, which analysed the North Korean photos.
The two countries share a border, which could allow trade agreements between them that would not involve any other nation. Such a deal could bring in a welcome source of income for North Korea, which has been crippled by the Covid border closures. Those closures have only just begun to ease, as well as international sanctions against a lot of trade.
Meanwhile, although North Korea's weapon stock is mainly old, it could bolster Russia supplies during the protracted counter offensive battle it is locked in with Ukraine.
The United Nations Security Council resolutions ban such arms exchanges with North Korea, raising questions as to what action – if any – the organisation could take against Russia. Russia is one of the five original members of the UN – alongside China, the US, the UK and France – and has a veto against any resolutions. It is not the first time Russia has broken UN principles.
Anne-Claire Legendre, spokeswoman for the French foreign ministry, said Mr Jong-Un's visit to Russia demonstrates Moscow's international isolation following its invasion of Ukraine.
"Russia is isolated to the point of being forced to turn to North Korea," she said. "This is a very strong sign of its international isolation."
Comments
 0 comments
Want to join the conversation? Please or to comment on this article.