Why the West should be worried that North Korea is in talks to supply weapons to Russia amid Kim Jong-Un visit
North Korea and Russia share a border
North Korean leader Kim Jong-Un is to travel to Russia later this month for a summit with Vladimir Putin, in which experts believe he is likely to discuss providing weapons to Russia in its war against Ukraine.
Meanwhile, although North Korea's weapon stock is mainly old, it could bolster Russia supplies during the protracted counter offensive battle it is locked in with Ukraine.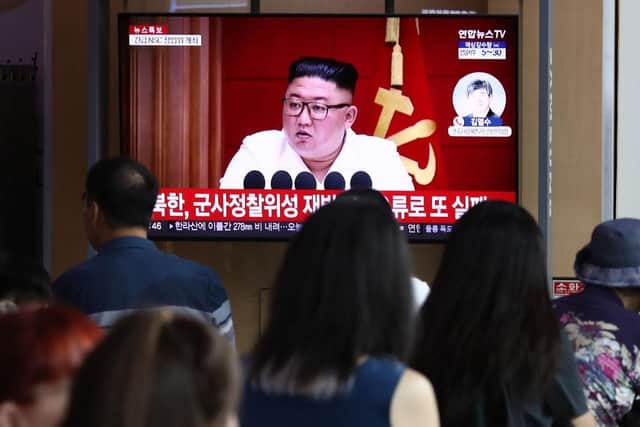 South Korea has expressed its concern over any potential arms deal, calling for co-operation involving North Korea and its neighbours along its northern border to take place in a way that does not violate "international norms and peace".
Its foreign ministry called on United Nations member countries to abide by Security Council resolutions banning such arms exchanges with North Korea, warning military co-operation that brings harm to international peace and stability should not take place.
The 15-member UN Security Council has passed nearly a dozen resolutions against North Korea since 2006, when it carried out its first nuclear weapon test, all unanimously condemning the country for its nuclear pursuits.
The message is a stark warning to Russia itself, which is one of the five original members of the UN – alongside China, the US, the UK and France – and has a veto against any resolutions.
The move could also signal the start of a higher level of co-operation between North Korea and Russia, with concerns that any arms deal could go both ways.
This week it was reported Russian foreign minister Sergei Shoigu had suggested Russia, China and North Korea hold joint naval drills, similar to those carried out by the US, South Korea and Japan.
Most concerning would be the potential technology and knowledge, particularly surrounding nuclear warfare, which Russia could offer North Korea. However, intelligence officials have claimed that would be a step too far for Russia, which would fear international backlash if it was seen to directly contribute to North Korea's nuclear advancement.
Despite bold rhetoric, it is known North Korea's military and espionage capability is still at a fairly low level. Last month, a second attempt to launch a spy satellite failed, but Pyongyang has continued to launch intercontinental ballistic missiles in a show of defiance against the US.
US National Security Council spokeswoman Adrienne Watson said late on Monday that she was aware Mr Shoigu had travelled to Pyongyang last month and tried to persuade North Korea to sell artillery ammunition to Russia.
She called on Mr Jong-Un to stand by his government's previous statements that it would not sell arms to Russia. However, it is well-documented North Korea has shown support for Russia's invasion as one of the only countries to recognise the independence of Russian-claimed Ukrainian regions such as Donetsk and Luhansk.
If Mr Jong-Un does travel to Russia to meet Mr Putin, the move will be an unusual one. He rarely leaves North Korea and when he does, the security around any travel details is high.
If US or South Korean intelligence leaks details of his movements, he could call off the entire visit, which is presumably what they are hoping for.
Comments
 0 comments
Want to join the conversation? Please or to comment on this article.