Russia: What line do countries have to cross to forfeit their right to a party invitation, as Russia re-accepted by Nobel Foundation?
The Nobel Foundation has made a U-turn over inviting Russia
.When my daughter was in her early years of primary school, class birthday parties were common – a hall, a bouncy castle and food, for 30-odd six-year-olds. Class parties meant the whole class. No leaving someone out because they had cheated at tig or refused to share their crisps in the playground. Everyone received an invitation. That was just the way it worked.
While this blanket inclusivity is laudable, the question occasionally rears its head as to what a parent should do if they feel they do not want a particular child in the class to attend. If their own child was being badly bullied by another pupil in the class, for example, should the bully still be invited?
Some may say no. Others would argue there are two sides to every story and without being party (excuse the pun) to all of the facts, it is unfair to leave them out. By banning the bully and excluding them further from the mainstream group, some may insist, the likelihood of redemption is even less.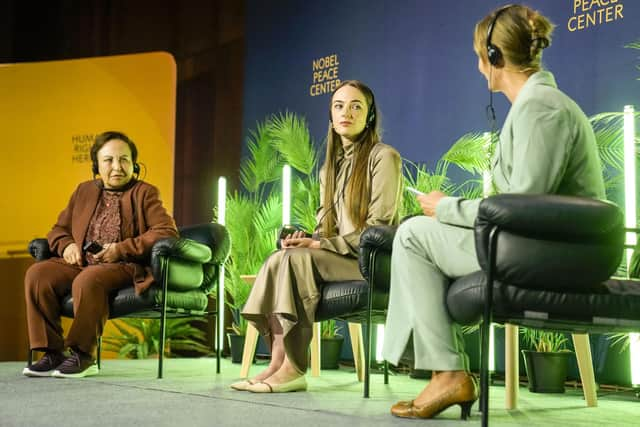 This is the conundrum faced by global sporting bodies, international chess championship organisers and, most recently, the Nobel Foundation. The latter U-turned on a decision to invite Russia, Belarus and Iran to the awards ceremony for the Nobel Peace Prize in Norway this week.
The countries' ambassadors were excluded last year over the invasion of Ukraine and – in the case of Iran – human rights violations, but were set to be re-admitted this year – until a major backlash forced the Nobel's officials to reconsider.
Meanwhile, in chess, often dominated by Russian players, the Russian and Belarusian federations were suspended from the European Chess Union shortly after the invasion of Ukraine. The International Olympic Committee has also faced anger from many Western countries over its decision to allow individual Russian and Belarusian athletes to compete at the Paris 2024 Olympic Games under a neutral flag.
In the case of the Nobel Foundation, the situation is more black and white. Protesters have pointed out the invitations were specifically for ambassadors, who are representatives of the government. Belarusian and Russian peace and human rights activists are still eligible for the award.
Yet there are plenty of countries which have erred on a major scale which continue to be universally accepted on the international stage.
China has not been banned from competition over human rights allegations relating to its treatments of Uyghur Muslims, while North Korea has cosied up further with Russia this week in the form of a potential arms deal. Uganda is one of the worst nations in the world when it comes to LGBTQ+ rights and Afghanistan, under its Taliban rulers, does not allow most girls to go to school. Indeed, we do not have to go back too far in history to find our own wrongdoings.
In an increasingly turbulent world, we need to ask the question – what line must be crossed for a country to be barred from international competition? Or does acceptance from the international community require a nation to be absolutely squeaky clean? If so, there could be a lot of countries finding themselves excluded from the bouncy castle.
Comments
 0 comments
Want to join the conversation? Please or to comment on this article.