US presidents: Is Joe Biden the oldest US president to run for a second term? What has happened with the oldest US presidents?
US president Joe Biden has confirmed he will run for a second term in the presidential elections next year.
How old is Joe Biden and is he the oldest US president?
Already aged 80, if he was successful in winning a second term in office, Mr Biden, who would be 86 years old at the end of his service, would break his own record as the oldest president to hold office.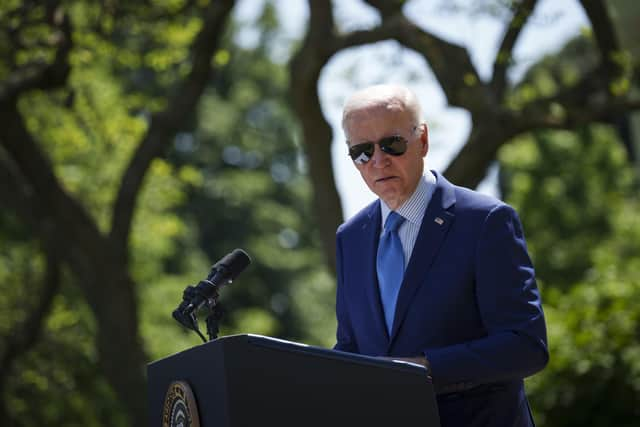 However, former president Donald Trump, who has pledged to run for the Republican party, despite his current legal wrangles, is not much younger, at 76.
Commentators have previously pointed to the fact the next election, like the last, is likely to be a battle between two "rather senior, white men" – although Mr Biden has again announced Kamala Harris as his running mate for vice-president.
The youngest to become president by election was Theodore Roosevelt, who was inaugurated at age 42, followed closely by John F Kennedy, who was 43. The median age at inauguration of new US presidents is 55.
Have there been other presidents close to Mr Biden's age?
Former film star Ronald Reagan, who was president from 1981 to 1989, was 69 when he was first elected. Before Mr Biden, he held the record of being the oldest president at the end of his tenure, leaving his presidential post aged 77.
However, during the campaign for his second term, in 1984, his campaign managers opted to minimise his public appearances, due to his age. Five years after he left the White House, Mr Reagan was diagnosed with Alzheimer's disease.
Dwight D Eisenhower, who was in the White House from 1953 to 1961, was 70 when he left the post, after two terms. He had originally planned to serve only one term and was recovering from a heart attack in September 1955 when he met with his advisers to evaluate the potential candidates for his Republican party.
Having done so, the group decided he should run for a second term and he announced that he would run again in February 1956. He opted to have the much younger Richard Nixon as his vice-president, which was regarded as important, given his heart condition.
Meanwhile, George Bush senior was 68 when he finished his four-year presidential term in 1993.
In a recent NBC News poll, 70 per cent of people asked said they did not want Mr Biden to run for president again, with 51 per cent of Democrats saying the same. The vast majority of these people cited his age as a factor.
Will Mr Biden and Mr Trump definitely be running for president?
There are so far three other Republican candidates and two Democrats who have said they would like to stand. However, it looks likely at the moment that both Mr Biden and Mr Trump will be the front runners. Florida Governor Ron DeSantis, who is 44, has been tipped to challenge Mr Trump for the Republican nomination.
Comments
 0 comments
Want to join the conversation? Please or to comment on this article.