US Joe Biden fall: Is the time Biden 'got sandbagged' a stumble too far for the octogenarian president?
It is not the first time Joe Biden has stumbled in public
It is an image that US president Joe Biden's campaign team would undoubtedly have done anything they could to avoid – that of their octogenarian boss falling to the ground and having to be helped up while on stage at a high-profile event.
Later, Mr Biden tried to laugh off the incident, apparently referring to having tripped over a sandbag supporting a teleprompter on stage at a graduation ceremony at the US Air Force academy. He quipped he "got sandbagged", meaning to be constrained or undermined or, in US sports terminology, to underperform.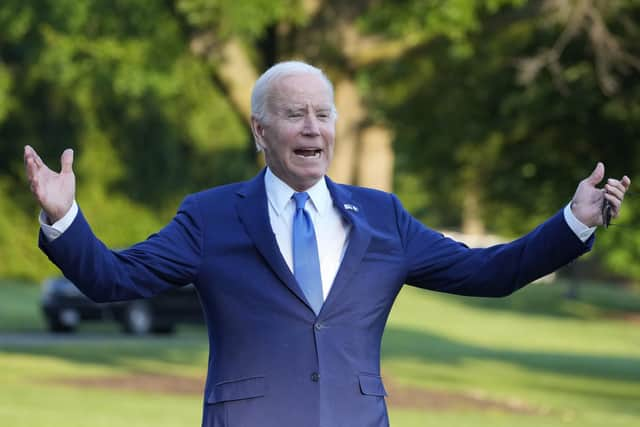 He was uninjured and, after being helped up by an air force officer and two members of his Secret Service detail, returned to his seat unaided.
The problem is, it is not the first time Mr Biden has been pictured or videoed in a vulnerable position at a time when his age is already a major issue for some voters. In recent months, he suffered a stumble while walking up the steps of Air Force One and once appeared to lose his way when walking to his helicopter on the White House lawn. He was also pictured stumbling on some steps during a visit to a shrine in Japan during the G7 summit last month.
If Mr Biden wins the next election, he would be 86 by the end of his four-year term. To be fair, his main rival, former president Donald Trump, is not much younger, at 76.
When told about Mr Biden's fall, Mr Trump reportedly said: "He just fell on stage … he actually fell down? Well, I hope he wasn't hurt. The whole thing is crazy. You gotta be careful about that.
"That's a bad place to fall when you make it, I think it was the Air Force academy, right? That's not inspiring."
The last line of Mr Trump's comment is the one Mr Biden's opposition will seize on: "That's not inspiring."
While he is seen as an experienced, safe pair of hands – something welcomed following the Trump administration during the last presidential campaign – that moniker can go too far. What Mr Biden is not – unlike his Democratic predecessor Barack Obama and regrettably, to some, unlike Mr Trump – is inspiring. And this could prove to be the stumbling block (if you'll excuse the pun) to his re-election.
While it seems to have dropped out of the headlines, the situation in Sudan is continuing to deteriorate, with no sign of peace in the near future between the warring army and the paramilitary Rapid Support Forces.
What is most worrying is aid organisations, including the United Nations' refugee arm UNHCR, have warned they have no access to offer help to hundreds of thousands of refugees in the capital Khartoum.
They have received reports of human rights abuses against refugees, including reports of theft, threats, and physical and sexual violence, while most are unable to access food and basic services. UNHCR said their own offices have been looted twice.
Save a Telegram channel and a helpline that is in use when a connection can be found, the organisation says it can do little to assist in the "dire situation".
Comments
 0 comments
Want to join the conversation? Please or to comment on this article.