War against Ukraine: Volodymyr Zelensky offers to send troops to help Moldova win back breakaway republic of Transnistria
The Ukrainian president said Transnistria should 'reunite' with Moldova
Ukrainian president Volodymyr Zelensky has said he would send troops to help expel Russia from the breakaway Moldovan republic of Transnistria – if asked to by the Moldovan government.
However, he said no such request had been made and emphasised Ukraine has no territorial claims over the pro-Russian territory.
It comes as US secretary of state Antony Blinken said there could be no ceasefire in the war in Ukraine unless it was part of a "just and lasting" peace deal that includes Russia's military withdrawal.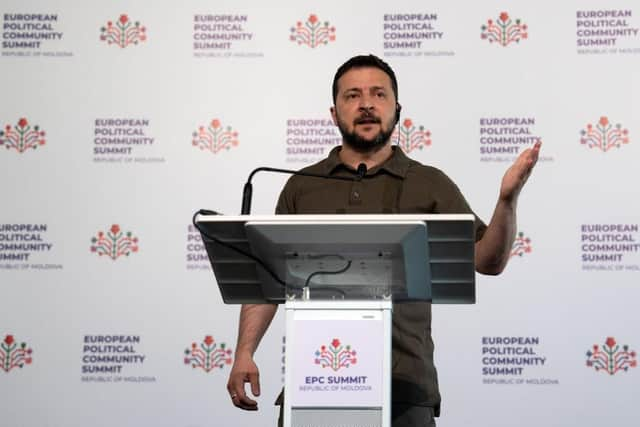 Speaking at the European Political Community summit in Chisinau on Thursday, Mr Zelensky said: "Ukraine can only react and assist Moldova if there's a request from the top level of military-political leadership, official leadership of Moldova. Ukraine will definitely react in such a case."
He added: "They should reunite with their state, with their history – with Moldova."
The Moldovan prime minister, Dorin Recean, has previously agreed with claims made by Mr Zelensky that Russia could be planning a coup in his country.
Transnistria, known officially as the Pridnestrovian Moldavian Soviet Socialist Republic (PMSSR), was created in 1990 by pro-Soviet separatists, who wanted to remain part of the USSR when the rest of Moldova was vying for independence – or a possible unification with Romania.
Russian troops are still stationed there, although the region remains technically part of Moldova – and is internationally recognised as such – where the main language is Romanian. Moldova's government has, in recent years, moved closer to the West.
In March this year, the Moldovan government voted through a law to replace the Moldovan language with Romanian in official parliamentary business. The Moldovan language is very similar to Romanian. However, it has historically been written using Cyrillic script, like Russian, rather than Latin notation, like Romanian.
In April last year, following the Russian invasion of Ukraine, tensions rose in the region as blasts struck the Grigoriopol district of Transnistria, taking out masts broadcasting Russian radio stations.
A few hours later, the city of Tiraspol – the capital of the breakaway state – also reported a series of attacks on the building of the Tiraspol Security Service, the MGB, blowing out several windows on the upper floors. It was not known who was behind the attacks.
Earlier this year, budget airline Wizz Air announced it was suspending all flights to Moldovan capital Chisinau from mid March amid safety fears over an "elevated" risk in Moldova's air space.
Mr Blinken has meanwhile said "a ceasefire that simply freezes current lines in place" – and allows Russian president Vladimir Putin "to consolidate control over the territory he has seized, and rest, rearm, and reattack – "that is not a just and lasting peace".
Russia must also pay a share of Ukraine's reconstruction and be held accountable for launching its full-scale invasion of its neighbour in February last year, Mr Blinken said in a speech during a visit to Finland, which recently joined Nato and shares a long border with Russia.
Allowing Moscow to keep the one-fifth of Ukraine territory it has occupied would send the wrong message to Russia and to "other would-be aggressors around the world", according to Mr Blinken.
Washington is ready to support peace efforts by other countries, he said.
Comments
 0 comments
Want to join the conversation? Please or to comment on this article.