War against Ukraine: Russia used 'starvation tactics' on Ukrainian people, investigation claims
The investigation is led by a Scottish barrister
A new investigation by a human rights law firm supporting Ukraine's Office of the Prosecutor General's investigation into Russian starvation war crimes, has revealed "starvation tactics" used by Russian soldiers in the early days of the invasion of Ukraine.
These incidents identified by the Starvation Mobile Justice Team, led by Scotland-born barrister Catriona Murdoch, include reported air and artillery attacks on critical water infrastructure throughout Chernihiv and an attack resulting in civilian casualties close to a hospital where people were allegedly queuing for water. Other incidents identified as part of their initial investigation include widespread shelling of residential areas, hospitals and supermarkets, as well as an attack on a bread queue outside a supermarket in Chernihiv city near the beginning of the war a year ago.
The dedicated Starvation Mobile Justice Team, part of the Mobile Justice Teams established by Global Rights Compliance, began its work in January 2023. It is formed of international and Ukrainian experts who can rapidly deploy around the country to assist Ukraine's investigators and prosecutors to collect and rigorously analyse evidence.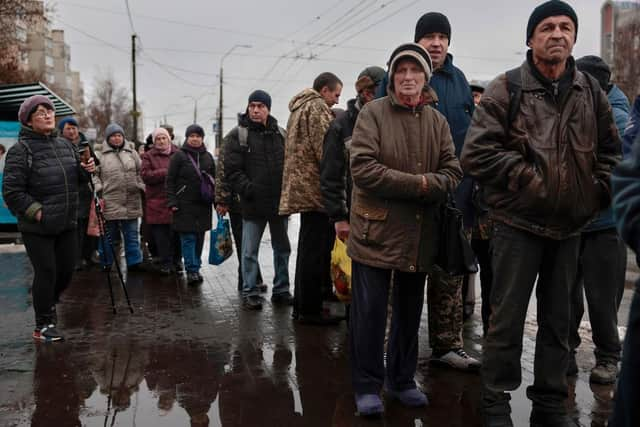 Catriona Murdoch, partner and head of starvation portfolio at Global Rights Compliance, who is originally from Glasgow, said: "From our initial investigations into Russia's starvation crimes in Ukraine, the evidence is pointing towards a deliberate plan carefully designed to undermine and attack the very foundation and societal fabric of Ukrainians, subjecting them to inhumane living conditions. It is imperative that these crimes are fully investigated so that we can create a bedrock of truth and a historical record which can be used both to counter Russia's lies and to find justice for Ukraine's victims and the survivors of these crimes."
Its investigations on the bread queue attack, which build on an earlier investigation conducted by Truth Hounds, have established that between approximately 7.30 and 9.30am on 16 March 2022, two queues formed on either side of the Soyuz store – which was commonly used as a bread collection location - totalling between 20 and 90 people. These civilians were struck by high explosive fragmentation projectiles.
It identified two weapons systems that may have been used in the attack - the 122mm Grad rocket system, and a Howitzer – both of which are inaccurate area weapons. It said a Grad rocket, which can launch 40 rockets in 20 seconds, is designed to clear a 1km square block, meaning that firing into a densely populated residential urban area is likely to cause serious collateral damage among civilians and civilian objects. Evidence also indicates that Russian drones were in operation in the area around 16 March. The drones would have provided quality imagery to the Russian fire controller of the targets and therefore civilians being fired upon.
Ms Murdoch added: "The starvation crimes we are investigating in Chernihiv are the tip of the iceberg in Putin's calculated plan to terrorise, subjugate and kill Ukrainian people. Having recently visited the impact site of the bread queue attack in Chernihiv with our Starvation Mobile Justice Team and seen the progress the Office of the Prosecutor General has made in investigating the persistent attacks on civilians and critical infrastructure, we are confident that perpetrators can be identified."
Comments
 0 comments
Want to join the conversation? Please or to comment on this article.