Donald Trump indictment: Can the Teflon-coated former US president survive the latest historic legal charge?
Donald Trump has become the first US president to face federal charges
He is the ultimate Teflon politician, with an uncanny ability to navigate through the most difficult situations without seemingly suffering even the tiniest dent to his reputation.
On Thursday, the US Justice Department lodged an historic indictment against the former leader over the mishandling of classified documents he kept upon leaving office and then obstructing the government's efforts to reclaim them.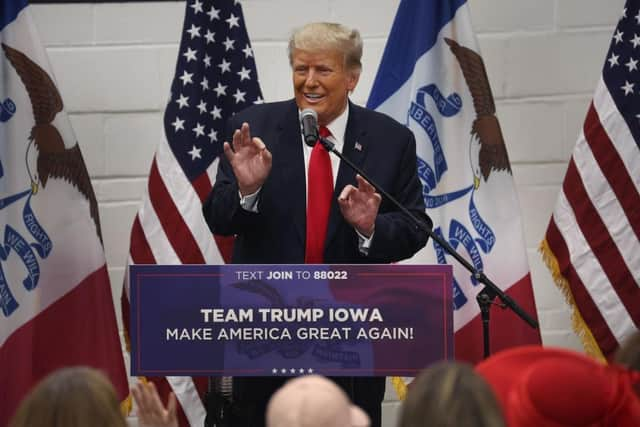 According to sources quoted by the New York Times, the seven counts against the former president include conspiracy to obstruct, wilful retention of documents in violation of the Espionage Act and making false statements.
The indictment is the latest accusation in a string of legal accusations against Mr Trump. Yet, through it all, he has insisted he will continue his campaign for another stint in the White House.
He says he is still the best candidate for the Republican party, where he continues to poll highly, above all other running mates. Indeed, when US news outlet USA Today carried out an opinion poll in April, two thirds of Mr Trump's supporters said their opinion of him would remain unchanged, no matter what his legal situation.
It is not as if the American public, or his fellow politicians, were not aware of his potential indictment. The US media has spoken of little else for months. The latest revelations are momentous, but are not unexpected. His supporters – and opposition – have had plenty of time to mull over what they would do if he was indicted by the federal courts.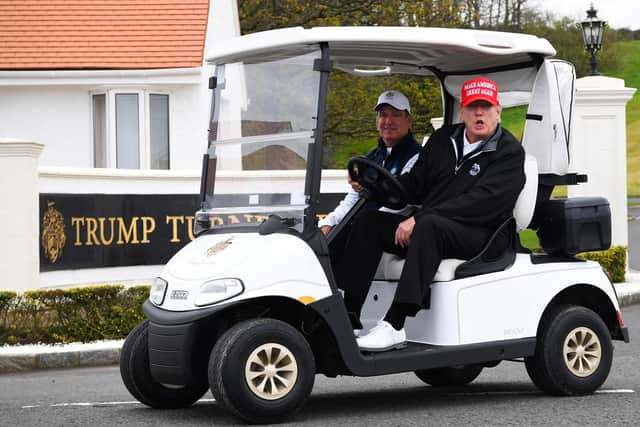 So far, all of his Republican colleagues standing against him in the presidential campaign have said they oppose the charges.
That is not to say they have all been entirely complimentary about Mr Trump as a person, or a president.
In a recent town hall event, Republican presidential candidate Chris Christie described the former president as a "lonely, self-consumed, self-serving mirror hog" who "is not a leader". Ron DeSantis, Mr Trump's closest rival, has vowed to launch a "counterpunch" against the former president, who in turn has mocked him for technical hitches at his campaign launch and for "plagiarising" Mr Trump with his campaign slogan "The Great American Comeback".
Yet they still all appear to be nervous about the idea of speaking out against him, instead offering him support in the string of legal battles against him, which Mr Trump himself has branded "politically motivated" and a "witch hunt".
Due to the fact the charges are federal, the person who is ultimately responsible for them is the president – Joe Biden, who looks likely to be the Democratic candidate, running, again, head-to-head with Mr Trump.
Mr Trump broke the news of his indictment himself, in a damning social media post against Mr Biden.
"The corrupt Biden Administration has informed my attorneys that I have been Indicted, seemingly over the Boxes Hoax," he wrote on Thursday night.
Of course, to play Devil's advocate, this is a scenario that has played out before in other countries, where an opposition candidate is put behind bars ahead of a key election.
We have seen this happen in Belarus, when Sergei Tikhanovsky was imprisoned weeks before the 2020 presidential elections and his wife, Sviatlana, who took his place in the vote, was quickly hounded into exile. Victory was claimed by dictator Alexander Lukashenko, who still rules the country.
We have also seen it happen in Pakistan, when last month former prime minister Imran Khan was arrested by paramilitary forces while appearing in court on corruption charges involving the alleged payment of five billion Rupees (£48 million) to Mr Khan and his wife for legalising a laundered sum of money for the couple's Al-Qadir Trust – which he denies. It still remains to be seen whether Mr Khan will be able to stand in October's election.
Yet this is not Belarus and it is not Pakistan. It is, ostensibly, the country that leads the free world – the world's greatest democracy. While Mr Trump's supporters might argue there is something suspicious about Mr Trump's legal challenges at a time when the presidential campaign is well under way, it does seem there is evidence behind them.
These are serious charges – and there are potentially more to come.
Ten years later, on the eve of the presidential election, she claims Mr Trump's lawyer gave her a "hush money" payment to prevent her from talking about the night she spent with the former president. Mr Trump, who is now facing accusations of concealing the payment from the Manhattan district attorney Alvin L Bragg, has pleaded not guilty to 34 counts of falsifying business records relating to the Daniels case, which is now heading to trial early next year.
In a separate accusation, prosecutors in Atlanta are investigating whether Mr Trump and his allies illegally meddled in the 2020 presidential election in Georgia. The case is likely to be brought later his summer.
In Scotland, where Mr Trump has financial interests in the form of two golf courses – Trump Turnberry and another in Balmedie, Aberdeenshire – questions have been raised over the implications of the charges.
It remains the case the Crown Office could instigate an Unexplained Wealth Order, but given the nature of the new federal charges, which mainly relate to document concealment, rather than anything relating to financial fraud, it seems unlikely.
Here, unlike in the US, he has little support. On a recent visit to Scotland, few gathered to see the former president arrive in Aberdeenshire. And First Minister Humza Yousaf said he would "find it difficult" to meet Mr Trump "without raising the significance of concerns I have of the remarks that he's made in the past".
Comments
 0 comments
Want to join the conversation? Please or to comment on this article.