Taxpayers to pick up five figure policing bill for Donald Trump's visit to Scotland
Police Scotland disclose overtime costs for 'Operation Booknote' following freedom of information request by The Scotsman
Donald Trump's visit to Scotland last month cost taxpayers almost £60,000 in Police Scotland overtime payments, The Scotsman can reveal.
The former US president spent three days in the country visiting his golf resorts and hotels at Balmedie in Aberdeenshire and Turnberry, South Ayrshire, prompting a high-profile security operation as he travelled with his family and entourage.
Now, the first details of the bill for the large-scale operation have emerged following a freedom of information request sent by The Scotsman to Police Scotland, with the force confirming that it will not be recovering any of the costs incurred.
It spent an estimated £57,493 over and above its normal day to day budgets to police the 76 year-old's visit to his mother's homeland - his first time back in Scotland since he was defeated in the 2020 US presidential election.
Police Scotland also incurred subsistence costs of £2,012 for its staff covering Mr Trump's tour of his Scottish properties, the disclosure adds. The visit was referred to by senior officers as Operation Booknote.
While the overall spend is markedly less than the policing bill for Mr Trump's two day visit to Turnberry in 2018, the force will not be able to recoup any of the money it has spent this time around.
During Mr Trump's visit while he was president, funding was provided by the Treasury on "an exceptional basis" because it was regarded as an official visit organised by the UK government.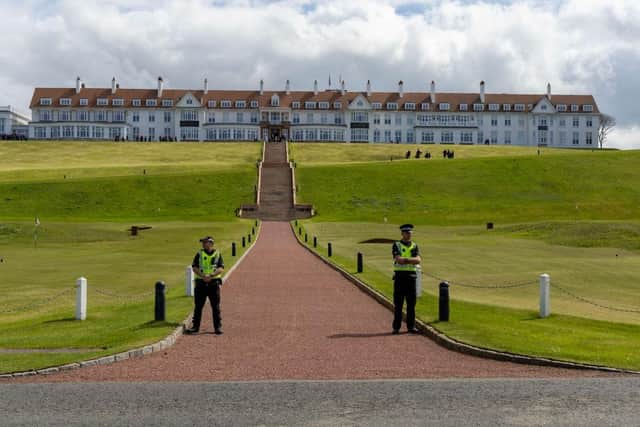 But now that Mr Trump is a private citizen, no such arrangements were in place. Police Scotland confirmed there was "no cost recovery" mechanism for Operation Booknote.
There was a highly-visible police presence across Mr Trump's resorts last month. Some officers were stationed on Turnberry's fairways while he played a round of golf, with others patrolling the grounds around the property or guarding entrances. Police Scotland also provided him with large escorts to and from his properties after he flew into Aberdeen Airport and then travelled on to Glasgow Prestwick Airport.
It is possible that the overall policing bill for Mr Trump's May visit will rise given the force's final payroll for May had yet to be processed, meaning other officers could have submitted further overtime claims before June.
The force's response added: "The nature of policing means that officers and staff are deployed to wherever their services are most required. The division to which individual officers or staff belong meet the cost of their core time and so there is no requirement to maintain a record of the cost of any particular duty carried out."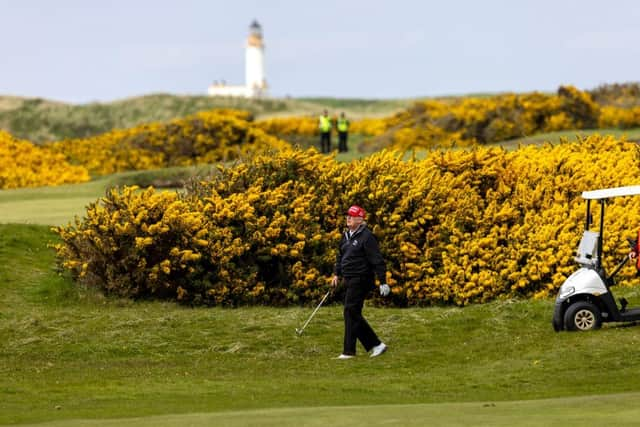 The Scotsman has also sent a freedom of information request to the US Secret Service seeking details of its costs of manning the visit. During Mr Trump's time in office, his Turnberry resort alone received close to £300,000 from the US federal law enforcement agency. That money includes protection for visits by Mr Trump's son, Eric. Mr Trump remains entitled to Secret Service protection.
Police Scotland's bill for covering Mr Trump's Turnberry visit five years ago was £3.2m, around half of which was accounted for by overtime payments. The force had to build watchtowers and temporary barriers, as well as perimeter patrols at Turnberry and Prestwick.
Comments
Want to join the conversation? Please or to comment on this article.