Donald Trump: Why is the former US president at Trump Tower? What charges could Donald Trump face over Stormy Daniels case?
It has been a scandal that has been brewing for years – that of porn star Stormy Daniels, who was allegedly paid off by Donald Trump's associates to conceal an affair.
Who is Stormy Daniels?
Ms Daniels is an American porn star, who claims she was invited to Mr Trump's hotel room after a celebrity golf tournament in 2006, when she was 27 and he was 60. She has claimed she then slept with Mr Trump, who later became president.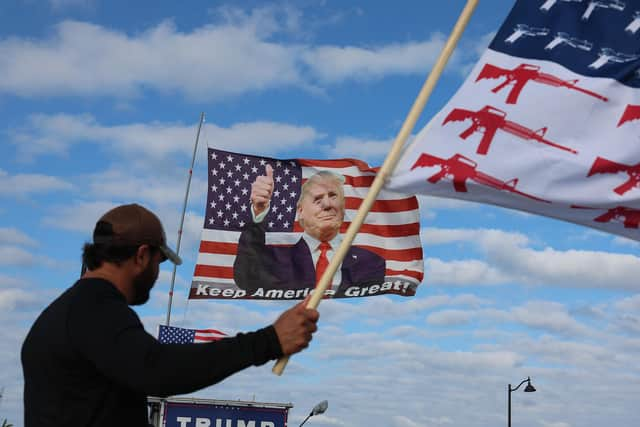 Why does she claim she was paid off?
Ms Daniels says that on the eve of the presidential election, in 2016, Mr Trump's lawyer Michael Cohen gave her $130,000 [£106,000] as a hush money payment to prevent her from talking about the night she spent with Mr Trump. The former president is now facing accusations of concealing the payment from the Manhattan district attorney, Alvin L Bragg. It has been claimed Mr Trump reimbursed Mr Cohen for the payment and altered business documents to hide it – something which could be regarded as a breach of election law.
Mr Trump has claimed he has never had an affair with Ms Daniels and denies he has done anything wrong regarding payments.
However, his lawyer Mr Cohen pleaded guilty to federal campaign finance violations in August 2018. He admitted he helped arrange the payment to both Ms Daniels and another former Playboy model in a bid to help Mr Trump win the election.
Why is Donald Trump at Trump Tower and what happens now?
Mr Trump flew on Monday from Florida to New York on board his private plane Trump Force One – the Trump Organisation's Boeing 757 – for his historic booking and arraignment on hush money charges. Mr Trump's motorcade ride from his Mar-a-Lago club to his red, white and blue Boeing 757 was carried live on cable television in the US. It took him past supporters waving banners and cheering, decrying the case against him — stemming from payments made during his 2016 campaign — as politically motivated. There was no one to greet him as he arrived at Trump Tower, the street having been cleared.
Mr Trump, who was impeached twice by the US House, but was never convicted in the US Senate, will become the first former president to face criminal charges. The nation's 45th commander in chief will be escorted from Trump Tower to the courthouse by the Secret Service and may have his mug shot taken.
The booking and arraignment are likely to be relatively brief — though hardly routine — as Mr Trump is fingerprinted, learns the exact charges against him and pleads, as expected, not guilty.
Comments
 0 comments
Want to join the conversation? Please or to comment on this article.