Twitter Rebranding to X: Elon Musk reveals new logo and vision for Twitter which 'no longer exists'
Twitter owner Elon Musk announced last week that his platform will "bid adieu" to the blue as the famous blue bird is scrapped in favour of a black and white X amid many other changes looming.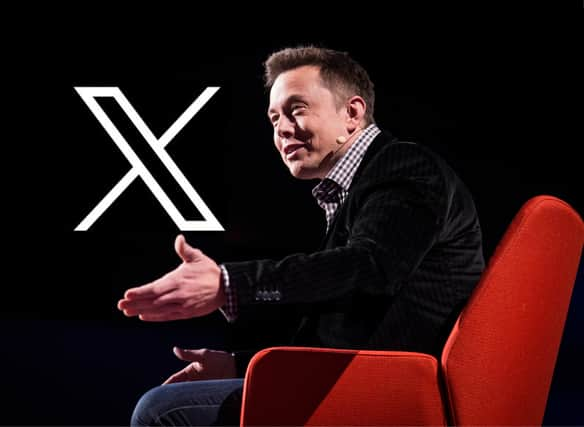 Twitter has rebranded its logo from the iconic blue bird to a "minimalist art deco" X in yet another drastic change to the social media platform since it was purchased for $44 billion by Musk, the world's richest man, last October. A legal filing published in April of this year revealed that the business name "Twitter, Inc." had been changed to "X Corp." As the Wall Street Journal reported, the company as most knew it "no longer exists".
According to Sky News, Zuckerberg's new app had "brazen similarity to Twitter" which led Musk to threaten his billionaire tech rival with a lawsuit and even a cage match. As competitors move in on the digital space during these tumultuous times for Twitter, experts warn that the rebranding of a 15-year-old platform is "a risky move" but surely there's a method to Musk's alleged media madness. In an interview with the BBC, he announced his "goal is to create X, the everything app" and that Twitter was only "an accelerant to X".
Previously, he compared it to China's WeChat which holds messaging, marketplaces, public media and payments all in one app. However, as Pandaily in Beijing reports, WeChat has a "personal credit rating system to determine the trustworthiness of users via their payment behaviour and credit history on the platform" which led critics to an obvious concern over Musk modelling Twitter after Chinese surveillance tech - especially as X is also set to be powered by AI.
To cut through the swath of headlines and get to the heart of the matter, here's Twitter's new name, logo and future direction, all 'X-plained'.
Why is Twitter now called X?
Linda Yaccarino, the newly appointed Twitter CEO and former chair of advertising with NBC Universal, revealed the company rebranding last Sunday. Noting the chance to make "another big impression" Yaccarino wrote that "X will go further, transforming the global town square".
She continued: "X is the future state of unlimited interactivity – centred in audio, video, messaging, payments/banking – creating a global marketplace for ideas, goods, services, and opportunities.
"Powered by AI, X will connect us all in ways we're just beginning to imagine."
This followed Musk, the day prior, posting a series of tweets that indicated the upcoming change. One of which said "soon we shall bid adieu to the twitter brand and, gradually, all the birds". He alluded to the logo change by posting an image of Twitter's recognisable logo set on a black background with a caption, "Like this but X," with a follow-up tweet saying "To embody the imperfections in us all that make us unique".
Musk also posted a selfie of himself gesturing "X" with his arms in front of a Tesla backdrop with the caption "Not sure what subtle clues gave it way, but I like the letter X". This is consistent with the branding of his other properties such as Tesla Model X and SpaceX and even his own progeny.
Fortune Magazine reported: "Musk also has a child, born in 2020 with the musician formerly known as Grimes, named X Æ A-Xii (nicknamed X).
"In explaining the baby's name on Twitter, Grimes said that X stood for "the unknown variable"."
When did Twitter become X?
Musk replaced the blue bird with the X logo on Monday. He also reportedly told employees via email that netizens accessing the domain X.com would be redirected to X.com.
"We are writing to let you know that Twitter, Inc. has been renamed to X Corp. The Twitter service will continue to be known as Twitter," a statement says. "Going forward, you may refer to X Corp. in place of Twitter, Inc. for all contracting, billing, and other records you may have."
While Yaccarino had already confirmed the change last Sunday, Twitter's transition to X took place much earlier this year. In April, the Independent reported on the court filing for Twitter which stated: "Twitter, Inc. has been merged into X Corp. and no longer exists.
"X Corp. is a privately held corporation. Its parent corporation is X Holdings Corp. No publicly traded corporation owns 10 per cent or more of the stock of X Corp. or X Holdings Corp."
What are Tweets called now?
The Hill confirms that "Musk said on Monday that tweets are expected to be called "X's." Twitter users have had their own ideas, however. Some innocent enough such as "Xpressions" and others - a tad more scathing - like "Grimes" as the musician Grimes is Musk's "ex" (X) partner.
Will Twitter survive?
The sudden rebrand of Twitter has been called 'high-risk' by Mike Proulx, a research director at the analysis firm Forrester. According to The Guardian, Proulx pointed out that the company was 'suffering financially from advertisers withholding spending' as well as competitors like Threads acting as "Twitter killer".
He said: "By changing Twitter's app name, Elon Musk will have singlehandedly wiped out over 15 years of a brand name that has secured its place in our cultural lexicon.
"This is an extremely risky move, because with 'X', Musk is essentially starting over while its competition is afoot."
Last week, Musk confirmed that the firm wasn't profitable and had incurred "heavy debt". However, other major brands have seen similar changes in recent years and continued to prosper such as Google becoming Alphabet in 2015 or Facebook to Meta in 2021.
Comments
 0 comments
Want to join the conversation? Please or to comment on this article.