Wind farm compensation for Scottish Government-owned Prestwick Airport blocked by ministers
Payments for potential future impact on radar refused
Wind farm developers have hailed as a "massive step forward" Scottish Government-owned Prestwick Airport being blocked by Scottish ministers from claiming compensation for the potential future impact of new turbines such as interference with radar.
Prestwick has received more than £5 million in mitigation payments from wind farms between 2019 and 2021 alone, which renewables firms have claimed is a "manufactured income stream", but the South Ayrshire airport said they caused long-term costs.
Ministers this week approved a wind farm near Sanquhar, 30 miles from the airport, agreeing with a public inquiry report the cost of mitigation measures "should be demonstrably incurred by Prestwick Airport and that there is no basis for ongoing compensatory payments to be made".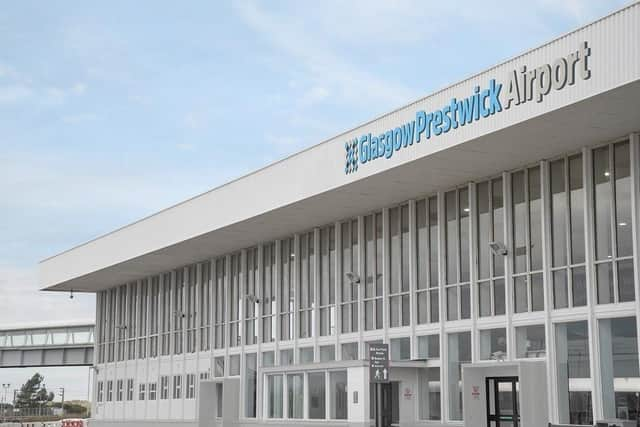 Developers Community Windpower had accused the airport of seeking to profiteer by demanding an agreement for annual payments over the 40-year lifetime of the 44-turbine wind farm in return for withdrawing its objection to the scheme.
Inquiry reporter Christopher Warren concluded: "The planning system does not contain any provisions which could be used to require payments to be made to third parties as 'compensation' for the residual effects of a development which they may experience or need to take account of in the future."
He said Community Windpower "has framed the airport's approach as effectively trying to use its position as a statutory consultee to profiteer, by requiring such a [compensation] agreement to be entered into in order for it to remove an objection".
"I would stop short of agreeing with the applicant in this regard," Mr Warren said. "But the airport's position in this particular case does at least appear to stem from a somewhat fundamental misunderstanding of what mitigation or other payments can reasonably be required through the planning system."
A renewables industry source said: "We regarded this as a manufactured income stream and are relieved that it has been finally recognised, but it has taken a long time."
Scottish Conservatives transport spokesperson Graham Simpson said: "Wind farm payments have been a significant chunk of the airport's income in recent years. Although the airport doesn't rely on them, this decision will be a blow if it closes off this potentially lucrative income stream.
"It is significant that Scottish ministers agree with the reporter that there should be no compensation paid to the airport for mitigation measures – given that it is their airport."
South Scotland Scottish Labour MSP Colin Smyth said: "It is absolutely right that compensation is paid by big wind farm firms if their developments have an impact on Prestwick to cover the costs the airport incurs, especially given the disproportionate number of wind farms currently carpeting the south west.
"But the reporter has made clear they do not believe Prestwick should receive compensation beyond the cost of immediate measures to mitigate the impact of this development."
"Post pandemic, we have seen passenger numbers creep back up at Prestwick, but profit margins remain tight, including a heavy reliance on US military refuelling, so any loss of income is something airport bosses should be concerned about.
"The precarious position once again exposes the lack of a long-term plan from the Scottish Government to get the airport into a position where profits are sustainable and allow for the significant investment that is badly needed to retain and grow the vital jobs at Prestwick."
An airport spokesperson said: "We are disappointed with the determinations. The proposed proliferation and density of development as well as the significantly increased size of turbine structures around the airport poses significant ongoing challenges to aviation, and there are long-term costs and risks associated with mitigating these."
A Scottish Government spokesperson said: "We maintain that mitigation for aviation operations should remain a consideration in these circumstances and that each application must be assessed on a case-by-case basis."
Comments
 0 comments
Want to join the conversation? Please or to comment on this article.