Exclusive:

State-owned Prestwick Airport 'treated like US airbase' as Pentagon payments revealed

Transparency questions around Ayrshire airport's reliance on military revenue
The state-owned Glasgow Prestwick Airport has received nearly £70 million from the Pentagon over the past six years, prompting warnings that its extensive ties with the US military could deter prospective buyers from returning it to the private sector.
The airport, which was taken over by ministers a decade ago this November, has fulfilled more than 4,000 orders to refuel US armed forces flights since 2017, with the commercial relationship between the two ratcheting up significantly in recent years.
Whereas the airport carried out just 473 refuelling operations for the Pentagon in 2018, raising nearly £6.8m in revenue, the annual tally nearly doubled to 927 last year. Those orders alone generated more than £20.6m for Prestwick in a year when its total revenues amounted to £35m.
The extent of the US military custom has played a large part in helping the South Ayrshire airport return to profit after years of losses. However, the slew of payments has also raised questions over whether the airport's business model would be viable without military revenue.
The details of Prestwick's lucrative arrangement with the Pentagon are not specified in the airport's annual accounts, but spending records maintained by the Defence Logistics Agency (DLA), a combat logistics support agency for the US Defence Department, break down the vast sums that have been paid.
They show that between October 2017 and mid-May this year, the Pentagon has given Prestwick a staggering $85.7m (£67.7m) for aircraft fuel and liquid propellants. The vast majority of the payments were bankrolled by DLA Energy, a department of the Virginia-headquartered DLA, which is responsible for managing the global supply chain for the US armed forces.
No details are available of the aircraft that were refuelled or their engagements, but the US Air Force (USAF) has previously confirmed Prestwick – the first mainland airport between the USA and Europe – has been used to support frontline US military operations. Documents released in 2018 under Freedom of Information legislation show Hercules C130 cargo planes are among those USAF aircraft to have participated in "active duty missions".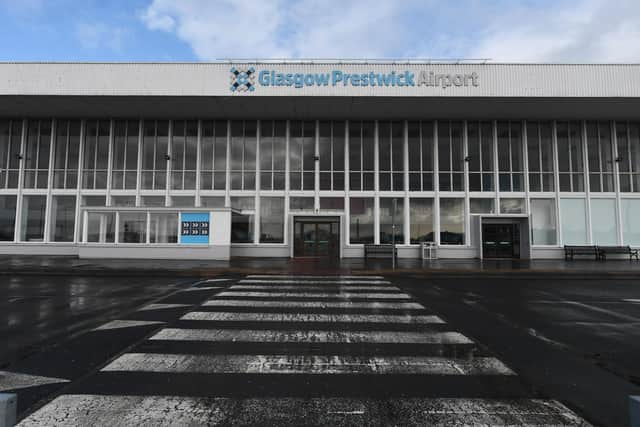 Jill Reilly, transport spokeswoman for the Scottish Liberal Democrats, said it seemed Prestwick's return to profitability had "only been made possible by huge payments for refuelling US military planes".
"There is a risk that being associated so heavily with the US military puts off commercial operators from considering Prestwick as a base of operations and that it has an impact on prospective buyers for the site too," she said.
"Whether it is returned to private ownership or not, any plan for the airport will need to recognise the importance of skilled jobs, decarbonising the aviation industry and meeting our climate change commitments. Ministers should set out their plan for Prestwick and tell the public whether they think this business model is viable in the long term."
In the airport's latest annual report, chief executive Ian Forgie said military aircraft movements were "strong" during 2022, with a return of European and international military training exercises, and fuel volumes "back to pre-pandemic levels" of 36 million litres a year. But the report provides no insight into the scale of the airport's contracts with the US military.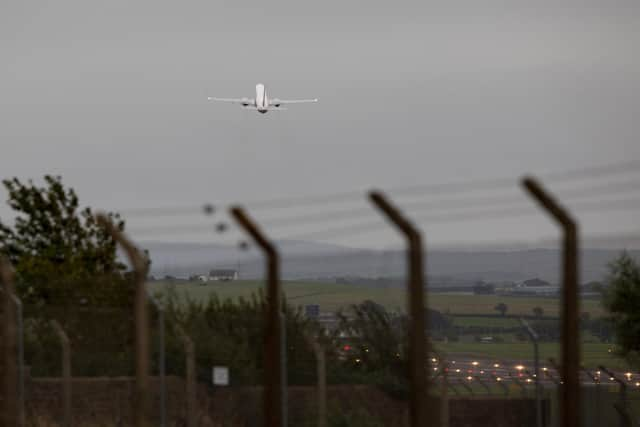 The annual report states that fuel brought in £20.7m in revenue in the 12 months to March 31, 2022. The US spending records show the Pentagon paid $19.1m (£15.1m) for fuel over that same period.
Ross Greer, external affairs spokesman for the Scottish Greens, said: "For far too long, the Pentagon has treated Prestwick like a US airbase. We need far more transparency about these flights and where they are going. We know that frontline US military operations have operated out of the airport, which has allegedly implicated Scotland in airstrikes and atrocities in Iraq and beyond.
"Our public assets should not be used as a springboard for the US military's worldwide aggression. And we certainly shouldn't have to rely on Pentagon figures to get even the most basic details about how many American military flights are landing. The airport themselves need to be far more transparent."
But Graham Simpson, the Scottish Conservative shadow transport minister, said: "The US military is a very important customer for the airport and, hopefully, will continue to be so. The amount they spend at Prestwick is vital and also makes the airport strategically very important too."
The upsurge in US military traffic passing through Prestwick will reignite questions about whether the flagship property of former president Donald Trump is continuing to host visiting aircrews. A probe by the US House Oversight congressional committee found that between August 2017 and July 2019, the Pentagon paid Trump Turnberry nearly £98,000 for rooms for US military personnel.
It comes after Scotland on Sunday revealed last weekend how an investment firm is believed to have expressed an interest in purchasing the South Ayrshire airport and has pledged to inject "significant" development funding.
The airport, which has largely focused on boosting its non-passenger activities in recent years, has drafted in specialist advisors to assess information provided by the unnamed company. It is understood the process remains at an early stage, and no formal offer has been submitted or requested as yet.
The Scottish Government, which saved the airport from closure ten years ago by buying it for a nominal £1, has said it still intends to return it to the private sector "when the time and circumstances are right". The airport, which has received loans from ministers totalling £43.4m, has said all sale enquiries were assessed.
A spokesman for the airport said it could not comment on the fuel issue and was unable to disclose arrangements due to security and commercial reasons.
A Scottish Government spokeswoman said: "Glasgow Prestwick Airport operates at arm's length from the Government. It is required to operate on a commercial basis and ministers do not intervene in commercial decisions."
Comments
Want to join the conversation? Please or to comment on this article.