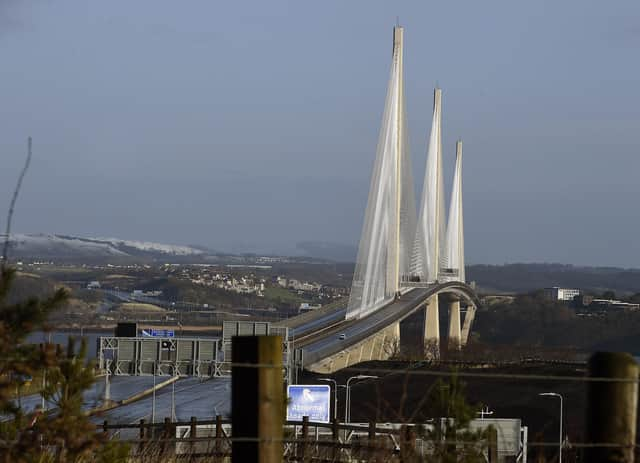 There have been four incidents and three closures involving ice falling from the Queensferry Crossing. Picture: Lisa Ferguson
But MSPs described the situation as "truly unacceptable" and demanded a solution be found.
Carriageways on the £1.35 billion bridge were closed for more than six hours after ice was spotted falling from its support cables with vehicles switched to the Kincardine Bridge, 16 miles away.
The falling ice cracked the windscreen of one of bridge operator BEAR Scotland's patrol trucks.
It was the third time the three-year-old bridge has had to be shut because of "ice accretion" over the last 11 months.
BEAR said a forecast of ice had been received last night but the ice risk was not thought likely to last long enough to justify switching traffic to the Forth Road Bridge.
The firm said that was because it would have taken four to five hours to set up the necessary diversion.
It said reduced traffic levels because of the lockdown was not a factor in deciding to divert vehicles via the Kincardine rather than Forth Road Bridge.
Sensors were fitted last year which detect ice accretion but research is continuing into potential measures to prevent ice falling.
BEAR said its patrols, who had already been alerted to the ice risk, had spotted a "fair amount" falling around 4am and the bridge was closed a few minutes later.
The northbound carriageway was re-opened at 9.15am and the southbound carriageway at 10:10am.
This was because the ice problem mainly affected the southbound carriageway due to the westerly wind blowing ice towards those lanes on the bridge.
Previous ice closures were last February and December, while the problem first emerged when several vehicle windscreens were smashed in March 2019, as The Scotsman revealed.
Mid Scotland and Fife Conservative MSP Dean Lockhart said: "This is turning into a national embarrassment and a complete shambles.
"Key workers in Fife and Edinburgh rely on the crossing being operational the whole year around, and to be faced with a second closure in as little as two months is very disruptive.
"It is clear the Scottish Government still hasn't found a solution to the ice problem despite having installed sensors and for a bridge which was deemed 'the best in the world' by the First Minister, it better find one soon.
Mid-Scotland and Fife Labour MSP Alex Rowley said: "Ministers should be embarrassed that they commissioned a £1.3billion bridge that cannot operate in ice and snow.
"It is high time they faced up to their failure and take some responsibility and find a solution.
"The closure of this bridge due to ice and snow impacts on workers across the east of Scotland as well as the Fife and Scottish economies.
"We must find a solution and be able to guarantee the safe crossing of vehicles in winter conditions.
"This is a truly unacceptable situation that cannot be allowed to continue."
BEAR Scotland south east unit bridges manager Chris Tracey said: "The safety of bridge users comes first and we therefore made the decision to temporarily close the Queensferry Crossing when we identified a risk of falling ice.
"We had already mobilised additional ice patrols in response to the weather forecast and the bridge was closed at 4am when staff observed ice falling from the structure.
"The risk has now passed, and it is safe to reopen the bridge.
"We apologise for any inconvenience caused by this closure.
"The specific bridge forecast for heightened risk of ice accretion forming came in yesterday evening.
"We've been monitoring all such forecasts very closely and on this occasion there weren't clear levels of certainty to close the bridge in advance.
"The severe weather was forecast for a relatively short duration.
"We did deploy ice patrols to monitor the structure as we always do when the there is a risk of ice forming.
"Once we witnessed ice falling, we immediately set processes in place to close the Queensferry Crossing and divert via Kincardine Bridge.
"An emergency diversion over the Forth Road Bridge would only be implemented overnight, outside peak periods.
"This is because it takes several hours to remove roadside barriers and lay large numbers of cones and signs.
"This process would cause significant additional disruption to traffic during busy periods."
A trial diversion of traffic via the Forth Road Bridge is planned for a weekday by the end of the month.
It follows an initial trial overnight last month when traffic was diverted via the Kincardine Bridge.
A Transport Scotland spokesman said: "Safety of road users is paramount and our operating company took the decision to close the Queensferry Crossing due to the risk of falling ice on safety grounds.
"During any emergency closure of the Queensferry Crossing, a diversion route will be implemented using the Forth Road Bridge or Kincardine Bridge as appropriate, dependent on the duration of the closure required.
"On this occasion, due to the forecast short-term duration of the closure, traffic was diverted via Kincardine Bridge in accordance with established procedures.
"Research and development work is underway to explore a method or technology to mitigate the problem of ice build-up on the bridge in the longer term."
The Scottish Government agency said potential options included cable sheath surface modifications to retain and control the accreted ice, mechanical vibration systems, ultrasonic de-icing systems and robotics.
It said they were being reviewed by our BEAR Scotland, and "the most appropriate options will be considered for further investigations, testing and development".
The agency added that said factors such as cost, the success of the Forth Road Bridge as a diversion route, the frequency of ice incidents and the safety of drivers would also be considered before deciding to install any "viable option for ice accretion prevention".
But it pointed out that other bridge operators worldwide had found no single method to be completely successful and most closed their bridges and waited for the ice to fall.
A message from the Editor:
Thank you for reading this article.
We're more reliant on your support than ever as the shift in consumer habits brought about by coronavirus impacts our advertisers.
If you haven't already, please consider supporting our trusted, fact-checked journalism by taking out a digital subscription.