Record-breaking Scottish cruise ports must improve transport and facilities, Scottish Passenger Agents Association warns
One million passengers are expected this year, but poor transport "doesn't leave a great impression"
Significant improvements to cruise ports are needed to cope with record passenger numbers and avoid swamping areas, the president of Scottish travel trade body SPAA has told The Scotsman.
Mike Tibbert, from the Scottish Passenger Agents' Association, singled out transport for those landing ashore at some of Scotland's cruise ports such as Rosyth in Fife as a "weak link which doesn't leave a great impression on the visitor".
The call came as industry group Cruise Scotland said 2023 was expected to be a record year after bouncing back from the Covid pandemic, with an estimated one million passengers arriving on 900 ship visits and spending a total of nearly £135 million.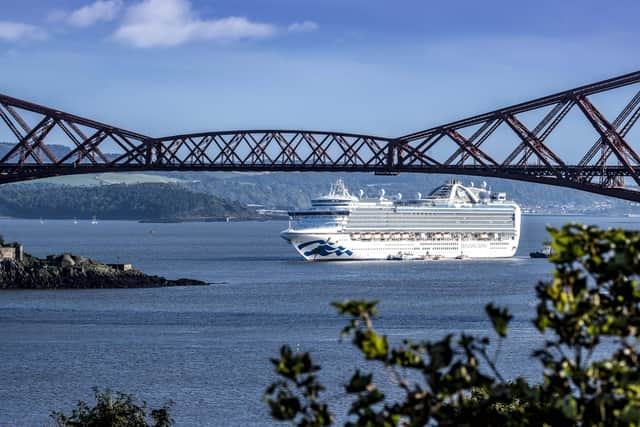 Mr Tibbert warned: "In some overseas ports, the social disruption which cruises can bring is marked and we need to manage this in Scotland so that rapid influxes of tourists don't disrupt the daily lives of residents, increase living costs, and create tension between tourists and locals.
"Cruising is a key, growing sector which brings economic benefits to some of Scotland's most rural locations. But we need to ensure that a co-ordinated approach is taken to balancing the challenges and the opportunities so that the impacts are positive and not negative.
"Cruises departing from, or docking at, Scottish ports received a significant boost during Covid when overseas travel was severely restricted. It's been one of the success stories from a period when the travel industry was on its knees.
"Domestic cruising was one of the lifelines during that time for many Scottish travel agents. At that time, we were unsure if this trend would remain once the skies opened up once more.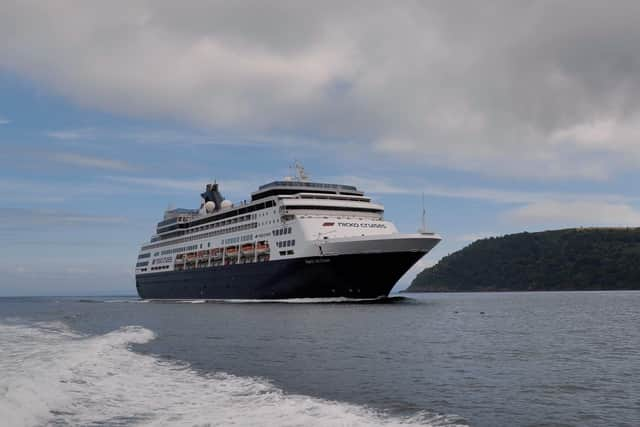 "However, not only has the interest in domestic cruising remained, but it's also significantly increasing. Add to this the appetite for overseas cruising visitors to visit Scotland and we're seeing a boom time for Scottish ports, which is to be welcomed.
"It does bring with it a new series of challenges, which we need an integrated approach towards to capitalise on this trend, whilst ensuring it is delivering sustainable benefit for the environment and local communities."
Mr Tibbert said improving transport for cruise ship passengers was crucial. He said: "To be world leading in this field, there needs to be an integrated transport system available for visitors to get to and from the docked vessel.
"It's true that many cruise ship passengers will disembark and immediately board a pre-booked excursion. But there is always a significant percentage who will want to explore the locality and they need a way to get from the dockside to the town or city centre easily.
"For some of our ports, this is a weak link which doesn't leave a great impression on the visitor. Imagine you are an overseas passenger disembarking in Rosyth who wants to explore the capital. How do you find your way there?
"As cruise companies deliver increased numbers of visitors ready to spend in the locality, there needs to be significant development of the shore environment." The SPAA said that included tourist information and advice for arriving passengers.
Mr Tibbert pointed to a new cruise ship visitor centre in Greenock as among improvements in the pipeline, but stressed: "It's the first point of contact for some of these visitors with Scotland and we're not necessarily meeting their expectations in some of our ports."
On managing the influx of cruise passengers, he said: "It's a sustainability issue and also one of the pressure points on remote locations where infrastructure may be modest. Sudden overcrowding can strain local infrastructure and swamp small businesses.
"If, as a country, we could take a collaborative, cross-sector approach to this, we could implement effective visitor management strategies, which will allow us to better deliver on expectations and to respond more quickly to changes in passenger preferences and numbers."
Cruise Scotland chair Rob Mason said: "It's fantastic to hear so much positive news about the industry as it restarted again at such pace this season. Having reflected on the effects of the pandemic, the industry has certainly been on a journey of adversity and uncertainty, but can take great pride in the way it's come together with a collective purpose and spirit to meet the significant challenges. And I believe the pandemic forged a new closeness in the cruise industry that has set the stage for continued future success.
"Members are now working harder than ever to continue this collaborative effort to address the new challenges, with increasing industry environmental pressures, regulatory requirements and an absolute commitment by the industry to adopt and demonstrate responsible and sustainable tourism practices."
He said: "In line with the cruise industry's commitment to sustainable tourism practices, significant work is being undertaken to ensure Edinburgh is recognised as a sustainability-driven destination, with extensive destination development work also continuing to connect local providers with tour operators and cruise lines."
Mr Mason added: "We work hard to bridge the gap between the port and the destination, so the economic benefit and guest experience extend out into the wider port hinterland. For instance, in Rosyth we provide a courtesy bus into Dunfermline from the port, while shore excursion companies provide tours to Edinburgh and also a bus link to Inverkeithing train station.
"Throughout the year local business summits are also organised to assist local business in becoming 'cruise ready' again, maximising passenger experience and economic benefit of each cruise call to the port region."
A spokesperson for the Port of Cromarty Firth, which expects a record 129 vessels and more than 220,000 visitors to Invergordon this year, said: "We invest and work with the local community and cruise providers to continually improve the services and facilities provided for passengers."
Paul White, director of the Confederation of Passenger Transport Scotland, which represents bus and coach operators, said: "As members of the Scottish Tourism Alliance, we would welcome the opportunity to engage with SPAA, VisitScotland and others to consider how we make the most of Scotland's strong tourist offering for those using boat, bus or coach. Cruise tourism is largely seasonal and can require having vehicles and drivers available to meet occasional need."
Tourism minister Richard Lochhead said: "The Scottish Government supports a responsible and sustainable cruise industry and we want these visitors to continue to choose Scotland as a destination.
"A diverse and successful ports and shipping sector contributes significantly to our national, regional and local economies and I welcome ports taking advantage of the enormous opportunities from cruise tourism. I'd be happy to hear from the Scottish Passenger Agents' Association on any proposals for further improvements."
Comments
Want to join the conversation? Please or to comment on this article.