Champion Scotland cyclist Christina Mackenzie still 'really anxious and nervous' being close passed by cars a year after horrific hit-and-run trailer crash
Land's End to John O'Groats and North Coast 500 record breaker tells Cycling UK Scotland event: 'I don't have the same confidence'
"I knew right away it was more severe than just bruising – I have never experienced any pain quite like that."
Lying on a roundabout near Stirling after being hit by a trailer, record endurance cyclist Christina Mackenzie was at the low point of her career.
Months after becoming the fastest woman to complete the North Coast 500 – and before that, between Land's End and John O'Groats – she was left lying in agony by a hit-and-run driver that almost led her quitting the sport she loved.
However, Ms Mackenzie has spoken of her growing determination to return to cycling during her recovery. But she admitted: "I don't feel like the same person, I don't have the same confidence."
Ms Mackenzie has told Cycling UK Scotland's Annual Gathering in Dunblane that a holiday in Lanzarote in January prompted her to return to the saddle four months after the crash – and she went on to triumph in her category in the Scottish National Road Race in September.
Recalling the fateful incident, she said: "I was out on the bike doing my normal training ride and just coming up to the roundabout at The Woodhouse [cafe and farm shop near Kippen] and about to do a 360 and head back into Stirling.
"It was 5pm and broad daylight. I had my yellow hi-vis jacket on, and front and rear lights. I looked over my right shoulder and indicated I was moving into the right-hand lane.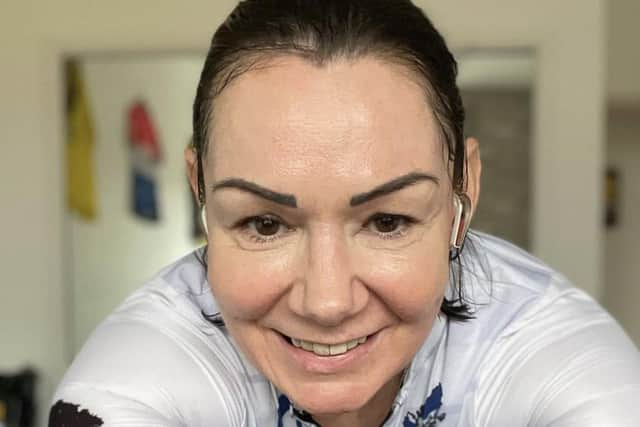 "As soon as I knew it, a Ford Ranger was right beside me, hit the side of me and I tried to keep my balance. But I didn't know they were pulling a trailer, and with the force and speed and angle that the vehicle was coming in, it hit me from the side and spun me round back in the direction towards Stirling."
Ms Mackenzie said after waiting about an hour for an ambulance to arrive, it initially appeared that she hadn't been badly injured.
She said: "The paramedics thought it might just be bruising and there wasn't anything broken, but as soon as they lifted me and put me onto the stretcher, I knew right way that it was more severe than just bruising – I have never experienced any pain quite like that."
The Stirling-based 47-year-old said her ordeal continued after reaching hospital, recalling: "Going from trolley to trolley into X-ray and getting all the tests, the pain was just excruciating."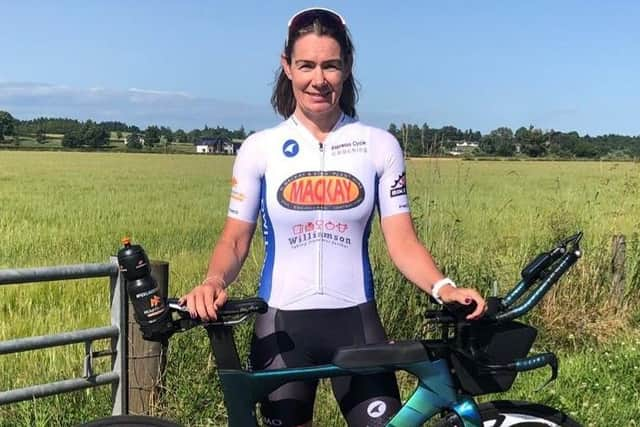 She was found to have suffered four fractures to her pelvis and was unable to move for three days. She said: "Things were pretty horrific."
That included because she was still wearing some of her cycle clothing, to keep movement to a minimum – and she spoke of her "huge relief" at finally being able to sit under a shower.
However, any time she needed to leave her bed had to be a planned operation, with a morphine dose required to control the pain, 20 minutes before being able to go to the toilet.
She reflected: "I had left the house that day probably the fittest I had ever been, and then was in hospital and not able to do anything for myself."
Back at home several days later, she initially struggled to get NHS physiotherapy, but was assisted by Bridge of Allan sports injuries clinic Physiofocus.
She said: "I was so scared of doing further damage, even to turn over in bed. It was a shock to the system going from being independent to not be able to do anything."
Ms Mackenzie said the first three months of her recovery were bleak, and for the first of these she was confined to her house. She said: "I didn't want to cycle, I hated cycling – I was just in so much pain and discomfort.
"I was talking about selling my bikes. But seeing people and remembering the love I had for cycling made me want to get back into it."
But while taking a recuperative holiday in Lanzarote in January, she had the idea of renting a bike. She said: "That could be a nice step back into cycling – and it felt great. It was quite daunting initially, but it was probably the best first step."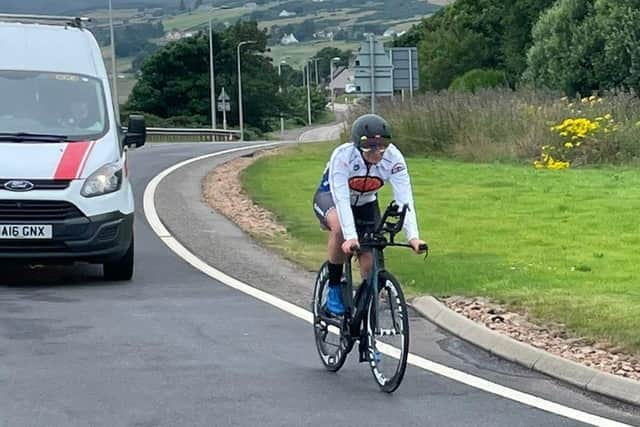 The following month, she regained the courage to ride again in Scotland, but she found it very tough. She said: "It was awful – just horrific. I remember being so twitchy, so nervy.
"Even to this day, I don't feel like the same person, I don't have the same confidence." She said being passed closely by cars "makes you really anxious and nervous each time".
However, Ms Mackenzie went on to take part in a race in Cambridgeshire in June and then the Gran Fondo road race in the UCI Cycling World Championships in Perthshire in August, although her bike suffered a puncture.
She was then "pleasantly surprised" to win the over-40s category in the 51-mile Scottish National Road Race in Kinross the following month.
She said: "What I focus on is, like cycling, there's so many ups and downs. It's not all plain sailing and it's pretty grim at times having to go out in the winter – and if you get hit and you get injured.
"But the whole experience you get with cycling with other people, whether it's clubs or group rides, is the enjoyment."
Ms Mackenzie completed the 839 miles between Land's End and John O'Groats in 51 hours without sleep in 2021, and the 516-mile North Coast 500 in 36 hours in May last year.
The driver of the black Ford Ranger, which was towing a silver Ifor Williams trailer at the B822 roundabout near Kippen on Tuesday, September 27 last year, has still to be traced.
Comments
Want to join the conversation? Please or to comment on this article.