The UK Government announced on Wednesday that future deployments as part of the Connected and Autonomous Vehicles Forth (CavForth) project would involve "smaller vehicles which could operate with no staff on board".
However, Stagecoach, which will operate the service, later clarified that the service was likely to always need staff on board and the staffless vehicle trial was expected to be aimed at shuttle services such as in airport car parks.
The initial "captained" 14-mile CavForth route, using electric single decker buses with a driver on board, is to be extended by five miles from the Ferrytoll park and ride site north of the Forth Road Bridge to Dunfermline.
This is to test the five Alexander Dennis-built buses on different types of road, since the rest of the route via the M90, M9 and M8 to Edinburgh Park on the city's western edge is mainly motorway, where buses will run on hard shoulders.
The UK Government's Department for Business, Energy and Industrial Strategy (BEIS) said: "This project will allow Stagecoach to launch what is believed to be the world's most complex full-sized automated bus service, building on a pilot project that is nearing completion.
"This project will test and refine the commercial service model, from the current 'captained' service, with a staff member onboard, to future deployments with smaller vehicles which could operate with no staff on board."
Stagecoach told The Scotsman: "The CavForth services will run with the captain on board at all times, and we expect that these type of full-size public bus services will always need a member of staff on board. During the extended trial, we will continue to have a captain and a safety driver onboard each of the autonomous buses.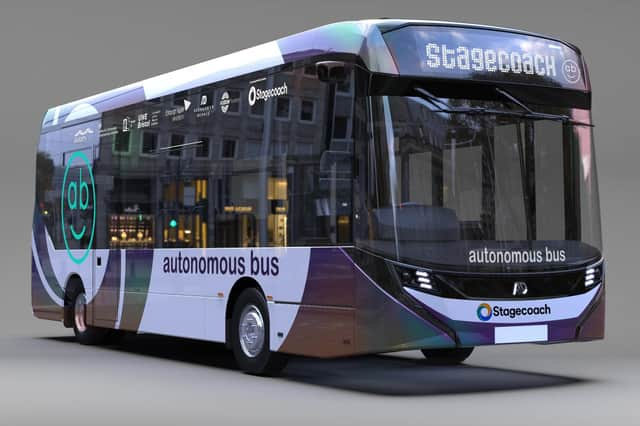 "As part of the additional funding announced today, Alexander Dennis will also be autonomising a smaller bus with technology partner, Fusion, and this will be used to explore remote operation on a test track - that's when a safety driver can monitor the road and intervene remotely if needed.
"The idea behind this is to look at whether these smaller fully self-driving vehicles could be used as shuttles in places like airport car parks or on business parks. We will also be seeking feedback from public members on how people might feel about using these kind of services."
Alexander Dennis head of concepts and advanced engineering Jamie Wilson said the extra funding "ensures the British bus industry remains at the forefront of global trends and helps secure jobs in the automotive industry".
The firm said automated driving would potentially save fuel and reduce brake and tyre wear. It said the Fusion Processing technology on the buses would link to traffic lights and adjusts the vehicle's speed so it passed them on green to minimise braking.
BEIS has announced £5.2 million funding to extend the project, matched by the firms involved to total £10.4m.
It has also provided new money for testing self-driving lorries in Sunderland, a self-driving shuttle service around Belfast Harbour, self-driving taxis in Cambridge, and other schemes in Solihull and Coventry.