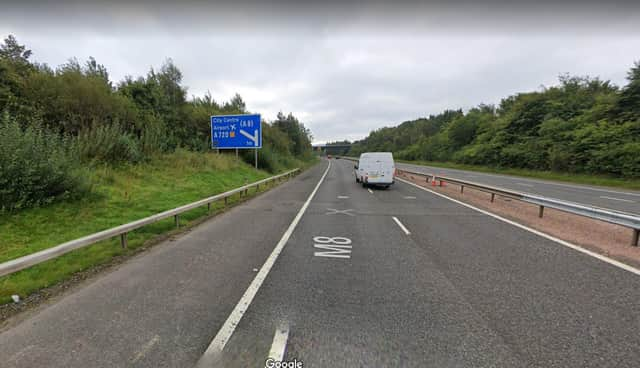 The trial vehicles – along with other buses – will be able to run on the eastbound hard shoulder of the M8 over a four-mile section from Newbridge to the end of the motorway at Hermiston Gait on the edge of Edinburgh.
Launch of the plan is expected in advance of the start of the Project CAVForth [Connected and Autonomous Vehicles] bus trials between Ferrytoll in Fife and Edinburgh Park, near Hermiston Gait, this autumn.
The autonomous Stagecoach buses, which will still have drivers on board, will operate over the Forth Road Bridge via the M90, M9 and M8.
The M8 scheme follows the introduction of similar "actively managed hard shoulders" for buses on the M90 on either side of the Queensferry Crossing and on the M9 between Winchburgh and Newbridge in 2012, which the automated buses will also use.
They effectively turn the hard shoulders into bus lanes to enable buses to beat traffic congestion.
Unlike on "smart motorways" in England, where other vehicles as well as buses can travel on hard shoulders at 70mph, there is a 40mph limit on the bus-only actively managed hard shoulders in Scotland.
The House of Commons' transport committee launched an inquiry into smart motorways on Friday after a series of fatal crashes led a coroner in England to describe them as presenting an "ongoing risk of future deaths".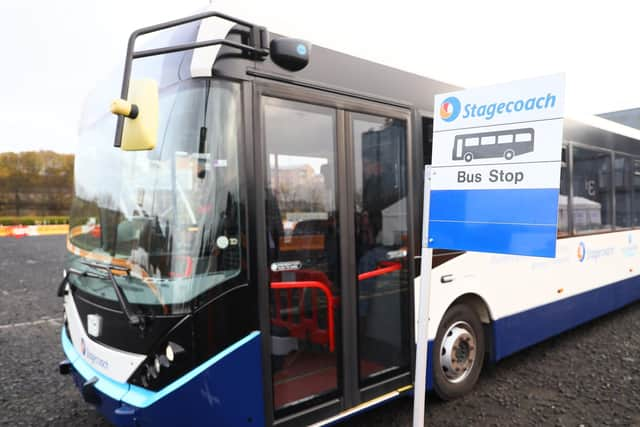 However, IAM RoadSmart and the AA expressed concern about the potential risk from broken-down and other vehicles blocking actively managed hard shoulders north of the Border.
Transport Scotland said motorists who broke down on the M8 between Newbridge and Hermiston Gait should drive into one of three new "emergency refuges", which will be nearly a mile apart, "wherever reasonably practicable".
Neil Greig, the IAM's Scotland-based policy and research director, said: "We have always had safety concerns about a bus-only actively managed hard shoulder approach.
"The thought of an autonomous bus bearing down on a broken-down vehicle does worry me.
"Will the driver be fully engaged if they think the bus is watching out for hazards, and where does the bus swerve to avoid the hazard if it arises suddenly?"
Mr Greig added that buses using the hard shoulder "could cause confusion for other drivers who will be unsure when an infrequent large vehicle might be about to undertake them - and also what to do in the event of an emergency.
"Transport Scotland talks about emergency refuges, but these would need to be very frequent and clearly marked to be of any practical use in the event of a suddenly-occurring breakdown.
"In England, traffic leaving an emergency refuge is given extra protection by using the electronic signs to alert traffic that they will be emerging.
"In my experience, it is junctions such as Newbridge, Hermiston and Gogar that cause most of the delays rather than long lengths of motorway, and if buses prove unattractive to drivers currently using the route, it will make very little difference for a large investment."
AA president Edmund King said: "It is astonishing that after all the controversies of smart motorways in England, the highway authorities in Scotland seem determined to invent their own.
"The prospect of social media monitoring as part of the armoury to monitor potential broken-down vehicles being approached by driverless buses, even at 40mph, beggars belief."
Transport Scotland said the M8 scheme had undergone a full road safety audit and its entire length would be covered by CCTV monitored by Traffic Scotland, whose control centre staff could suspend the use of the lane by activating "Red X" electronic signs.
This could be "when they are notified that a broken down vehicle is using the hard shoulder, emergency services or maintenance vehicles are using it, or when other factors such as road or weather conditions require it".
The Scottish Government agency said: "CCTV in the area will form a critical part of the response operations.
"Social media monitoring will also be undertaken, coupled with notification via emergency services, use of the emergency roadside telephones and Trunk Road Incident Support Service [vehicles], which will complete the monitoring and awareness of a broken-down vehicle.
"This will enable Traffic Scotland to react quickly and effectively to the situation and take appropriate actions in line with their routine control room operations."
It said the hard shoulder also had "sufficient forward visibility" for bus drivers to take "appropriate action" if it was blocked by a stopped vehicle.
A spokesperson for the agency said the scheme was expected to reduce bus journey times and improve journey time reliability over a section of the M8 "where peak congestion and delays are experienced daily".
They said: "This will also support our involvement in Project CAVForth, a globally-significant demonstration of UK autonomous bus capability along a 14-mile route across the Forth Road Bridge between Fife and Edinburgh.
"It will become operational in advance of the commencement of Project CAVForth, with a specific date later this year to be finalised."
Stagecoach said its control staff could forward warning messages from Traffic Scotland to its drivers via ticket machines on buses.
Its spokesperson said: "We already operate our services on other roads with similar priority schemes, some of which have been in place for many years, and there have been no issues in using this system.
"Extending these schemes is a welcome step forward for helping to keep buses running smoothly during periods of heavy traffic.
"It allows for peak-time delays to be negated, allowing peak and off-peak journey times to be much more consistent.
"As with any significant road change, we carry out extensive driver training and we will continue to work closely with the control centre to ensure the continued safe running of services."
A message from the Editor:
Thank you for reading this article.
We're more reliant on your support than ever as the shift in consumer habits brought about by coronavirus impacts our advertisers.
If you haven't already, please consider supporting our trusted, fact-checked journalism by taking out a digital subscription.