Port of Leith: 35 injured with several seriously hurt as research ship Petrel topples over in 'terrifying' Dales Marine dry dock incident
Dozens were hurt and several people remained seriously injured in hospital after a ship partially toppled over in Leith on Wednesday in what has been described as "terrifying" for those on board.
A total of 35 people were hurt in the incident involving research ship Petrel at the Imperial Dock in the Port of Leith. The Health and Safety Executive said it was making enquiries into the incident.
Eight of the injured were still in hospital in Edinburgh on Wednesday evening, but NHS Lothian would only say "several" were seriously hurt and it was unable to state their condition.
A total of 21 people had been taken by ambulance to hospitals in Edinburgh and Fife, with a further two making their own way to hospital and a further 12 being treated and discharged at the scene.
Leith councillor Adam McVey said the ship became dislodged in strong winds and he described the incident as "terrifying" for those on board.
He tweeted: "Emergency services are responding to a major incident at Leith docks – a ship has been dislodged from its holding in strong winds. Terrifying for those on board, my thoughts are with those who've been injured & hope everyone recovers quickly. Please avoid area."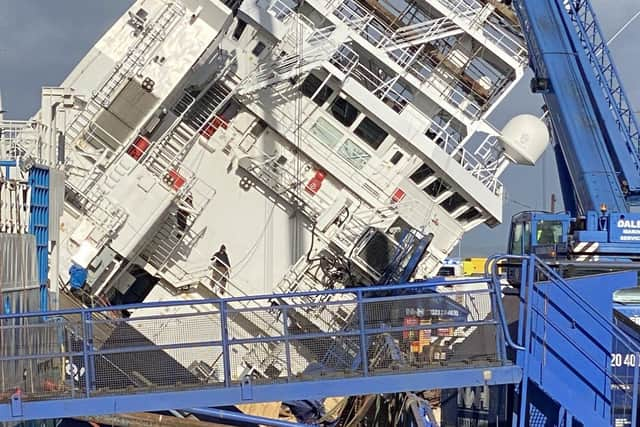 James Walsh, 39, a scaffolder on the dock, describe the moment when the ship tipped over in high winds as "so scary".
He was working nearby when he heard a "loud noise" and recalled: "It wasn't as noisy as you would think, for the catastrophe that it could possibly be.
"We stopped what we were doing. I'm the foreman, so I just evaluated the situation, we were on the docks further up and we were advised we were fine where we were." Mr Walsh added: "It's scary, very scary. Just makes you evaluate everything really. No-one goes to work to be involved in any kind of accident."
Port chaplain Pauline Robertson, from the Sailors' Society, said the incident was "just horrific" and added: "Those that witnessed it, it's so much to take in. It's surreal in so many ways and it's a lot to process."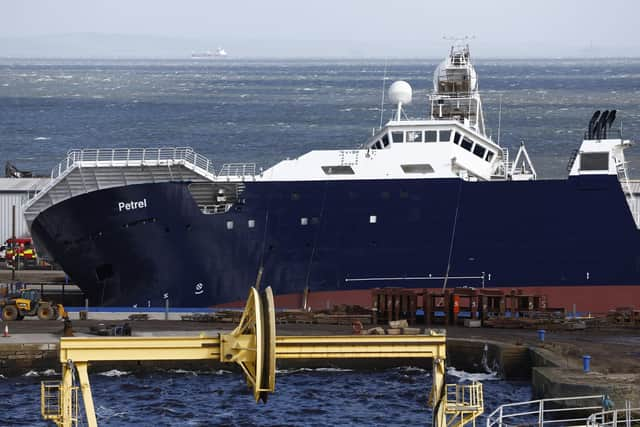 The incident put significant pressure on health services in Edinburgh, with some hospital patients being discharged early and some operations and appointments cancelled.
A Scottish Ambulance Service spokesperson said: "We received a call at 8:29am to attend an incident in Leith. We dispatched 12 ambulances, an air ambulance, three trauma teams, our special operations team, three paramedic response units and three patient transport vehicles.
"We transported 21 patients to hospital – 15 to Royal Infirmary of Edinburgh (RIE), four to Western General Hospital [in Edinburgh] and two to Victoria Hospital in Kirkcaldy. A further 12 patients were treated and discharged at the scene."
NHS Lothian said two people had also self presented at RIE. Its spokesperson said: "Of the 17 people treated at RIE, nine have been discharged and eight are still in hospital, some with serious injuries. The four patients at the Western General are awaiting discharge."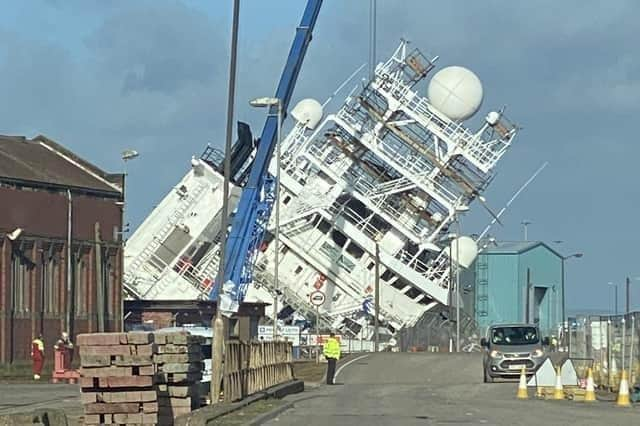 NHS Lothian chief officer of acute services Jacquie Campbell said: "Our staff are working tirelessly to ensure patients get the best care and our thoughts are with everyone affected by this incident. Accident and emergency (A&E) at the RIE is the busiest in Scotland and 80 patients were already waiting for, or receiving, treatment in A&E prior to this incident.
"We worked quickly to create additional capacity across our hospitals, with support from partners and other sites. This included working with our health and social care partnerships to discharge those who could leave hospital to maximise capacity across the system.
"Unfortunately, we did have to cancel outpatient appointments, endoscopies and planned surgeries at the RIE to enable staff from other areas to support their A&E colleagues and to free-up our surgical staff for emergencies. Our staff remain very busy and we continue to urge people not to attend A&E unless it's an emergency."
Police, ambulances and the fire service were called to a report that a ship had become dislodged from its holding at Imperial Dock in Leith around 8:35am on Wednesday. Pictures posted on social media show the vessel leaning at a 45-degree angle.
A US Navy spokesperson said: "We are is working closely with the on-site authorities. We continue to communicate with our contacts at the scene in order to understand what occurred, the actions being taken, and the long-term impacts.
"Our thoughts and prayers are with those injured and their families, with hopes for a quick and full recovery."
A Police Scotland spokeswoman said: "Officers and emergency service colleagues are responding to an incident at Imperial Dock in Leith, Edinburgh, whereby a ship on dry dock has become dislodged from its holding. Police were called to attend at around 8.35am on Wednesday and officers remain at the scene."
The coastguard also sent teams to the scene. A spokesperson said: "HM Coastguard is currently assisting Police Scotland in responding to a major incident at Imperial dry dock. At around 9:30am, Coastguard rescue teams from Fisherrow, South Queensferry and Kinghorn were sent to the scene."
A spokesperson for Forth Ports, which owns the Port of Leith, said: "We are aware of the incident at the facility of our tenant, Dales Marine Services, at the Port of Leith. We are providing Dales with any support we can today. We cannot comment any further as the incident response is being led by the emergency services. Our thoughts are with everyone involved in this incident."
Dales Marine Services, which runs the dry dock, said: "We are currently dealing with an incident at our Leith dry dock facility at the Port of Leith. We are liaising with the emergency services in dealing with the ongoing incident and cannot comment any further.
"Dales Marine's priority is to ensure those involved and their families are supported."
Scottish Greens Lothian MSP Lorna Slater said: "Images of such a large ship in dry dock leaning at 45-degree angle are very concerning. My thoughts are with [the injured] and others impacted by what must have been a terrifying experience.
"Our thanks go to the emergency services and other agencies who are working to deal with this and to assess the situation."
Comments
 0 comments
Want to join the conversation? Please or to comment on this article.