Tory backlash: All the MPs who have criticised Rishi Sunak's Government over David Cameron return and Suella Braverman sacking
There is a growing backlash against Prime Minister Rishi Sunak following the reshuffle
Ms Braverman was ousted following a controversial article on the pro-Palestine protests, and replaced by James Cleverly.
Lord Cameron was handed a life peerage and made foreign secretary, in a move that saw Tory MPs question why no MPs were chosen.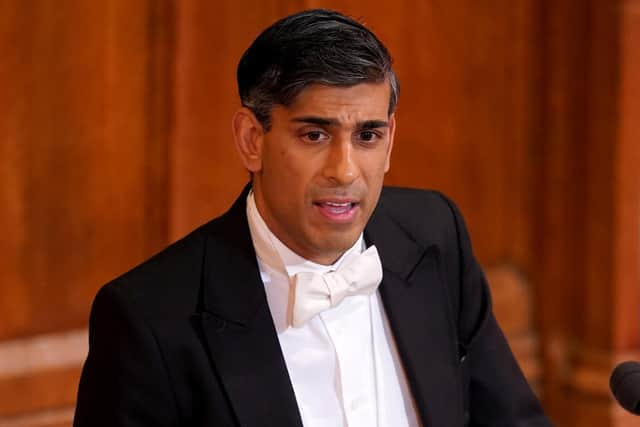 Rishi Sunak is now facing calls to go from the right of his party, while others accuse him of abandoning the policies that got Boris Johnson elected.
As the Prime Minister tries to restore unity in the Conservatives, here are those who have spoken out and what they have said.
Passionate Brexiteer and ardent Johnson advocate Dame Andrea Jenkyns has already submitted a letter of no confidence in the Prime Minister, saying she's "run out patience".
The Morley and Outwood MP attacked the Prime Minister and accused him of abandoning Mr Johnson's agenda.
She said: "He could have moved Suella to a different position, that's always in the Prime Minister's gift. But he has purged my wing of the party out of Cabinet.
"Suella was speaking for the people. I was at four Remembrance services on Sunday and I lost count of the number of people who came up to me and said 'she's speaking for me with what's she's saying about the two-tier policing system'.
"I'm not going to agree on necessarily every one of those things and I would have chosen my words differently if I'm honest, but she got the real sense of the frustration of the public.
"I do like David Cameron, by the way, and he and [former chancellor George] Osborne were brilliant with me when I unseated Ed Balls, and they came up and gave me lots of support. I was disappointed when he resigned and he will do a fantastic job as a foreign secretary.
"But to me, it's what it looks like. In a red wall seat like mine, when you bring somebody on board who actually resigned because he didn't agree with the Brexit referendum results, it's actually turning people off in seats like mine.
"It makes people think 'are the people within the party itself not good enough to go into Cabinet?' This decision – who the heck is advising him?".
Sir Jacob Rees-Mogg claimed Mr Sunak made a mistake by sacking Ms Braverman, and failed to understand the public in the way she did.
He told GB News: "I think it's a mistake. Suella understands what the country thinks about migration, the concerns the country has, is serious about it, was determined to get it down.
"Sometimes she's spoken in a way that others are a bit squeamish about, but that's not really the point. The point is that as home secretary, she was committed to delivering something that the country thinks is important.
"I think from the point of view of the Conservatives winning the next election, today is a mistake because Suella understood what the British voter thought and was trying to do something about it.
"It seems to me that the Prime Minister is not as well attuned to the voters' concerns as Suella Braverman."
The prominent Tory backbencher praised the experience of the former prime minister, but criticised that MPs would be unable to ask questions of Lord Cameron.
He said: "Cameron will bring much needed heft to the role of foreign secretary. But, while not unknown in the past, the appointment of someone not an MP means he will not be accountable to MPs in the House of Commons Chamber. Many will question this".
Former Tory leader Iain Duncan Smith said he was "sorry" to see Ms Braverman go, and raised concerns over Lord Cameron's links to China.
He said: "I think she's highly intelligent, a very good lawyer and she understood the real threat that we face with being unable to get these boats stopped. She's been very much at the prime of doing all of that, so I think it will be a loss.
"The Conservative Party is a right-of-centre party, so when you ask who the standard bearer for the right is, you should automatically go 'well, that's the Prime Minister' because we're a right of centre party and we believe in all these things.
"You wouldn't have asked that question when Margaret Thatcher was around – you knew exactly who was the standard bearer.
"I have one or two concerns [about Lord Cameron]. I am one of seven people in Parliament who are sanctioned by the Chinese government. We discovered through the interparliamentary alliance on China there was a genocide taking place in XinJiang, people were literally being forced into slave labour.
"I, therefore, am being sanctioned, being hounded, as are my colleagues. Our sites are being attacked, and then David Cameron is coming in and I'm a little bit puzzled about this because until recently it appears he's being paid by the Chinese government to promote certain things to do with the government".
And of course...Suella Braverman
The former home secretary took a scorched earth approach on Tuesday, accusing Mr Sunak of "betrayal" over a promise to stop small boat crossings.
She said: "You have manifestly and repeatedly failed to deliver on every single one of these key policies." Ms Braverman added: "I must surely conclude now, you never had any intention of keeping your promises."
Ms Braverman said if Mr Sunak did not agree to leave the European Convention on Human Rights, he had to be prepared to "block off" the risk of human rights challenges to measures to curb migrant crossings.
"Your rejection of this path was not merely a betrayal of our agreement, but a betrayal of your promise to the nation that you would do 'whatever it takes' to stop the boats," she said.
Comments
 0 comments
Want to join the conversation? Please or to comment on this article.