Former Tory leader Iain Duncan Smith says UK and Scottish Government's failing to act over China's 'dictatorship'
Former Tory leader Iain Duncan Smith has claimed the UK and Scottish Government are failing to act over China's "dictatorship".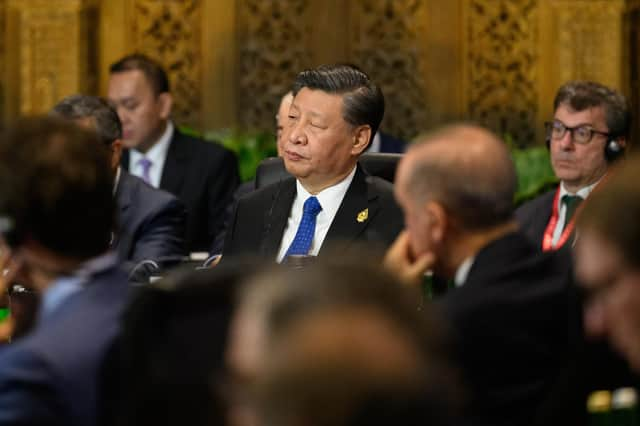 The senior Conservative MP compared Britain's approach to China like something "straight out of The Thick of It", and suggested both Government's were scared of losing access to the Chinese market.
Speaking to The Scotsman, the Chingford and Woodford Green MP also criticised French President Emmanuel Macron after he suggested France should not get caught up in an escalation between the US and China.
He made the comments in an interview over the weekend following his three-day state visit to China, after which President Xi Jinping announced he was prepared to take Taiwan by force.
Sir Iain, who is on the Chinese sanctions list, called for Britain to lead on this issue, but figures in Government simply refused to face reality.
He said: "I am deeply disappointed in the UK because they ran for cover when this all erupted. "Nothing has changed for UK policy. The UK has a peculiar policy at the moment with a statement in the integrated review that essentially says China is an epoch-defining challenge, and they are going to meet that challenge with a policy of robust pragmatism. You could not make that up, it's come straight out of The Thick of It or Yes Minister, it's obfuscating b*****s.
"The UK Government should be leading on this. We try not to upset the Chinese government at every stage, but the Treasury and Foreign Office are absolutely obsessed with not losing any markets.
"Lots of my colleagues in government simply don't want to confront this."
He added: "I suspect why they don't say anything about it is they don't want to lose any potential business in China."
There were also strong words for the French President, who has insisted "being an ally does not mean being a vassal" after splitting with US policy on China.
He said: "There was no surprise to me that Macron should go over to Xi and basically for three days fawn over him, ignoring every problem, ignoring the genocide, ignoring the slave labour.
"He's arrogant, and seems to think he has the right to trash all that the other western countries are doing, and the eastern European countries will be furious with him."
His comments were echoed by SNP MP Stewart McDonald, who warned "Scotland cannot simply sit out when it comes to geopolitics".
The former SNP defence spokesperson called for more action, saying a new regime in Holyrood was a chance for a fresh approach on the international stage.
He said: "China's increasingly strident authoritarianism at home and abroad is causing governments, institutions and businesses to re-assess their relationship with China and ensure economic and supply chain diversification where possible.
"Scotland needs to do the same, with a renewed comprehensive China strategy that involves all political parties, our businesses, academia, energy, tech and financial sectors.
"The time to start planning for this was several years ago, but with a new First Minister in place and a new administration, now is an opportune moment to start getting this right".